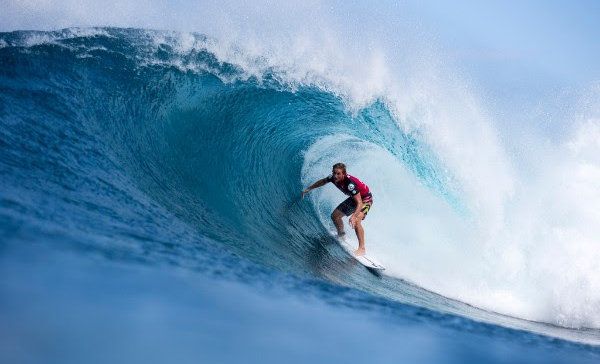 – 2010 EVENT WINNER JAMIE O'BRIEN DOMINATES VOLCOM LAST CHANCE QUALIFIER HEAT
Front page image: Finn McGill (HAW) is on a roll with a recent string of success at the World Junior Championship, Sunset Pro Junior and today's 10-point ride at the Volcom Pipe Pro. Credit: © WSL /  Freesurf / Keoki
Event/Rating:              
Volcom Pipe Pro, Men's QS3,000
Holding Period:          
January 29 – 
February 10, 2018
Today's Conditions:    
4-8ft. WNW swell, light offshore easterly winds
Haleiwa, North Shore, Oahu/HAWAII – (Thursday, February 1, 2018) — 
2017 World Junior Champion and recent Sunset Pro Junior winner 
Finn McGill (HAW)
, 17, dropped a perfect 10-point ride during day 2 of the 
Volcom Pipe Pro
, a World Surf League (WSL) Men's Qualifying Series (QS) 3,000 event. As one of the youngest athletes in the competition, McGill possesses experience beyond his years and has a successful track record at the world-famous wave. Pipe delivered trademark surf with wave heights reaching up to 12ft. and barrels in the 10ft. range, providing critical and exciting surfing from some of the world's best.McGill went against 
Anthony Walsh (HAW)
, 
Charly Quivront (FRA)
 and 
Gabriel Morvil (USA)
in Round 2 Heat 11 and found the excellent ride with less than 60 seconds on the clock to jump ahead of Walsh, who had scored a near-perfect 9.43 just minutes before."There's a lot of young kids coming up now, like Finn, who just won the World Title in Australia, and there's also the older generation of Hawaii surfers who I've been surfing with for almost 20 years now," commented Walsh after he advanced behind McGill. "There's a lot of talent here in Hawaii and everyone in the world wants to get Pipeline with three other guys out because normally they wouldn't catch a wave."
Another Backdoor barrel for McGill, this one, his perfect 10. Image: WSL/Freesurf/Keoki
During the heat, McGill dropped into what seemed like an unmakeable wave, then gained speed and raced down the line for a hollow, deep barrel that ultimately spat him out with the spray. His 10-point ride sees him take home a brand new set of KMC Wheels to ensure he stays on a roll."I feel like once you're on a roll, you're on a roll for a long time," said McGill regarding his recent string of success. "Even if you do have one loss, it doesn't matter that much, you still feel like you're on top of the world and you can do anything. I just feel that I'm on a roll right now and just feel really loose; going out into every heat I'm never nervous, it's such a cool feeling."
The North Shore surfer is into Round 3 where he will match up against the higher seeded Reo Inaba (JPN) and Torrey Meister (HAW) and Round 2 advancer Brent Dorrington (AUS).
"I'm looking forward to just getting as many barrels and the biggest barrels as possible," continued McGill. "That's all I really want, I don't care if I lose I just want to surf Pipe with three other guys out, that's already winning."
The 30-minute Volcom Last Chance Qualifiers (VLCQ) heat featured 8 athletes and saw 2010 Volcom Pipe Pro winner and Pipeline genius Jamie O'Brien (HAW) take the win and a seed into Round 3. O'Brien was the surfer to beat after he scored a 9.33 for a vertical drop into a thick Backdoor tube that was skillfully navigated through to the critical end section. Although there was no two-wave score tallying for this heat, he continued to back up this excellent wave with another 9.0 on a backhand tube stall at Pipe for what would have been a combined 18.33 (out of a possible 20).

Conditions turned on and glassed off during a rainy VLCQ heat, O'Brien picured on his 9.33-scoring ride. Image: WSL/Freesurf/Heff
"The 8-man heat out there is no easy task, they're all great surfers," O'Brien said of his fellow competitors which included Gavin Beschen (HAW), Dave Wassel (HAW), Kalani Chapman (HAW), Jonah Morgan (HAW), Takayuki Wakita (HAW), Derek Ho (HAW) and Mauro Diaz (PRT). "I look up to them all, I've lost to all of them before. It's pretty much just cat and mouse out there and I kind of got my rhythm and it just didn't stop. It kept delivering wave after wave, I got four really fun waves. That was pretty much a dream heat and there were only 8 guys out there, I got lucky."
This was a last-ditch effort for O'Brien to qualify into the 2018 Volcom Pipe Pro, after he forgot to enter, but as a former event and trials winner, he was added to the 8-man draw and beat the odds for a shot at another title.
"I'm really stoked I'm in Round 3," continued O'Brien. "I actually forgot to enter the contest even though I live right here. I was kind of jaded I couldn't get into any of the WSL contests because of my point status, so thankfully they gave me a shot through the Volcom trials."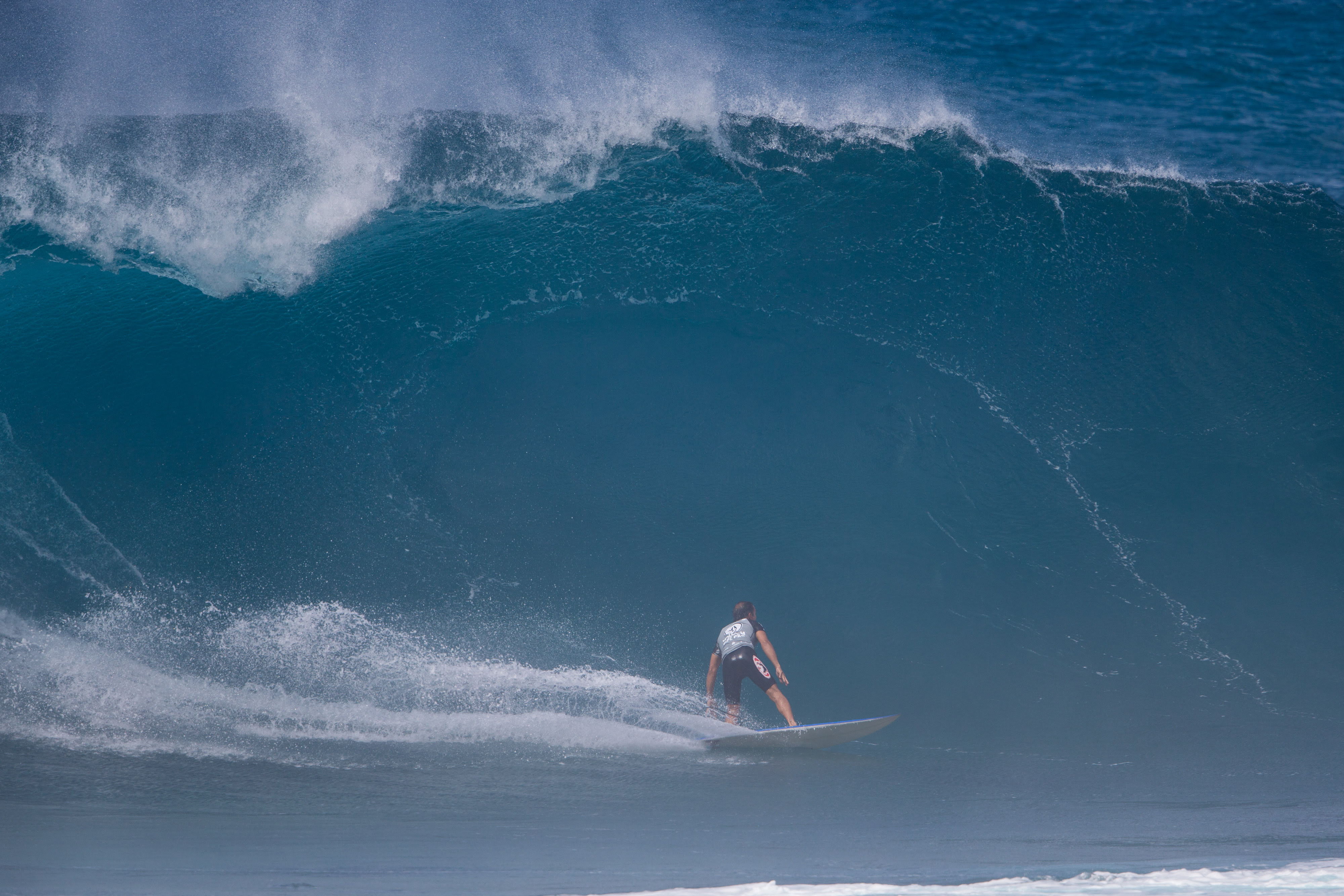 Classic meets classic, Ho on the opening ride of the VLCQ heat. Image: WSL/Freesurf/Heff
Hawaiian World Champion and legendary Pipe surfer Derek Ho opened the VLCQ with one of the biggest waves of the heat and displayed expert wave-reading after a late drop on a 12ft. face. Commentators agreed it was as if spectators enjoyed a time travel back to the late '80s when Ho was in his heyday.
Another VLCQ standout was Kalani Chapman, who enjoyed a deep barrel off the takeoff on a big Pipeline left. This ride was second-best to O'Brien's 9's but not enough to take the win. Just over a year ago, Chapman overcame a major setback after a wipeout nearly took his life at this exact location, but he competed today with undeterred fervor.
The second highest score of the main event went to Australian-born Anthony Walsh (HAW) for a critical drop and tricky Backdoor barrel during Round 2 Heat 11. He maintained speed while getting buried on his backhand and judges lost sight of him as he threaded through multiple sections. The degree of difficulty awarded him a 9.43, which set the day's standard for near-perfect scores.

Walsh holds his rail steady on a challenging backside drop. Image: WSL/Freesurf/Keoki
"Today was really tricky, the wind was starting to come up strong in my heat, I wasn't really sure what to do out there…I got a wide Ain't's one and it was really good, I got a 9.43 so that was the only good wave I got in the heat and I was lucky."
Conditions look likely to hold tomorrow with a new XL size WNW swell for the weekend. Contest organizers anticipate three more days of consecutive surf and a potential crowning of a winner on Sunday morning.
The 2018 Volcom Pipe Pro will run on the four biggest and best days of surf within the holding period, determined by contest officials, and will broadcast LIVE on Volcom.com/pipepro and RedBull.tv/volcompipepro. Check out WorldSurfLeague.com for live scoring, and be sure to tune into Spectrum SURF Channel for live and replay television coverage of the event on 250 and 1250 HD across the state of Hawaii.
RESULTS
Athletes listed in first through fourth, all surfers from Hawaii unless otherwise noted.
Round 3 (Round of 96) – 1st and 2nd advance, 3rd = 65th place, 4th = 81st place
H1: Joshua Burke (BRB), John Mel (USA), Kaito Kino, Matthew McGillivray (ZAF)
H2: Billy Kemper, Kyle Ramey, Liam O'Brien (AUS), Love Hodel
H3: Cody Young, Noa Mizuno, Makuakai Rothman, Skip McCullough (USA)
H4: Dwight Pastrana (USA), Manuel Selman (CHL), Ryland Rubens (USA), Facundo Arreyes (ARG)
Volcom Last Chance Qualifiers – 1st place advances into Round 3
1st: Jamie O'Brien (HAW)
Round 2 (Round of 128) – 1st and 2nd advance, 3rd = 97th, 4th = 113th
H3: Makuakai Rothman, Ryland Rubens, Miguel Blanco (PRT), Sean Woods (USA)
H4: Facundo Arreyes (ARG), Noa Mizuno, Jhonny Corzo (MEX), Christopher Kervin (USA)
H5: Evan Valiere, Alonso Correa (PER), Jason Shibata, Colt Ward (USA)
H6: Olamana Eleogram, Hank Gaskell, Kai Lenny, Kaimana Jaquias
H7: Ulualoha Napeahi, Jacome Correia (PRT), Martin Jeri (PER), Tristan Guilbaud (FRA)
H8: Yage Araujo (BRA), Luke Gordon (USA), Kainehe Hunt, Logan Bediamol
H9: Sunny Garcia, Harley Ross (AUS), Luke Shepardson, Kekoa Cazimero
H10: Joaquin Del Castillo (PER), Ian Walsh, Andrew Jacobson (USA), Joh Azuchi (JPN)
H11: Finn McGill, Anthony Walsh, Charly Quivront (FRA), Gabriel Morvil (USA)
H12: Koa Rothman, Brent Dorrington (AUS), Ezra Sitt, Kade Matson (USA)
H13: Keijiro Nishi (JPN), Lahiki Minamishen, Jake Kelley (USA), Bruce Irons
H14: Eithan Osborne (USA), Riley Laing (AUS), Eliott Napias (PYF), Eli Olson
H15: Kalani David, Noah Beschen, Keoni Yan, Cory Arrambide (USA)
H16: O'Neill Massin (PYF), Danny Fuller, Adrian Garcia, Shaun Burns (USA)