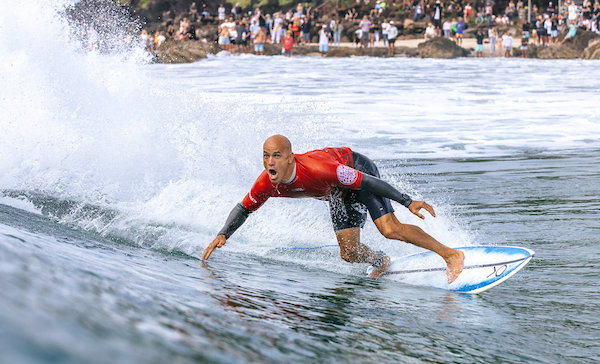 …pres. By Rip Curl
World Champions Dominate on the Gold Coast
11-Time World Champion Kelly Slater Slater Returns To Snapper Rocks (front page image: WSL)
Former CT Stars Get Requalification Campaign On Track
Pictured: 7-time World Champion Stephanie Gilmore (AUS) posted the highest two-wave total of the event so far today at the Boost Mobile Gold Coast Pro. Credit: © WSL / Dunbar
COOLANGATTA, QLD / Australia (Sunday, May 8, 2022) – The Boost Mobile Gold Coast Pro presented by Rip Curl, stop one of the 2022 World surf League Challenger Series (CS), has continued today in more incredible surf at Snapper Rocks. The remaining heats of the men's Round of 96 along with the opening 13 heats of the women's Round of 64 were run in ruler-edge, super clean, three-to-four foot surf with some of the world's best surfers gorging on the perfect point break waves.
World Champions Dominate Day 2 Proceedings 
The second day of competition saw 20 World Titles represented with 11 from Kelly Slater (USA), 7 from local legend Stephanie Gilmore (AUS) and two from 2022 form surfer Tyler Wright (AUS). All three multiple title holders performed as you'd expect with impressive displays. Wright continued her ominous form with a 16.27 two wave total, but it was the 'Queen of Coolangatta', Stephanie Gilmore who stole the show, posting the highest two-wave combination of the event so far with an 18.77 two wave total.
For Gilmore, it's been a slow start to the year by her lofty standards, only just making the Mid-season Cut after Margaret River. Today, with her home break to herself and incredible waves on offer, Gilmore displayed why she is one of the greatest of all time, finding tubes, long carves and freeing the fins on her way to a dominating win. This performance could be just what Gilmore is in need of to launch an assault on a record breaking eighth World Title.
"I haven't surfed Snapper with no one out for a long time so that was a real treat," Gilmore said. "I was in the last heat of the day and I just wanted it to hurry up because the waves looked so good all day. I got a bit of a barrel but I think tomorrow could be even better. It's nice that I've made the cut so I can come here and relax and enjoy the ride but at the end of the day it's all about confidence and that's what I need after just making the cut by the skin of my teeth. Every good heat and every win will go a long way for me so this was a good one."
Pictured: 11-time World Champion Kelly Slater (USA) made a successful return to Snapper Rocks today progressing through his heat at the Boost Mobile Gold Coast Pro. Credit: © WSL / Dunbar
Former CT Competitors Get Requalification Campaigns off to Perfect Start 
A number of surfing's biggest names that have recently fallen foul to the Mid-season Cut have come to the Boost Mobile Gold Coast Pro Challenger Series event looking to wash off the disappointment of missing the cut, and re-build their confidence ahead of their 2022 requalification campaigns. None quite got the confidence boost of Malia Manuel (HAW) who looked untouchable in her opening round heat at Snapper. Manuel's style and timing was unparalleled in the Round of 64 as she posted an 18.60 two-wave total, the second highest of the event so far, to progress into the Round of 32.
"The last week has been really tough and emotional for me," said Manuel. "I told myself to try and stay positive and be happy and nothing makes me happier than Snapper so here I am. I really love it here on the Gold Coast, the waves are amazing and I have some really good friends here so it's definitely a happy place for me. It definitely felt good to hear some big scores and get some waves in that heat, my equipment is feeling great so I'm feeling like I'm in a good place."
Pictured: Malia Manuel (HAW) was a standout on Day 2 of competition at Snapper Rocks. Credit: © WSL / Dunbar
Another name no one expected to see competing on the Challenger Series in 2022 was Sally Fitzgibbons (AUS), a former World No. 2 and perennial title threat who has been a veteran of the Championship Tour for over a decade. Fitzgibbons has come to Snapper Rocks with a can-do attitude and it showed as she progressed through her opening heat and continued to hunt for her maiden win at Snapper Rocks.

A former winner here at Snapper Rocks as well as a runner-up, Julian Wilson (AUS) has returned to high level competition today after taking time away from the tour to spend more time at home with his family. One of Australia's biggest hopes for a title for the best part of a decade, Wilson hasn't ruled out returning to the elite level and with performances like his today at Snapper, it would make perfect sense. During his time off, Wilson certainly hasn't lost his edge as he ripped his way through to a solid heat win in his opening heat.

"I was excited about my return to competitive surfing," said Wilson. "Especially watching the waves the past few days I was hoping today would be pumping and it is, it's probably better than yesterday and to surf such ideal waves and win the heat is a good way to come back – The waves look set to remain perfect throughout this event and I'm super keen to get a result here."

Coco Ho (HAW) was another long time CT competitor to make her return to competition today and her performance didn't disappoint with the stylish Hawaiian claiming a two-wave heat total of 15.27 for an awesome display of frontside rail surfing.
Pictured: Julian Wilson (AUS) making his competitive return at Snapper today. Credit: © WSL / Shield 
The next call on competition at the Boost Mobile Gold Coast Pro presented by Rip Curl will be made at 6:45 a.m. AEST for a possible 7:05 a.m. start. For more info, head to worldsurfleauge.com or the free WSL App.
Watch LIVE
All Challenger Series events will be broadcast LIVE on WorldSurfLeague.com, WSL's YouTube channel, and the free WSL app. Check local listings for coverage from the WSL's broadcast partners. For fans watching in Brazil, coverage of the competition's Quarterfinals and beyond will continue exclusively on WorldSurfLeague.com and SporTV.For more information, please visit WorldSurfLeague.com.
About the WSL
Established in 1976, the World Surf League (WSL) is the home of the world's best surfing. A global sports, media and entertainment company, the WSL oversees international tours and competitions, a studios division creating over 500+ hours of live and on-demand content, and via affiliate WaveCo, the home of the world's largest high performance, human-made wave. Headquartered in Santa Monica, California, the WSL has regional offices in North America, Latin America, Asia Pacific, and EMEA.
The WSL annually crowns the men's and women's surfing World Champions. The global Tours and Competition division oversees and operates more than 180 global contests each year across the Championship Tour, the development tiers, including the Challenger, Qualifying and Junior Series, as well as longboard and big wave properties.
Launched in 2019, WSL Studios is an independent producer of unscripted television projects, including documentaries and series, which provide unprecedented access to athletes, events, and locations around the world. WSL events and content are distributed on linear television in over 743M+ homes worldwide and across digital and social media platforms around the world, including WorldSurfLeague.com.
WaveCo includes the Surf Ranch Lemoore facility and the utilizing and licensing of the Kelly Slater Wave System.
The WSL is dedicated to changing the world through the inspirational power of surfing by creating authentic events, experiences, and storytelling to inspire a growing, global community to live with purpose, originality, and stoke.
For more information, please visit WorldSurfLeague.com.