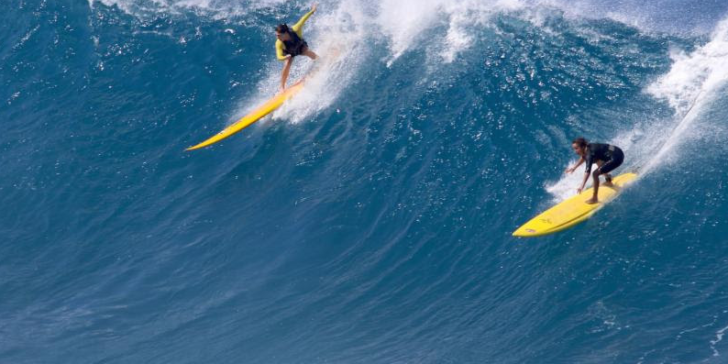 Historic Inaugural Women's big wave event will contest for Redbull 'Queen of the Bay' Title
Surf News Network – The waiting period for the first ever Women's Waimea Bay Championship has until November 21st, 2017.
The special inaugural event honors Queen Ka'ahumanu, the first Kuhina Nui, a powerful office in the Kingdom of Hawai'i from 1819 to 1864 as well as other powerful Hawaiian Women who redefined the perceived roles of Women.
In this spirit we wish to sit at the table, to humbly showcase the raw beauty found in the giant surf of Waimea Bay, and to demonstrate the strength and grace of the Women who ride her waves.
The Red Bull "Queen of the Bay" will be the first ever Women's big wave event on the North Shore of Oahu, held at legendary Waimea Bay, the birthplace of big wave riding. The North Shore is ground zero for not only big wave surfing, but for the entire surf world, and Waimea Bay is its grandstand. The time has come for Women who surf these waves to share their skill, style, courage, and passion with the world and to embrace the great opportunity that has been granted to them.
"We have a great team that's been working hard to make this event possible," says contest director Betty Depolito. "We appreciate the help and support we've received from the Mayor's office as well as the City and County Parks & Recreation Department and everyone involved to get this accomplished. This event will be a great opportunity for the entire community. I know the competitors are up to the challenge and will bring their best to this iconic location."
"I'm super excited to be involved in a Women's event at Waimea," says Paige Alms, current Big Wave World Champion & and XXL Big Wave Champion, "It will be an amazing opportunity to have another big wave event in Hawaii and I look forward to seeing all of the girls charge!"
The competition will feature many of the top, most recognizable names in professional women's surfing from around the world including contestants from Australia, Brazil, Chile, France, Guatemala, Ireland, Portugal, South Africa, USA and Hawai'i based pro-surfers.
We welcome on board our nonprofit Sea Hawaii Foundation. The SeaHawaii Foundation is a Native Hawaiian owned and operated company whose goal is to bring awareness of the sensitivity of the environmental and ecological changes to our oceans. A portion of the proceeds of the sale of SeaHawaii Apparel and Ocean tours benefits the SeaHawaii Foundation funding grants for Hawaii High School students who are interested in continuing education in the Marine Science field.
MORE ABOUT THE EVENT HERE