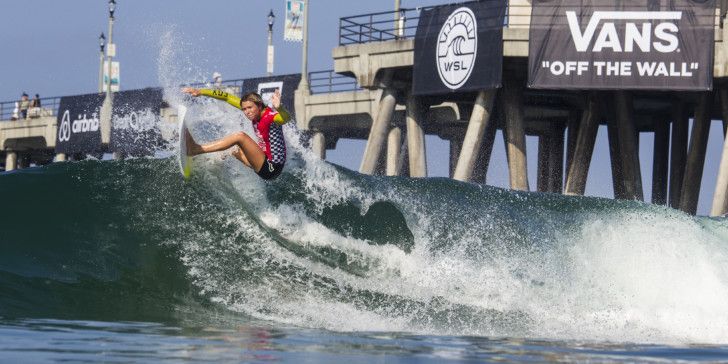 – ROOKIE KEELY ANDREW TAKES DOWN VETERAN CARISSA MOORE IN SHOCK ROUND 4 ELIMINATION
– WOMEN'S FIELD NARROWED FOR EXCITING FINISH THIS SUNDAY
 Keely Andrew (AUS), 2016 WSL Rookie, eliminated three-time WSL Champion Carissa Moore (HAW) in Round 4 Heat 3 of the Vans US Open of Surfing. Andrew will advance to the Quarterfinals where she will face Tyler Wright (AUS), current World No. 2 on the Jeep Rankings.
Image: WSL / Rowland
| | |
| --- | --- |
| Location:    | Huntington Beach Pier, Huntington Beach, California |
| Event Window: | July 25-31, 2016 |
| Today's Call: | Women's CT Round 4, Men's QS Round 3 & Men's Junior Pro Quarterfinals complete |
| | |
| --- | --- |
| Conditions:   | 2 – 4 foot (0.5 – 1.0 meter) |
HUNTINGTON BEACH, California/USA (Thursday, July 28, 2016) – The Vans US Open of Surfing, Stop No. 6 of 10 on the 2016 Samsung Galaxy WSL Championship Tour (CT), continued to see close battles as the world's best surfers fought to secure a place in the Quarterfinals. Women's Round 4 witnessed a series of extremely close match-ups, with each of the heat winners claiming a narrow victory over their opponents. Incredible action followed the women's event as the Men's QS10,000 finished their Round 3 heats before the Pro Junior Men rounded off a stacked day of competition to complete their Quarterfinal draws.
2016 WSL Rookie Keely Andrew (AUS) continued to upset the competition today by eliminating three-time WSL Champion Carissa Moore (HAW) in Round 4 Heat 3. Moore opened up with a solid 6.00 to put the pressure on the rookie. The defending World Champion continued to fire with her powerful back-hand snaps to earn a 6.27. Andrew stuck with the rights throughout the head and locked in a strong 6.50, but needed a 5.77 to combat the veteran. Andrew found another opportunity on a right, where she landed a 6.13 for the lead over Moore who was not able to close the 0.36 point-gap to advance and will leave the contest in 9th place, her worst result of the season.
"Just having the opportunity to surf against Carissa [Moore] is insane because she has always been one of my influences growing up," said Andrew. "It is small and it's kind of weak out there so similar to back home on the Sunshine Coast. I knew if I stuck to those rights, I would make it through. I watched the water for a bit before my heat and we noticed that there were a couple of rights and if you were patient they would come through. My game plan was to stay patient and be on the best waves, and it worked out."
Tatiana Weston-Webb (HAW) knocked out Laura Enever (AUS) in Round 4 Heat 2 and will advance to the Quarterfinals. Weston-Webb demonstrated committed maneuvers throughout the heat earning her a 14.16, the highest heat score of Round 4. The Hawaiian's incredible performance today included big frontside carves and snaps that earned her the highest single-wave score of the day, an excellent 7.83. Weston-Webb will face Jeep Rankings Leader Courtney Conlogue (USA) in the Quarterfinals, and Enever will walk away with 9th place result at the Vans US Open of Surfing.
"I really wanted to show the judges my surfing because I felt like in the last round I did not do as well as I've been performing recently," said Weston-Webb. "I took a more positive approach into the lineup with the wave size today and really wanted to surf with confidence and flow. Once I got two scores I wanted to wait for the best waves. Laura [Enever] had priority on one of my best waves, she went right and I went left, which ended up working out great for a big score. I am definitely feeling more comfortable with my surfing in these smaller conditions now with that win. Hopefully we get more waves for the Quarters, but if not I'll surf the way I know how to."
The final heat of Round 4 saw an epic battle between Malia Manuel (HAW) and Coco Ho (HAW). The two previously faced-off in the final of the Supergirl Pro QS event last weekend, and this heat proved to be an intense rematch between the two Hawaiian chargers. Manuel unleashed massive two-turn combination maneuvers for an excellent 7.17 and a 6.60 back-up score. Ho, with an 11.90 combined wave score, was unable to close the 1.87 gap required to take the win. Manuel will advance to the Quarterfinals where she will surf against six-time WSL Champion Stephanie Gilmore (AUS).
"I was just trying to get in the zone and stay focused," Manuel said. "I wanted to simplify things and focus on mother nature. I was riding a varial foam surfboard. The technology is great and it planes over those sections that are hard to get around and over to the lip. The shape and my model is the same, but just a different technology that gets me motivated and inspired to surf these waves. I am stoked to make it through to the Quarterfinals."
The opening heat of the day witnessed Californian Sage Erickson (USA) dispatch Sally Fitzgibbons (AUS), current World No. 5 on the Jeep Leaderboard. Erickson took an early lead on her opening ride, but Fitzgibbons battled back with a 5.67. Erickson stayed patient and waited for a solid wave to make her move. Her patience paid off and she earned a critical 6.07 to give her the 0.17 point advantage over Fitzgibbons.
"That was one of the closest heats I've ever had," said Erickson. "There weren't that many options and with this weaker south swell there's a wide left comes in. I knew the sets were going to come but wasn't sure where. It was good to be able to adapt and that was just so close. Sally [Fitzgibbons] is a champion here and made the final almost every year, so I knew it was going to be hard. I'm super excited to surf against Lakey [Peterson] in the next round. I know she's probably really hungry so I'm going to have to make good decisions and surf well. I am feeling great, but also having my friends, family and coaches here will help get me through."
Following the conclusion of Women's Round 4, the Vans US Open of Surfing Men's QS10,000 corralled through Round 3, Heats 3-12 to have Round 4 draws set for tomorrow. All eyes were on the water with the incredible amount of talent remaining in the field of competitors.
Hometown hero Kanoa Igarashi (USA) returned to the water in the most anticipated heat of Round 3 as he took on Conner Coffin (USA), Jordy Smith (ZAF), and Joan Duru (FRA). Posting two excellent-scoring rides with an 8.20 and 8.00, the 18-year-old was in his comfort zone and relentless alongside fellow CT competitors. Igarashi's work is nowhere near to done as he looks to earn his first professional win at his local break.
"Last year I would've been so flustered going into that heat, but after getting experience competing against them it just felt like another CT heat with four guys instead of three," Igarashi said. "Everything went my way and I was just having fun out there. Every time I'm out there I feel connected with HB and just in the zone, it's super exciting to be surfing back home again. I feel really good out here with my friends and family supporting me, it's just such a good feeling having them with me. I'm just soaking up the whole weekend at home and being able to see everyone since this is really the first time I've been home for more than a few days."
Torrey Meister (HAW) continued to show he's prepared to create a stir at this year's event, beating CT rookie Matt Banting (AUS) and yesterday's standout Evan Geiselman (USA). Meister's been on a competitive binge this season, making appearances at the Ballito Pro, Ichinomiya Chiba Open, and two Australian events but hasn't posted a result worth keeping.
"I never feel like I have it on lock out there with those guys in my heat being some of the best surfers around," Meister said."They really didn't need a big score so I was just hanging on. They're just so good and get the score on demand, I've known some of these guys for a really long time so I'm never comfortable despite a lead. I was just trying to keep priority but at the last thirty seconds I felt good and paddled for that last wave thinking I got this."
The Vans US Open of Surfing Men's Junior event got back in the water to complete their talent-stacked Quarterfinals. With the Semifinal draws set, have their final day competition locked in for Sunday to see who will be crowned this year's champion.
Ethan Ewing (AUS) is pulling double duty and remains in both the QS and Junior competition. The young competitor will not have a break between events as he will charge for two strong finishes in Huntington Beach. Posting the highest single-wave score, 8.67, and heat total of 15.84 despite the challenging conditions on offer for the final goings of the day.
"I just want to have fun, not too much to it out there so I just had the watch the waves for awhile before my heat," Ewing said. "Today's not a day that you can stay too patient so I just wanted to get a quick start. Once I got two alright scores I just waited for a good one. It's been really fun. Super different from any other comp I've been to with all the spectators. Got two really good boards. Trying to get really excited and motivated to surf these smaller waves and show what I'm capable in these types of conditions."
Joining Ewing in the Semifinals will be Yuji Mori (JPN), who earned the runner-up in the opening heat behind the Australian. Also, Kei Kobayashi (USA), Nolan Rapoza (USA),Ryland Rubens (USA), Luis Diaz (CNY), Jake Marshall (USA), and Christopher Kervin (USA) will all do battle on Sunday for the 2016 Vans US Open of Surfing Title.
Upcoming Vans US Open of Surfing Women's Quarterfinal Match-Ups:
Heat 1: Lakey Peterson (USA) vs. Sage Erickson (USA)
Heat 2: Courtney Conlogue (USA) vs. Tatiana Weston-Webb (HAW)
Heat 3: Tyler Wright (AUS) vs. Keely Andrew (AUS)
Heat 4: Stephanie Gilmore (AUS) vs. Malia Manuel (HAW)
Vans US Open of Surfing Women's Round 4 Results:
Heat 1: Sage Erickson (USA) 10.57 def. Sally Fitzgibbons (AUS) 10.40
Heat 2: Tatiana Weston-Webb (HAW) 14.10 def. Laura Enever (AUS) 13.00
Heat 3: Keely Andrew (AUS) 12.63 def. Carissa Moore (HAW) 12.27
Heat 4: Malia Manuel (HAW) 13.77 def. Coco Ho (HAW) 11.90
Vans US Open of Surfing Men's QS10,000 Round 4 Match-Ups:
Heat 1: Keanu Asing (HAW), Mitch Coleborn (AUS), Mitch Crews (AUS)
Heat 2: Hiroto Ohhara (JPN), Ethan Ewing (AUS), Ryan Callinan (AUS)
Heat 3: Sebastian Zietz (HAW), Nathan Yeomans (USA), Kiron Jabour (HAW)
Heat 4: Adriano de Souza (BRA), Stuart Kennedy (AUS), Davey Cathels (AUS)
Heat 5: Bino Lopes (BRA), Conner Coffin (USA), Matt Banting (USA)
Heat 6: Kanoa Igarashi (USA), Griffin Colapinto (USA), Torrey Meister (HAW)
Heat 7: Filipe Toledo (BRA), Michel Bourez (PYF), Deivid Silva (BRA)
Heat 8: Carlos Munoz (CRI), Brett Simpson (USA), Maxime Huscenot (FRA)
Vans US Open of Surfing Men's QS10000 Round 3 Results:
Heat 3: Ryan Callinan (AUS) 11.67, Mitch Crews (AUS) 11.04, Jadson Andre (BRA) 10.90, Kolohe Andino (USA) 10.26
Heat 4: Sebastian Zeitz (HAW) 13.36, Stuart Kennedy (AUS) 12.84, Charly Martin (GLP) 12.83, Jesse Mendes (BRA) 8.26
Heat 5: Kiron Jabour (HAW) 13.37, Davey Cathels (AUS) 12.73, Mihimana Braye (PYF) 10.73, Nomme Mignot (FRA) 10.37
Heat 6: Adriano de Souza (BRA) 11.93, Nathan Yeomans (USA) 11.33, Granger Larsen (HAW) 10.94, Tom Whitaker (AUS) 4.00
Heat 7: Bino Lopes (BRA) 14.00, Griffin Colapinto (USA) 13.63, Billy Stairmand (NZL) 12.33, Yago Duru (BRA) 8.83
Heat 8: Kanoa Igarashi (USA) 16.20, Coffer Coffin (USA) 13.26, Jordy Smith (ZAF) 12.63, Joan Duru (FRA) 10.60
Heat 9: Torrey Meister (HAW) 14.00, Matt Banting (AUS) 12.63, Evan Geiselman (USA) 12.17, Tomas Hermes (BRA) 10.46
Heat 10: Filipe Toledo (BRA) 14.73, Brett Simpson (USA) 13.97, Jeremy Flores (USA) 8.26, Santiago Muniz (ARG) 8.17
Heat 11: Deivid Silva (BRA) 13.43, Maxime Huscenot (FRA) 11.76, Tanner Gudauskas (USA) 11.07, Michael Rodrigues (BRA) 11.03
Heat 12: Carlos Munoz (CRI) 10.17, Michel Bourez (PYF) 7.73, Pedro Henrique (PRT) 6.10, Jack Freestone (AUS)
Vans US Open of Surfing Junior Men's Semifinal Match-Ups:
Heat 1: Ethan Ewing (AUS) Yuji Mori (JPN), Nolan Rapoza (USA), Kei Kobayashi (USA)
Heat 2: Ryland Rubens (USA), Luis Diaz (CNY), Jake Marshall (USA), Christopher Kervin (USA)
Vans US Open of Surfing Junior Men's Quarterfinal Results:
Heat 1: Ethan Ewing (AUS) 15.87, Yuji Mori (JPN) 11.77, Luke Gordon (USA) 9.53, Tyler Gunter (USA) 9.13
Heat 2: Nolan Rapoza (USA) 14.10, Kei Kobayashi (USA) 10.44, Eithan Osborne (USA) 8.73, Samuel Pupo (BRA) 8.36
Heat 3: Ryland Rubens (USA) 6.63, Luis Diaz (CNY) 5.10, Chauncey Robinson (USA) 4.10, Griffin Colapinto (USA) 2.67
Heat 4: Jake Marshall (USA) 11.17, Christopher Kervin (USA) 9.34, Jacob Burke (BRB) 9.10, Cole Houshmand (USA) 6.74