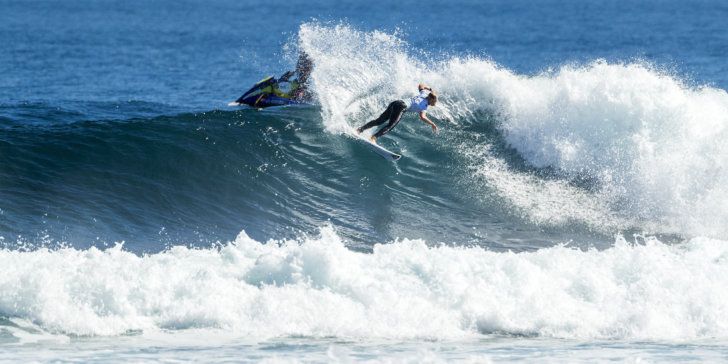 Cover Shot: LOCAL FAVORITE MACAULAY STEAMS TOWARDS A CAREER-BEST RESULT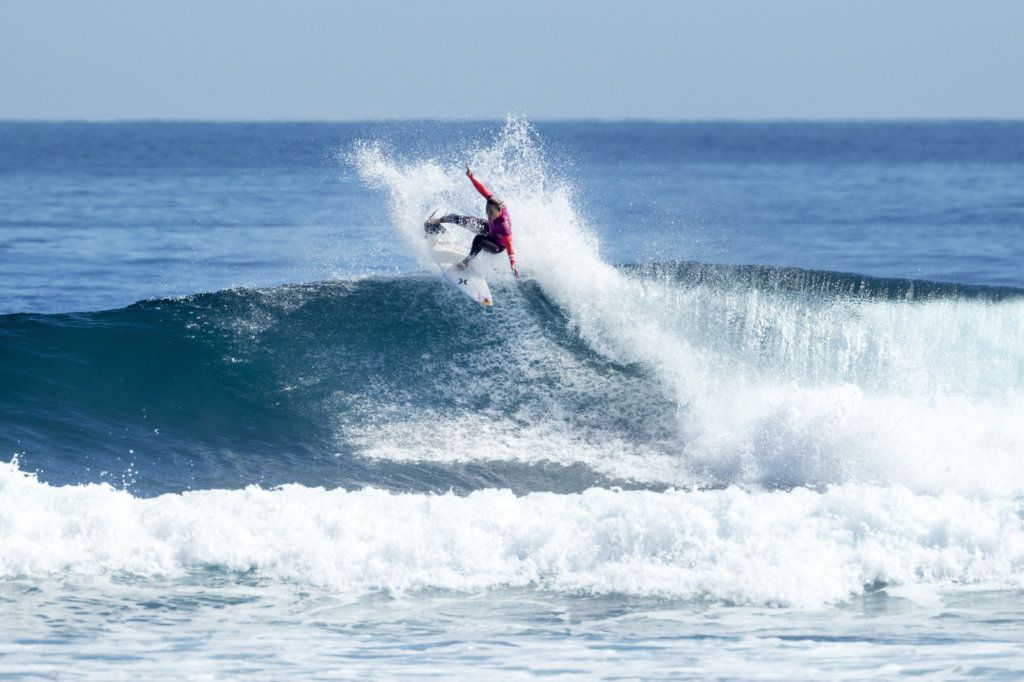 WSL CHAMPIONS MOORE, WRIGHT AND GILMORE DOMINATE MAIN BREAK. PHOTO: © WSL / Cestari 
Local hopeful Bronte Macaulay (AUS) will battle six-time WSL Champion Stephanie Gilmore (AUS) in Quarterfinal 2 at the Margaret River Pro.
 © WSL /  Cestari
Location:   
  Margaret River, Western Australia, Australia
Event window:
  April 11 – 

22, 2018

Today's call:
  Women's Rounds 2 & 3 complete
Conditions:
  3 – 5 foot 
For more on the Great White Shark GO HERE
MARGARET RIVER, Western Australia/AUS (Monday, April 16, 2018) – The Margaret River Pro, the third stop of the World Surf League (WSL) Championship Tour (CT), continued today with women's Rounds 2 and 3 in three-to-five foot (1 – 1.5  metre) waves at Main Break.
The event completed the first three heats of Round 2 before placing the event on hold, prompted by reports of a shark incident at Gracetown approximately 15 kms away from the event site. After discussing with local authorities, the Water Safety Team and surfers, the WSL Commissioner's Office decided to resume competition for the Margaret River Pro at Main Break. Surfer and Staff safety are top priorities for the WSL and when competition resumed, further enhanced safety measures, including ski and drone presence, were added to the event's mitigation protocols.
In a day of groundbreaking performances from the world's best female surfers, three-time WSL Champion Carissa Moore (HAW) topped the lot with an incredible mixture of power and progression to post a 17.37 heat total (out of a possible 20), the highest of the event so far. Moore finds herself in the Quarterfinals and staring down the barrel of a third Margaret River Pro win.
"The waves are pumping right now," said Moore. "This is the first day of the waiting period where there hasn't been too much wind. It's a great, playful size right now. I was so excited with my surfing. The goal is to do something progressive like that whenever the section allows it. Luckily in that heat, I was able to put up a few scores so knowing that if I wanted to improve, I had to do something big. It gave me the opportunity to let go a little."
Local favorite Bronte Macaulay (AUS) booked herself a spot in the Quarterfinals for only the second time in her young career. The 2017 Rookie of the Year has had a slow start to the CT season and hopes to solidify a spot inside the Top 10. The local hero is now well on her way with an awesome display of backhand surfing that earned one of the highest heat totals of the event so far, a 15.73 (out of a possible 20) and dispatched reigning event winner Sally Fitzgibbons (AUS).
"I feel that my biggest advantage is that the after a long leg on the road I'm back at home with friends and family, so I'm feeling really comfortable and happy," Macaulay said. "The Championship Tour is so competitive so to make another Quarterfinals means a lot to me. I've been surfing at Main Break more regularly the last few years so am feeling pretty confident out here."
Reigning, two-time WSL Champion Tyler Wright (AUS) had a breakthrough day at Margaret River by advancing to the Quarterfinals for the first time in 2018. Wright's trademark power earned her consistently high heat totals as she overcame the likes of Paige Hareb (NZL) in Round 2, and Coco Ho (HAW) and Johanne Defay (FRA) in Round 3.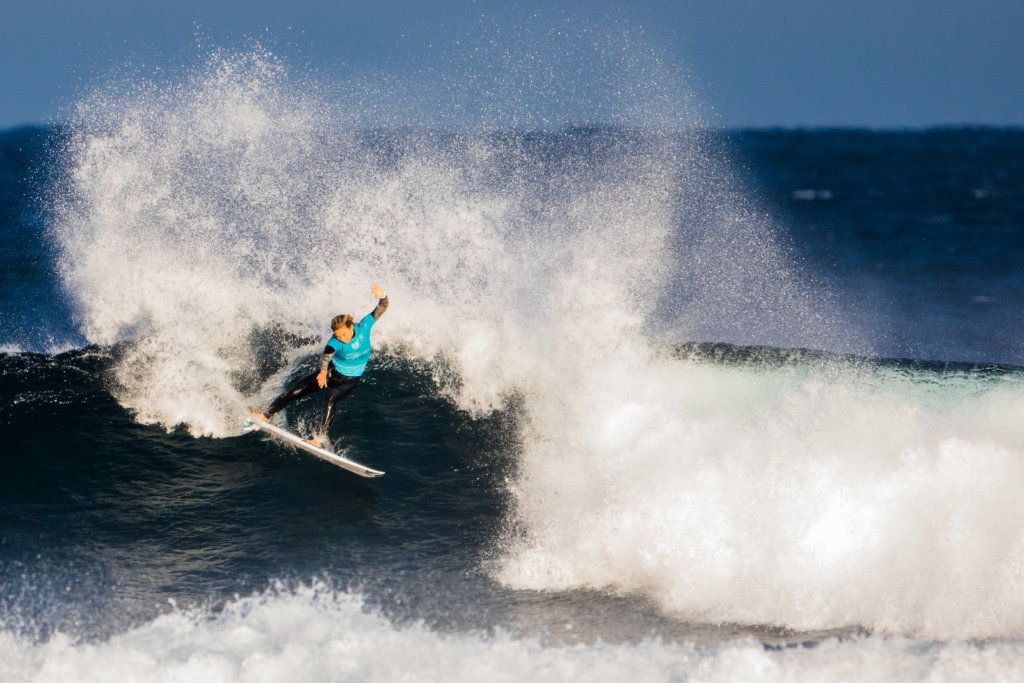 PHOTO: © WSL / Dunbar
"There has been so much going on here today, so I'm glad to have stayed focused and surfed two good heats," Wright said. "Main Break is a wave that offers great opportunities for a series of turns and particularly today — it was so good out there. Like the other girls in the Quarterfinals, I'm here to win so I can't wait to get back out there."
Defay came second in her Round 3 heat against Wright and Ho, moving her into the Quarterfinals where she will face Nikki Van Dijk (AUS). Ho received a penalty for interfering with Defay and was unable to recover. She will exit in Equal 9th place.
Van Dijk earned her Quarterfinal position by taking down Lakey Peterson (USA) and Malia Manuel (HAW) in Round 3 Heat 3. Manuel earned one of the highest heat totals of the event earlier today in Round 2 but was unable to close the gap later in Round 3 and is eliminated from the event. Peterson earned second place in the heat and will advance to the Quarterfinals.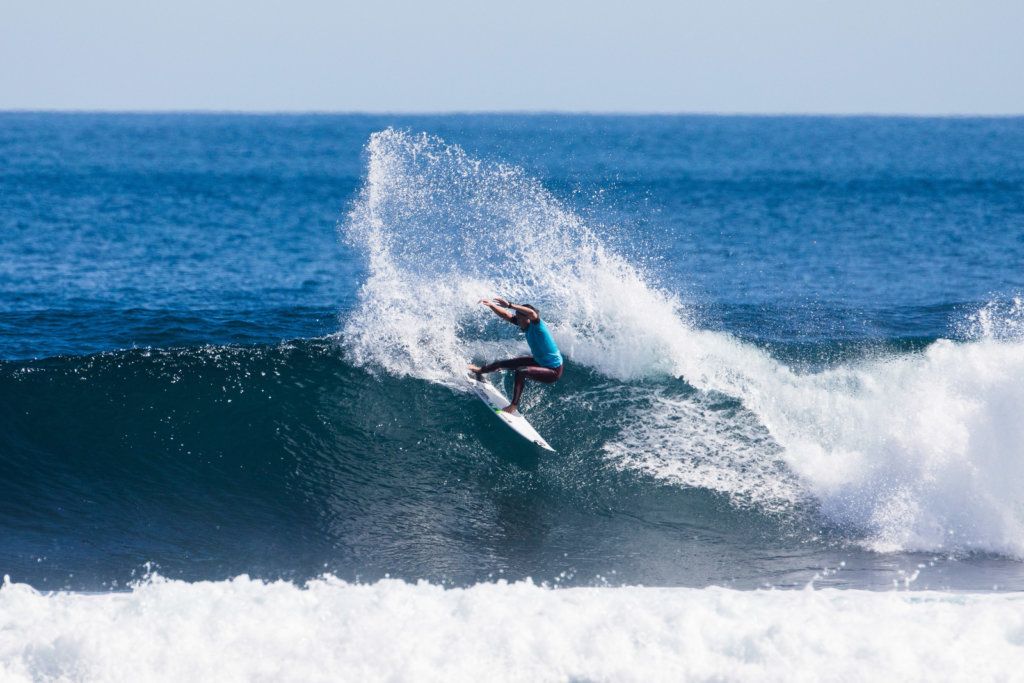 PHOTO: © WSL / Dunbar
Peterson had a close call in her Round 2 heat against Drug Aware WA Trials winner Mikaela Greene (AUS), who was hot on her heels until the final hooter. The two traded the lead throughout the heat, but it was Peterson who held it at the end with Greene falling just short of the requirement with her impressive last ditch effort.
There isn't much silverware that six-time WSL Champion Stephanie Gilmore (AUS) doesn't have in her trophy cabinet but a Margaret River Pro trophy is one that still eludes her. Today, in classic fashion, Gilmore moved one step closer to achieving this goal with an epic display of style and finesse to progress into the Quarterfinal where she will match-up with hometown hero Macaulay. Gilmore hopes for another victory this season as she hunts for her seventh World Title.
"To be in the race for a World Title, you have to consistently be making it to the Quarterfinals and beyond so I'm really happy to have made it and performed the way I did today," Gilmore said. "Heading out for my Round 3 heat, I was so inspired by Carissa (Moore), Malia (Manuel) and all of the girls that surfed today, everyone was surfing so good. That's what I love about this sport, you can watch the heats before you and get excited to get out there and show everyone what you've got and raise the bar."
As Round 3 came to a close, conditions deteriorated and the WSL Commissioners put the competition on hold for improved surf and wind. Due to decreased swell and poor winds tomorrow, the WSL Commissioner's Office has called OFF competition for tomorrow, April 17, and will reassess Wednesday, April 18 to make the next call.
Smaller leftovers on Tuesday and with onshore wind. New WSW swell shows Wed/Thurs with overhead to well overhead waves; onshore wind for Wednesday, but looking ok for Thursday. Fun surf continues Friday with conditions ok for at least the AM. Large SW-WSW swell arrives on the weekend, but strong onshore winds are projected to rise up. SL.
Margaret River Women's Pro Round 2 Results:
Heat 1: Coco Ho (HAW) 12.87 def. Sage Erickson (USA) 10.60
Heat 2: Bronte Macaulay (AUS) 15.73 def. Silvana Lima (BRA) 8.84
Heat 3: Lakey Peterson (USA) 10.00 def. Mikaela Greene (AUS) 9.87
Heat 4: Tyler Wright (AUS) 14.73 def. Paige Hareb (NZL) 13.03
Heat 5: Nikki Van Dijk (AUS) 14.70 def. Macy Callaghan (AUS) 11.63
Heat 6: Malia Manuel (HAW) 17.33 def. Keely Andrew (AUS) 12.27
Margaret River Women's Pro Round 3 Results:
Heat 1: Carissa Moore (HAW) 17.37, Bronte Macaulay (AUS) 14.94, Sally Fitzgibbons (AUS) 14.90
Heat 2: Stephanie Gilmore (AUS) 17.10, Tatiana Weston-Webb (HAW) 13.27, Caroline Marks (HAW) 9.73
Heat 3: Nikki Van Dijk (AUS) 15.33, Lakey Peterson (USA) 14.73, Malia Manuel (HAW) 13.00
Heat 4: Tyler Wright (AUS) 14.06, Johanne Defay (FRA) 12.10, Coco Ho (HAW) 7.33
Margaret River Women's Pro Quarterfinal Matchups:
QF 1: Carissa Moore (HAW) vs. Tatiana Weston-Webb (HAW)
QF 2: Stephanie Gilmore (AUS) vs. Bronte Macaulay (AUS)
QF 3: Nikki Van Dijk (AUS) vs. Johanne Defay (FRA)
QF 4: Tyler Wright (AUS) vs. Lakey Peterson (USA)
Margaret River Men's Pro Round 3 Matchups:
Heat 1: Owen Wright (AUS) vs. Keanu Asing (HAW)
Heat 2: Kolohe Andino (USA) vs. Jesse Mendes (BRA)
Heat 3: Jordy Smith (ZAF) vs. Michael February (ZAF)
Heat 4: Italo Ferreira (BRA) vs. Michael Rodrigues (BRA)
Heat 5: Sebastian Zietz (HAW) vs. Conner Coffin (USA)
Heat 6: Julian Wilson (AUS) vs. Kael Walsh (AUS)
Heat 7: Gabriel Medina (BRA) vs. Jack Robinson (AUS)
Heat 8: Michel Bourez (PYF) vs. Connor O'Leary (AUS)
Heat 9: Adriano de Souza (BRA) vs. Willian Cardoso (BRA)
Heat 10: Filipe Toledo (BRA) vs. Yago Dora (BRA)
Heat 11: Joel Parkinson (AUS) vs. Joan Duru (FRA)
Heat 12: John John Florence (HAW) vs. Mikey Wright (AUS)