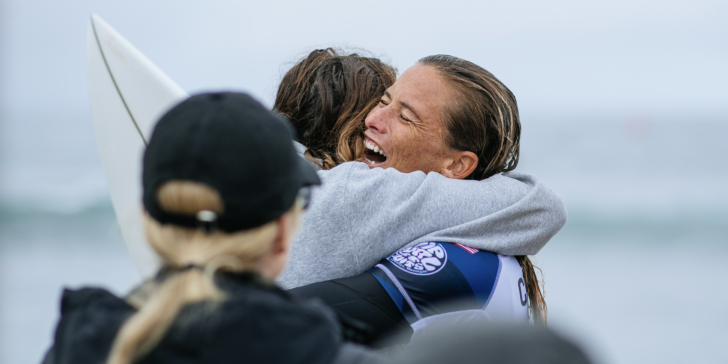 Top 5's Peterson, Manuel, and Weston-Webb Eliminated in Round of 16
4x Bells Winner Stephanie Gilmore Ends Local Hero India Robinson's Run at Home
Rookies Gabriela Bryan and Luana Silva Fall Shy of Quarters at Bells Beach
Pictured FRONT PAGE: Courtney Conlogue (USA) celebrates her Round of 16 win at the Rip Curl Pro Bells Beach. Conlogue currently sits in 16th on the world rankings and needs to continue her roll at Bells to make the new Mid-season Cut. Credit: © WSL / Sloane
BELLS BEACH, Victoria, Australia (Wednesday, April 13, 2022) – The Rip Curl Pro Bells Beach completing the women's Round of 16 in clean three-to-five foot surf on the Bells Bowl. The fourth stop on the World Surf League (WSL) 2022 Championship Tour (CT) is now down to the Quarterfinals after big eliminations today.
Pictured: Bronte Macaulay put on an incredible performance to secure a spot in the Quarterfinals for the first time at Bells. Credit: © WSL / Sloane
Top 5's Peterson, Manuel, and Weston-Webb Eliminated in Round of 16 
The Opening heat of the day saw a clash of the Californians with Lakey Peterson taking on 2019 Bells winner Courtney Conlogue. With Peterson residing in Torquay for half the year and Conlogue in the hunt for her third win at Bells, this heat was a matchup of two very formidable and experienced competitors at this location and was always going to be one to watch. Conlogue took control of the heat early and never looked back, convincingly beating the world No. 2. The win was a must for Conlogue who is currently sitting below the Mid-season Cut Line and in desperate need of a big result here at the Rip Curl Pro Bells Beach.
"I kind of played off all of the knowledge I've had through all the years out here and just trusted the process," said Conlogue. "It was tricky, really slow, but I had a good start and it paid off. The stakes are high, they always are and I've had a tricky year and you have to learn from those experiences and play it out and see it through. Whatever happens, happens. The best way to do well is flow".
Heat 2 saw Sally Fitzgibbons (AUS) progress to the Quarterfinals after beating World No. 5 Malia Manuel (HAW) by just 0.33 points. In four-to-six-foot waves with light wind conditions, it was the first time either of the athletes surfed at Bells in the 2022 Rip Curl Pro.
Injury replacement Bronte Macaulay (AUS) was a standout in the Round of 16, dominating her matchup with fellow goofy-foot and World Title hopeful Tatiana Weston-Webb. Macaulay was on fire, throwing buckets of spray with her vertical backhand turns to post an impressive two-wave total of 15.66 which left Weston-Webb in a combination situation (needing two scores).
"It was always going to be a hard heat against Tatiana," Macaulay said. "She's got a really good backhand but I was just so excited to surf. I was feeling really competitive before that heat and I haven't felt competitive for a while so it was exciting to be out there. I feel really lucky to be working with Jordy who is a local here and he gave me some amazing tips on wave selection which definitely helped. I got some clean ones that were the best waves."
Pictured: Sally Fitzgibbons was all smiles after her Round of 16 heat win today. Credit: © WSL / Sloane
4x Bells Winner Stephanie Gilmore Ends Local Hero India Robinson's Run 
Heat 6 was the round that rookie India Robinson's Bells dream came to an end when seven-time WSL Champion Stephanie Gilmore (AUS) powered home with an 8.07 (out of a possible 10) to win the heat. Gilmore used her experience to outperform the rookie, focusing on wave selection and skill variety to show the judges. Sitting just below the Mid-season cut, this win couldn't come at a better time for the CT veteran.
"I've had so many hard heats this year, and India I knew wasn't going to be any easier," Gilmore said. "She's an incredible young surfer and I've actually seen some of my favorite heats here at Bells has been watching the locals. I knew I couldn't out pick the best waves and I knew she would always be on the good ones so I had to stay busy and almost go against what I'm used to doing which is just being patient. But it was back and forth the whole time, they are actually such good heats because you are just on edge the whole time thinking 'yeh, I've got the score' and then they throw a score back at you. India is a great surfer so that's a tough result for sure for her."
Pictured: Tyler Wright was the Day 3 standout at Bells Beach posting a 17.24 two-wave total Credit: © WSL / Hughes
Rookies Gabriela Bryan and Luana Silva Fall Shy of Quarters at Bells Beach 
Tyler Wright (AUS) overtook Johanne Defay (FRA) for the highest heat total on the women's side so far, beating rookie Gabriela Bryan (HAW) to progress into the Quarterfinals. In a heat that had everything working for Wright, she was able to lock in an 8.17 (out of a possible 10) early, only to back it up with a 9.07 (out of a possible 10)  for a combined heat score of 17.24 (out of a possible 20). Wright's performance was a shot across the bow of her opponents and a sign that she is ready to claim her maiden Rip Curl Pro Bells Beach title.
"That was really fun and really special," said Wright. "It's been four years since I've surfed out here. It's been a really long time since I've felt like I've surfed like myself and I'm starting to feel like that again and get glimpses of that so it's quite emotional for me. I look down at my body and it feels like my body, the powerful and strong and connected way I surf and feel. It's quite emotional for me to feel, it feels like it's the first time I've felt it in four years. It's the only event I really want to win."
World No. 1 Brisa Hennessy (CRI) kept her cool in her heat against rookie Luana Silva (HAW) to take home the win and progress to the Quarterfinals where she'll take on event standout, Johanne Defay (FRA). Positing two solid scores of 7.00 (out of a possible 10) and 6.57 (out of a possible 10) helped to give Hennessy the edge over Silva, who's last minute wave wasn't enough to steal the win.
Rip Curl Pro Bells Beach Women's Round of 16 Results:
HEAT 1: Courtney Conlogue (USA) 13.84 DEF. Lakey Peterson (USA) 9.00
HEAT 2: Sally Fitzgibbons (AUS) 12.93 DEF. Malia Manuel (HAW) 12.60
HEAT 3: Bronte Macaulay (AUS) 15.66 DEF. Tatiana Weston-Webb (BRA) 10.90
HEAT 4: Tyler Wright (AUS) 17.24 DEF. Gabriela Bryan (HAW) 13.37
HEAT 5: Carissa Moore (HAW) 14.60 DEF. Alyssa Spencer (USA) 12.07
HEAT 6: Stephanie Gilmore (AUS) 14.90 DEF. India Robinson (AUS) 13.23
HEAT 7: Brisa Hennessy (CRI) 13.57 DEF. Luana Silva (HAW) 12.26
HEAT 8: Johanne Defay (FRA) 13.00 DEF. Isabella Nichols (AUS) 11.26Rip Curl Pro Bells Beach Women's Quarterfinal Matchups:
HEAT 1: Courtney Conlogue (USA) vs. Sally Fitzgibbons (AUS)
HEAT 2: Bronte Macaulay (AUS) vs. Tyler Wright (AUS)
HEAT 3: Carissa Moore (HAW) vs. Stephanie Gilmore (AUS)
HEAT 4: Brisa Hennessy (CRI) vs. Johanne Defay (FRA)Rip Curl Pro Bells Beach Men's Round of 32 Matchups:
HEAT 1: Griffin Colapinto (USA) vs. Owen Wright (AUS)
HEAT 2: Caio Ibelli (BRA) vs. Nat Young (USA)
HEAT 3: Jordy Smith (ZAF) vs. Jackson Baker (AUS)
HEAT 4: Ethan Ewing (AUS) vs. Lucca Mesinas (PER)
HEAT 5: Filipe Toledo (BRA) vs. Mikey Wright (AUS)
HEAT 6: Connor O'Leary (AUS) vs. Ezekiel Lau (HAW)
HEAT 7: John John Florence (HAW) vs. Joao Chianca (BRA)
HEAT 8: Barron Mamiya (HAW) vs. Morgan Cibilic (AUS)
HEAT 9: Kanoa Igarashi (JPN) vs. Mick Fanning (AUS)
HEAT 10: Frederico Morais (PRT) vs. Callum Robson (AUS)
HEAT 11: Miguel Pupo (BRA) vs. Deivid Silva (BRA)
HEAT 12: Kolohe Andino (USA) vs. Jadson Andre (BRA)
HEAT 13: Kelly Slater (USA) vs. Imaikalani deVault (HAW)
HEAT 14: Jack Robinson (AUS) vs. Leonardo Fioravanti (ITA)
HEAT 15: Jake Marshall (USA) vs. Samuel Pupo (BRA)
HEAT 16: Italo Ferreira (BRA) vs. Ryan Callinan (AUS)