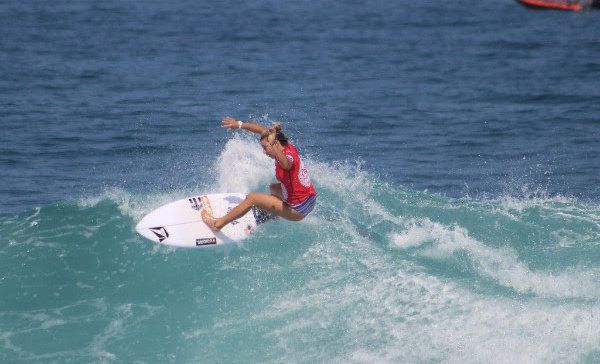 Day 2 goes BIG at Los Cabos Open & plenty Local Hawaii Talent moving through! (see hi-lites)
On her way to winning in 4th Round. Coco Ho © WSL/Nichols
Los Cabos Open of Surf
WSL QS6000 Women's Event
Zippers, Los Cabos, Baja Sur Mexico
6 – 11 June 2017
Surf News Network, 8 June 2017 – San Jose Del Cabo – The World Surf League (WSL) Los Cabos Open of Surf Women's Qualifying Series (QS) 6,000 dove right back into competition to start the morning off with the completion of Round Three in more fun, three-to-five foot Zippers conditions.
Top seeds debuted following the women Pro Junior's Round One and Round Four and dominating performances were in abundance along with a few upsets. Event organizers maximized the swell on offer and were able to get back into the Pro Junior women's event for Round Two before the sun began to set.
 
Tatiana Weston-Webb (HAW) showcased her formidable backhand in dominant fashion that earned her a commanding 16.60 (out of a possible 20). The Kauaian comes fresh from the Outerknown Women's Fiji Pro to the righthand break of Zippers and made the transition with ease. With a stacked field of competitors around here at the QS level, Weston-Webb will be bringing her best to this event.
 
"This wave is really fun and the girls are surfing amazing which is inspiring me to surf really well," Weston-Webb said. "It just pushes me that much harder. This contest is definitely not going to be easy and it'll be hard work, but I feel good. It's such a blessing to be on Tour and surfing against girls like Steph [Gilmore] and Carissa [Moore] because they make you want to constantly surf better. It's a dream, but I don't take QS events lightly with the girls like Alyssa Spencer who can post two sevens and then you're left needing two really good waves."
 
Zippers welcomed back Silvana Lima (BRA) with big opportunities that she took full advantage and matched the women's QS6,000 highest single scoring wave score of a near-perfect 9.00 (out of a possible 10). The Brazilian loves coming to this event and showed her tenacity on one of her favorite stops during the calendar year.
 
"It's so good when you start with a good score like that and you really feel comfortable right away," Lima said. "It helps build going for your second wave and feeling much more confident, especially when it's a bit slow like it was in my heat, you just have to find a solid backup when you can. I feel like if I didn't compete anymore, I'd still come to this event — the people are so good, this wave is great and it's similar to where I'm from."
Former CT competitor and QS veteran Claire Bevilacqua (AUS) charged through Round Three yesterday and delivered an even better performance today. The 34-year-old Australian played a key role in eliminating 2015 Los Cabos Open of Surf champion Nikki Van Dijk (AUS) from the event. Bevilacqua currently sits at No. 6 on the QS and could make a big impact on the rankings with a result here in her efforts to give it a full go after time away from Tour.
 
"I'm so happy, I'm just in my element here with it being so amazing everywhere you go," Bevilacqua said. "I did everything I needed to do at home, I built my house and got to really surf, and train, and just work on all these things I really wanted to when I couldn't be on Tour. There's no pressure, I have support, and I'm just enjoying it all and living in the moment."
The women's Pro Junior got underway amid all the QS action and phenomenal surfing followed from the international contingent on hand. Australians Macy Callaghan (AUS) and Alyssa Lock (AUS) renewed the Aussie dominance of this event with brilliant performances as Rounds One and Two, Heats 1-4 were wrapped.
 
But, it was a familiar face in Summer Macedo (HAW) that couldn't be stopped once more as she dropped the event's highest single-wave score, a 9.17, and heat total thus far of 17.43. She still remains a threat to some of the world's best at the QS level but also poses a huge threat as one of the top international talents contesting the North America region.
 
"The waves were actually really fun in that heat and I was surprised because with the higher tide it usually closes out, and a lot of backwash on the face," Macedo said. "I definitely prefer waves to no waves like we had last year. To get those kind of scores really helps my confidence knowing what the judges are looking for and to keep finding waves that allow me to open up. I can't wait to get some more heats in and hopefully this swell keeps up."
 
Chiasa Maruyama (USA) snagged a win in Round One to kick off her first-ever WSL Pro Junior event and represented Huntington Beach well — taking out top European talent Teresa Bonvalot (PRT). While she awaits a Round Two matchup in Heat 7, Maruyama was the only North America surfer to make it out of Round One among the international field in attendance. But, some of the region's best are set to debut when the horn sounds once again for the Pro Junior women and make their mark on the event.
 
"I'm just so stoked right now, that was a pretty stacked heat and I've surfed against all of them in past so to get a win feels really good," Maruyama said. "This is my first Pro Junior event so I'm excited to get through the first round and feels amazing to be out of a wetsuit down here. I'm just trying to have fun and catch a few waves, it'd be great to do well in a competition, but I'm not putting any pressure on myself here."
 
Event organizers will reconvene at 7:30 a.m. MDT to determine an 8:00 a.m. MDT Start for either Round Five of the Los Cabos Open of Surf Women's QS6,000, or Pro Junior events.
 Upcoming Los Cabos Open of Surf Women's QS6,000 Round Five Matchups:
Heat 1: Bailey Nagy (HAW), Summer Macedo (HAW), Isabella Nichols (AUS)
Heat 2: Silvana Lima (BRA), Dimity Stoyle (AUS), Chelsea Tuach (BRB)
Heat 3: Claire Bevilacqua (AUS), Laura Enever (AUS), Keely Andrew (AUS)
Heat 4: Bianca Buitendag (ZAF), Caroline Marks (USA), Mahina Maeda (HAW)
Heat 5: Philippa Anderson (AUS), Ellie Brooks (AUS), Alyssa Spencer (USA)
Heat 6: Tatiana Weston-Webb (HAW), Pauline Ado (FRA), Sage Erickson (USA)
Heat 7: Alessa Quizon (HAW), Dominic Barona (ECU), Macy Callaghan (AUS)
Heat 8: Coco Ho (HAW), Paige Hareb (NZL), Bronte Macaulay (AUS)
Los Cabos Open of Surf Women's QS6,000 Round Four Results:
Heat 1: Bailey Nagy (HAW) 11.67, Dimity Stoyle (AUS) 11.03, Codie Klein (AUS) 9.34, Anali Gomez (PER) 8.00
Heat 2: Silvana Lima (BRA) 14.60, Summer Macedo (HAW) 11.43, Kobie Enright (AUS) 8.83, Holly Wawn (AUS) 6.60
Heat 3: Chelsea Tuach (BRB) 11.33, Isabella Nichols (AUS) 11.20, Freya Prumm (AUS) 6.77, Ellie-Jean Coffey (AUS) 5.90
Heat 4: Claire Bevilacqua (AUS) 13.17, Caroline Marks (USA) 12.47, Nikki Van Dijk (AUS) 12.33, Leila Takeda (JPN) 5.10
Heat 5: Keely Andrew (AUS) 15.37, Mahina Maeda (HAW) 10.16, Ashlee Spence (AUS) 8.33, Gabriela Bryan (HAW) 7.77
Heat 6: Bianca Buitendag (ZAF) 12.67, Laura Enever (AUS) 10.26, Rachel Presti (USA) 8.77, Nao Omura (JPN) 8.50
Heat 7: Philippa Anderson (AUS) 14.80, Pauline Ado (FRA) 12.26, Kirra Pinkerton (USA) 12.10, Brisa Hennessy (HAW) 11.34
Heat 8: Tatiana Weston-Webb (HAW) 16.60, Ellie Brooks (AUS) 10.67, Tia Blanco (USA) 9.66, Georgia Fish (AUS) 9.60
Heat 9: Sage Erickson (USA) 15.17, Alyssa Spencer (USA) 14.53, Chelsea Roett (BRB) 10.00, Asaya Brusa (MEX) 6.53
Heat 10: Alessa Quizon (HAW) 13.10, Paige Hareb (NZL) 12.16, Brianna Cope (HAW) 9.00, Reika Noro (JPN) 7.56
Heat 11: Macy Callaghan (AUS) 13.07, Bronte Macaulay (AUS) 12.84, Teresa Bonvalot (PRT) 9.43, Meah Collins (USA) 7.77
Heat 12: Coco Ho (HAW) 13.37, Dominic Barona (ECU) 11.40, Alyssa Lock (AUS) 10.70, Emily Nishimoto (JPN) 9.83
 
Los Cabos Open of Surf Women's Pro Junior Round Two Results:
Heat 1: Macy Callaghan (AUS) 14.67, Leilani McGonagle (CRI) 10.47, Sophie Falzone (USA) 5.27, Alexa Muss (USA) 5.20
Heat 2: Rachel Presti (USA) 11.77, Julia Camargo (BRA) 7.30, Tiare Thompson (USA) 6.40, Ana Laura Gonzalez (MEX) 5.23
Heat 3: Summer Macedo (HAW) 17.43, Meah Collins (USA) 11.74, Madeline Zeuli (USA) 9.76, Kayla Coscino (USA) 8.47
Heat 4: Alyssa Lock (AUS) 15.87, Kirra Pinkerton (USA) 12.93, Havanna Cabrero (PRI) 5.47, Molly Kirk (USA) 5.20
Remaining Los Cabos Open of Surf Women's QS6,000 Round Three Results:
Heat 7: Brisa Hennessy (HAW) 12.34, Ellie Brooks (AUS) 9.50, Ainara Aymat (EUK) 6.10, Nathalie Martins (BRA) 4.63
Heat 8: Tia Blanco (USA) 12.10, Kirra Pinkerton (USA) 10.20, Frankie Harrer (DEU) 9.80, Tiare Thompson (USA) 7.40
Heat 9: Alyssa Spencer (USA) 12.20, Reika Noro (JPN) 7.20, Maddie Peterson (USA) 6.47, Maud Le Car (FRA) 6.20
Heat 10: Brianna Cope (USA) 8.40, Chelsea Roett (BRB) 6.83, Nicole Fulford (USA) 4.40Garazi Sanchez-Ortun (ESP) 3.70
Heat 11: Teresea Bonvalot (PRT) 9.90, Emily Nishimoto (JPN) 8.70, Camilla Kemp (PRT) 8.13, Samantha Sibley (USA) 6.93
Heat 12: Mikaela Greene (AUS) 8.83, Meah Collins (USA) 9.67, Alyssa Lock (AUS) 12.67, Lucy Campbell (GBR) 5.47
 
Los Cabos Open of Surf Women's Pro Junior Round One Results:
Heat 1: Macy Callaghan (AUS) 11.77, Julia Camargo (BRA) 6.97, Maile Davis (USA) 4.73, Brooke Young (USA) 1.76
Heat 2: Summer Macedo (HAW) 14.67, Alyssa Lock (AUS) 12.83, Emily Nishimoto (JPN) 6.36, Serena Nava (USA) 3.50
Heat 3: Brisa Hennessy (HAW) 11.73, Gabriela Bryan (HAW) 10.56, Kobie Enright (AUS) 7.87, Kalohe Danbara (USA) 0.00
heat 4: Chiasa Maruyama (USA) 7.53, Julie Nishimoto (JPN) 7.16, Teres