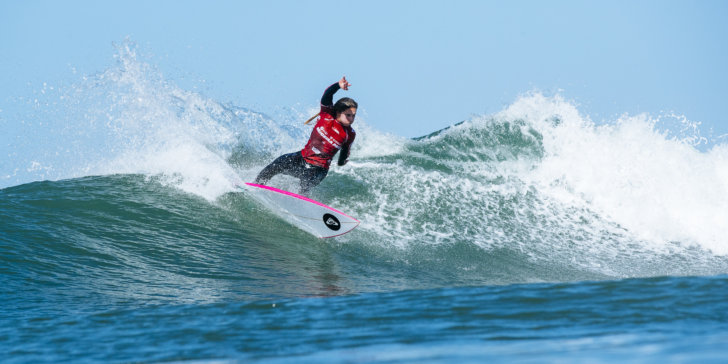 … pres. By Estrella Galicia
Stop No.5 on the 2023 World Surf League (WSL) Challenger Series
Veselko, Benedetto Stand Out at Ribeira
Competition Called OFF Monday
Next Call @ 7am GMT+1 on Tuesday, October 3, 2023…Portugal is 11 hours ahead of us.
Pictured: Francisca Veselko (POR) showed class in the Ribeira lineup. Credit: © WSL /  Poullenot
RIBEIRA D'ILHAS, Ericeira / Portugal (Sunday, October 1, 2023) – Competition got underway today at the EDP Vissla Ericeira Pro pres. by Estrella Galicia PT, Stop No.5 on the 2023 World Surf League (WSL) Challenger Series, in clean two-to-three foot waves and light winds to run the opening round of the women's division before conditions got smaller and forced competition to be called off for the rest of the day.
Veselko Finds Excellence in Slow Ribeira Lineup
Experience in a familiar lineup proved extremely valuable for Portugal's Francisca Veselko (POR) who has surfed the rights of Ribeira extensively throughout her amateur career.
The 20 year-old from down the coast found the best wave of the morning, a beautiful right that hit the reef with the perfect angle and gave her a clean wall and multiple sections. Her powerful carves and flow were a perfect match for the wave and Veselko posted the first excellent score of the day, an 8.50 (out of a possible 10).
"The first heat is always a bit nerve wracking but I've been practicing out here and I come up a lot from Cascais," Veselko admitted. "It was a slow start but that wave connected all the way through and I got a good score. I'm super focused, training twice a day and eating healthy so I'm just trying to give myself the best chance."
New Generation Puts on a Show in Day's Last Heat
The last heat of the day was a good preview of what's to come in women's surfing with young surfers all trying to make their mark on the Challenger Series. Erin Brooks (CAN), Zoe Benedetto (USA) and Nora Liotta (HAW) got into an exciting back-and-forth battle with a solid score each.
Benedetto got the nod with an excellent 8.50, but in the dying moments of the heat, the Floridian was still chasing a minor backup. She managed to score on a single, powerful snap to make it through in first. Behind her, Brooks placed second and Liotta, despite having the second highest number of the heat, was eliminated in third.
"I kind of had a rough start and had to pull myself together," Benedetto said. "I got that good wave and was just still getting my feet in the wax and made a few more mistakes after. I was lucky to get that final opportunity at the end that pushed me through and I'll definitely need to work on some things."
Former Junior Star Stands Out on Opening Day at Ribeira
A former runner-up at the World Junior Championships when the event was held here at Ribeira d'Ilhas in 2014, Tessa Thyssen (FRA) was the first surfer to open up the judging scale, finding good scores on her backhand. A finalist last year in Saquarema, the Caribbean surfer hasn't yet found her winning form this season on the Challenger Series but is on her way regionally to secure her spot for next season and will look to build more experience towards another qualification effort in 2024.
"On a pointbreak I think wave selection is really important because obviously we can all surf pretty well," Thyssen reflected. "It's a bit of a challenge for me cause I'm not patient at all so I'm trying to get into a rhythm but at the same time trying to get on the right waves."
With swell further diminishing throughout the day and Monday, event officials have decided the next call will be at 7am GMT+1 on Tuesday, October 3, 2023 at Ribeira d'Ilhas.
Watch LIVE
The EDP Vissla Ericeira Pro pres. by Estrella Galicia PT holds a competition window October 1-8, 2023. Once called on, the competition will be broadcast LIVE on WorldSurfLeague.com, the WSL's YouTube channel, and the free WSL app. Check out more ways to watch from the WSL's broadcast partners.
The EDP Vissla Ericeira Pro pres. by Estrella Galicia PTx is supported by EDP, Vissla, Tourism of Portugal, Mafra City Council, Ericeira World Surfing Reserve, Estrella Galicia, Yeti, MEO, Millennium Bank, Joaquim Chaves Saúde, You & The Sea Hotel and Apartments, Hertz, Cabreiroá.
EDP VISSLA ERICEIRA PRO PRES. BY ESTRELLA GALICIA WOMEN'S RD32 MATCHUPS:
HEAT 1: Sally Fitzgibbons (AUS) vs. Ariane Ochoa (EUK) vs. Kobie Enright (AUS) vs. Daniella Rosas (PER)
HEAT 2: Sarah Baum (RSA) vs. Luana Silva (BRA) vs. Natasha Van Greunen (RSA) vs. Nadia Erostarbe (EUK)
HEAT 3: Bronte Macaulay (AUS) vs. Zahli Kelly (AUS) vs. Tessa Thyssen (FRA) vs. Sophia Medina (BRA)
HEAT 4: India Robinson (AUS) vs. Bella Kenworthy (USA) vs. Nanaho Tsuzuki (JPN) vs. Nikki Van Dijk (AUS)
HEAT 5: Isabella Nichols (AUS) vs. Sophie McCulloch (AUS) vs. Sol Aguirre (PER) vs. Zoe McDougall (HAW)
HEAT 6: Alyssa Spencer (USA) vs. Ellie Harrison (AUS) vs. Anon Matsuoka (JPN) vs. Pauline Ado (FRA)
HEAT 7: Vahine Fierro (FRA) vs. Teresa Bonvalot (POR) vs. Francisca Veselko (POR) vs. Erin Brooks (CAN)
HEAT 8: Sawyer Lindblad (USA) vs. Macy Callaghan (AUS) vs. Zoe Benedetto (USA) vs. Laura Raupp (BRA)
EDP VISSLA ERICEIRA PRO PRES. BY ESTRELLA GALICIA WOMEN'S RD48 RESULTS:
HEAT 1: Kobie Enright (AUS) 9.30 DEF. Nadia Erostarbe (EUK) 8.27, Ella McCaffray (USA) 8.16, Janire Gonzalez Etxabarri (EUK) 7.50
HEAT 2: Natasha Van Greunen (RSA) 8.27 DEF. Daniella Rosas (PER) 7.23, Yolanda Hopkins (POR) 6.04, Puamakamae DeSoto (HAW) 5.33
HEAT 3: Tessa Thyssen (FRA) 11.66 DEF. Nikki Van Dijk (AUS) 9.37, Sara Wakita (JPN) 8.53, Nyxie Ryan (AUS) 7.67
HEAT 4: Nanaho Tsuzuki (JPN) 10.77 DEF. Sophia Medina (BRA) 9.24, Zoë Steyn (RSA) 9.06, Carolina Mendes (POR) 2.07
HEAT 5: Sol Aguirre (PER) 11.67 DEF. Pauline Ado (FRA) 9.23, Leilani McGonagle (CRC) 8.00, Arena Rodriguez Vargas (PER) 6.00
HEAT 6: Anon Matsuoka (JPN) 11.73 DEF. Zoe McDougall (HAW) 11.23, Jessie Van Niekerk (RSA) 9.24, Kirra Pinkerton (USA) 7.73
HEAT 7: Francisca Veselko (POR) 13.40 DEF. Laura Raupp (BRA) 10.50, Minami Nonaka (JPN) 9.13, Amuro Tsuzuki (JPN) 5.93
HEAT 8: Zoe Benedetto (USA) 12.50 DEF. Erin Brooks (CAN) 12.50, Nora Liotta (HAW) 12.23, Eweleiula Wong (HAW) 8.73