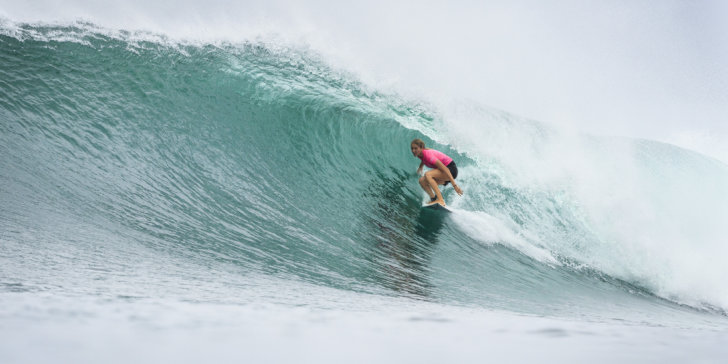 This Sunday, November 25th a new 18 sec High Surf Adv NW fills in on day one of the holding period! Models have upgraded the entire week. Surf could be too Big for competition on select days. 
The contest runs through Wednesday, December 5, 2018.
There are several days of BIG ABOVE Warning Level NW swell in the forecast starting Monday the 26th. SNN. 
STEPHANIE GILMORE AND LAKEY PETERSON WILL BATTLE FOR 2018 WORLD TITLE
BETHANY HAMILTON AND ALANA BLANCHARD ANNOUNCED AS EVENT WILDCARDS
LAST CHANCE FOR CHAMPIONSHIP TOUR REQUALIFICATION
Cover shot: Stephanie Gilmore (AUS) will hunt down her seventh World Title at the Beachwaver Maui Pro, which opens November 25 and runs through December 5, 2018.
Credit: © WSL / Poullenot
HONOLUA BAY, Maui, Hawaii/USA (Monday, November 19, 2018) – The Beachwaver Maui Pro, the final stop on the 2018 World Surf League (WSL) Women's Championship Tour (CT), will host the highly-anticipated World Title showdown and the last opportunity for CT requalification later this week.
Held at Honolua Bay in Maui, Hawaii, the waiting period opens on Sunday, November 25 and runs through Wednesday, December 5, 2018. During this time, event organizers will closely monitor the waves and only run during the best conditions.
In the 2018 World Title Race, only Stephanie Gilmore (AUS) and Lakey Peterson (USA) are mathematically in contention to win the prestigious World Championship and await the Beachwaver Maui Pro.
The World Title scenarios going into the Beachwaver Maui Pro are as follows:
– Gilmore will win the World Title with a 3rd (semis) or better at the Beachwaver Maui Pro.
– If Gilmore finishes 5th or worse, Peterson must win the event to force a surf-off* for the World Title
– *In the event of a tie for any World Title at the end of the Surfing Season, the tied Surfer will have a "surf-off" during the final Event, which will have the format determined by the Commissioner's Office. 
For Gilmore, the six-time WSL Champion, winning means making history by clinching a record-equalling seventh World Title. The accomplishment would put Gilmore into an elite class within surfing's World Champions as one of only three individuals to earn seven World Titles, Layne Beachley (7) and Kelly Slater (11).
For Peterson, defeating Gilmore would mark the American's first World Title. Peterson is the highest-ranked American surfer on both the women's and men's World Rankings, and the win in Maui would push the event into a Surf-Off for the win. With two event wins this year (Gold Coast, Bali) and two runner-up finishes (J-Bay, Rio), Peterson has the potential to upset Gilmore's hunt for gold.
For more information about the 2018 World Title Race, please visit WSLTitleRace.com.
To requalify for the women's Championship Tour, current competitors on the CT have to be ranked 10th or better on the Jeep Leaderboard or they must finish 6th or better on the WSL Qualifying Series (QS), excluding those who have already qualified through the CT Rankings. The WSL Commissioner's Office also selects one wildcard for the season.
With the Beachwaver Maui Pro as the final women's event of the season, this will be the last opportunity for lower-ranked surfers to secure their positions for next year's elite Tour. California's Sage Erickson (USA) needs a critical result to requalify.
Wildcards and injury replacements for the 2018 Beachwaver Maui Pro include Bethany Hamilton (HAW), Alana Blanchard (HAW), Summer Macedo (HAW), and Zoe McDougall (HAW). These athletes will replace Tyler Wright (AUS), Silvana Lima (BRA) and Keely Andrew (AUS), who have withdrawn due to injuries sustained earlier this season.

Alana Blancard (HAW) and Bethany Hamilton (HAW) will compete in the upcoming Beachwaver Maui Pro.
Credit: © Rip Curl
Hamilton poses a considerable threat to the top seeds Carissa Moore (HAW) and Coco Ho (HAW) in Round 1.
As evidenced by her previous CT success, Hamilton has proven that anything can happen and will be one to watch when competition is called on. This will be Hamilton's tenth CT appearance.
Hamilton has become a source of inspiration to millions through her story of determination, faith, and hope. At the age of 13, she lost her left arm to a shark, seemingly ending her surfing career. Against the odds, the "Soul Surfer" returned to the lineup and went on to realize her dream of surfing professionally.
"I am so excited to be competing in home state, Hawai'i!" said Hamilton. "And not only that but at Honolua, one of the world's best waves! Between the beautiful cliff and those epic righthand walls and barrels, it's such a dreamy place. It's going to be amazing to surf against the girls. I can't wait to see what sort of swell comes for us to compete in."
Blanchard is a former four-year competitor on the elite Championship Tour. The 28-year-old will return to the competitive CT stage for the first time since 2014 and for the first time since giving birth to her son, Banks. Alongside good friend Hamilton, Blanchard has the opportunity to play spoiler against Gilmore and Erickson, who are both in need of a good start at this event.
"I was definitely very caught off-guard when Jessi texted me and asked if I wanted to be in the Maui Pro," said Blanchard. "It's just such a fun wave, and there are a few big swells on the horizon so it should be really good. I wouldn't say I'm nervous, but I'm just so excited that I need to settle down! It'll be so good to see everyone, and to have the chance to surf such an amazing wave with just one other girl is incredible."
Macedo will represent Maui as the Beachwaver wildcard. She will come up against Tatiana Weston-Webb (BRA) and Nikki Van Dijk (AUS) in Round 1 Heat 5.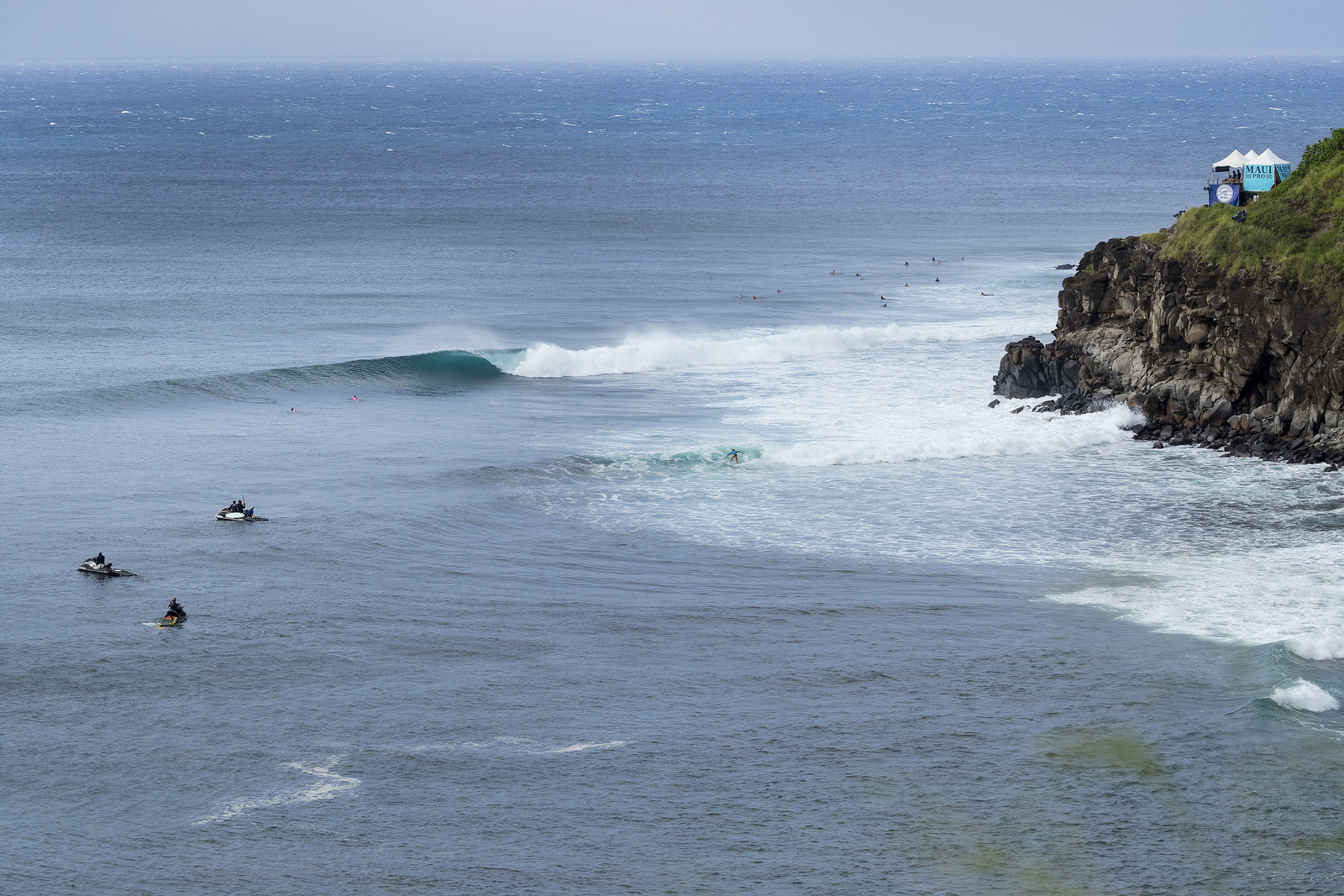 The Honolua Bay lineup from 2017. Image Cestari
The Beachwaver Maui Pro will be broadcast LIVE on WorldSurfLeague.com and the WSL's Facebook page.
Also, check local listings for coverage from the WSL's broadcast partners.
Beachwaver Maui Pro Round 1 Matchups:
Heat 1: Johanne Defay (FRA), Courtney Conlogue (USA), Paige Hareb (NZL)
Heat 2: Carissa Moore (HAW), Coco Ho (HAW), Bethany Hamilton (HAW)
Heat 3: Stephanie Gilmore (AUS), Sage Erickson (USA), Alana Blanchard (HAW)
Heat 4: Lakey Peterson (USA), Malia Manuel (HAW), Zoe McDougall (HAW)
Heat 5: Tatiana Weston-Webb (BRA), Nikki Van Dijk (AUS), Summer Macedo (HAW)
Heat 6: Caroline Marks (USA), Sally Fitzgibbons (AUS), Bronte Macaulay (AUS)
For more information, please visit WorldSurfLeague.com.