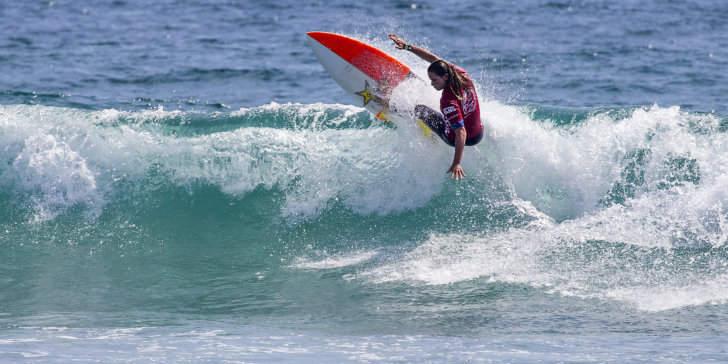 Men's Field Narrowed to 32 at Vans US Open of Surfing Presented by Swatch
Conlogue, Nichols and Spencer Lead the Women's Forefront
Andino Eliminated, Igarashi Finds His Rhythm, Colapinto Tips the Scale
 Defending event winner Courtney Conlogue (USA) started her road to a Vans US Open repeat in great form.
Credit: © WSL / Morris
HUNTINGTON BEACH, California/USA (Tuesday, July 30, 2019) – The Vans US Open of Surfing Presented by Swatch World Surf League (WSL) Men's and Women's Qualifying Series (QS) 10,000 fired back into action today with brilliant performances from the men's elite class to start the morning. The Men's Round 3 affairs concluded in two-foot  surf before a momentous debut for the women in their first QS 10,000 at Huntington Beach since 2005, with defending event winner Courtney Conlogue (USA) finding success both in and out of the water.
Conlogue stamped her authority at her home beach break and looks well on track to repeat her 2018 victory. The Santa Ana, California, native has her hometown support in full effect but Conlogue's attention to detail goes beyond the jersey these days. Fellow surfers, such as Sally Fitzgibbons (AUS), and fans attended an art show debut last night in Newport for her passion project, Sea Tiger, which included an exhibition of her work and a wave art charcoal drawing tutorial for young men and women.
"I just had my first art show at The Board Club, it's actually open this whole week in Newport," Conlogue commented. "Sea Tiger, it's a little start-up, my fine art career. It's a lot of fun and it's just a new journey. I've always loved painting and I just want to share it with everyone. It'd be incredible (to go back-to-back). Every time I get to come home and perform in Huntington at the Pier it's so much fun. I just love the vibe and the people, they just energize me. I don't really need more energy (laughs) but I'll take it."
Isabella Nichols (AUS) keeps pace to stay No. 1 on the QS after her debut in Huntington Beach.
Credit: © WSL / Herron
Current QS No. 1 Isabella Nichols (AUS) stumbled at the Nissan Super Girl Pro but wasted no time making up ground by delivering the day's top performance at Huntington Beach. Nichols' stellar start to the 2019 QS has her in the No. 1 spot on the rankings with over 4,000 points ahead of No. 2 Bronte Macaulay (AUS). A win at the Vans US Open of Surfing could grant her an additional 10,000 valuable points and all but solidify her spot among the world's best for the 2020 CT.
"I had a bit of a brain meltdown at Oceanside, so it was nice to come back out here and get a couple of nice waves under my belt and start the contest off strong and hopefully I can keep it rolling," said Nichols. "Going into the Super Girl, I kind of had that whole rating thing in my head, and it kind of made me really nervous," Nichols continued. "So coming into this (event) and putting it out of my mind as best as I can, and just focusing on getting through heats again like I was at the start of the year, and having fun and playing the game and just trying my best. Whatever happens, I'll be happy knowing that I put in my best effort."
Alyssa Spencer (USA) made her first major Huntington Beach competitive surfing appearance count.
Credit: © WSL / Morris
The inspirational story of Bethany Hamilton (HAW) continued with a Vans US Open wildcard, but unfortunately couldn't find her rhythm and was eliminated by newcomer threats Alyssa Spencer (USA), 16, and Zahli Kelly (AUS), 15. This marks Spencer's first major appearance at Huntington Beach after losing in the trials last season and started off in great fashion with a Round 2 win.  She rode the rights to her advantage and zeroed in on backhand opportunities to earn a heat total of 12.33 for a big heat win while QS veteran and Long Beach local, Brett Simpson, helped coach her to success.

"I was just going to look for any wave that gave me a little corner, a little pocket to do turns," said Spencer. "It definitely looked pretty tricky out there before I paddled out but I got lucky and found a couple fun ones. I prefer my backside, I think that I'm more comfortable going backside, but I caught a couple of lefts too. It's been a really fun summer and I love working with Brett (Simpson), he's amazing. He knows this wave better than anyone so I'm super grateful to have him in my corner here."
Shockwaves were sent through the contest after Kalani Ball (AUS) eliminated current World No. 1 and event favorite Kolohe Andino (USA) with a buzzer-beating 4.77 to move into second advancing position. Caio Ibelli's (BRA)dominant performance earned him a massive heat win ahead of Ball and he continues to prove he belongs among the world's best with multiple wildcards in the 2019 CT season. Today Ibelli backed that up with a commanding performance.
"I didn't think an excellent score was possible looking at conditions today so I was excited to get those two good waves in that heat," Ibelli said. "I'm just feeling so much confidence in my equipment as soon as I stand up, and that shaper relationship was something I struggled with for so many years until now. Now I'm just having fun and feeling really good."
2015 WSL Champion Adriano de Souza (BRA) fought his way back from an ominous situation as he found himself in third place under the half-way mark, but turned the heat around with back-to-back waves to garner a 12.57 heat total in just three minute's time. The Brasilian is in need of a big result to get his 2019 season back on track after sustaining an injury that kept him out of the water for the final event of 2018 and first half of 2019.
Pictured: 2015 WSL Champion Adriano de Souza (BRA) was in fine form to begin his campaign.
Credit: © WSL / Morris
"My strategy was to start with a good wave but ten minutes went by and I didn't see any sets around me so I changed it and got back into the heat without priority," de Souza said. "The pre-season was very important to me getting my new boards set up and also getting into rhythm coming back from my injury. I really want to do well in this event and carrying this momentum is important for me so I'm excited for the next one."
A brilliant performance from Griffin Colapinto (USA) saw the San Clemente, California, native post the event's highest heat total so far, a 16.00, in dominating fashion. The 21-year-old has a lot of work ahead of him but is focused on the task at hand while also having a little fun after falling off his board and riding it upside down to the shorebreak.
"I wasn't wearing my leash out there with a little bit of extra confidence and then falling can't really pop into your head," Colapinto said. "It worked out getting those two good scores right away even though it was pretty tough out there. I started out with that 6.83 at the pier bowl which is probably my favorite part of this stretch of beach. I've been doing NSSA's since I was 9 and just have so many great memories here so that's what I was thinking when I paddled out."
Pictured: Griffin Colapinto (USA) continued his momentum and blasted the event's highest heat total so far.
Credit: © WSL / Morris
Barron Mamiya's (HAW) confidence was apparent in his critical Round 3 battle against a hefty field featuring Matt Wilkinson (AUS) and 2019 CT rookie Deivid Silva (BRA) along with Australian upstart Morgan Cibilic (AUS). Last year's Vans US Open Pro Junior winner took the lead within the first five minutes of the heat and didn't lose the top spot until the final horn sounded. Mamiya has shown his grit, dealing with an injury he sustained just days before the event started.
"I actually dislocated my shoulder last Friday so I've been dealing with that and didn't even know if I'd be surfing the event," Mamiya said. "But I've just been keeping a positive mindset. I haven't surfed the last few days just letting it rest up and doing a little bit of strengthening when I can to get ready for this event."
Big wins from two-time defending event winner Kanoa Igarashi (JPN), Conner Coffin (USA) and Weslley Dantas (BRA) rounded off the list of winners from a vital Round 3.
The Vans US Open of Surfing presented by Swatch will resume tomorrow, Wednesday, July 31, at 7:30 a.m. PT in Huntington Beach. The event will be broadcast LIVE on WorldSurfLeague.com and Facebook.com/WSL. Also, check local listings for coverage from the WSL's broadcast partners.
Alongside the surfing, the Vans US Open of Surfing also hosts skateboarding and BMX competitions in sync with authentic community activations and artful entertainment in Surf City USA. Recognized as the largest professional sports competition and action sports festival in the world, the Vans US Open of Surfing presented by Swatch is currently sanctioned and operated by the World Surf League under license from IMG, the event owner. Official partners of this year's event include Vans, Swatch, Jeep, ULTRA, Red Bull, Jose Cuervo, Barefoot Wine, Hydro Flask, Harley-Davidson, Polo Blue, BF Goodrich, CLIF Bar, and Frontier Communications.
Vans US Open of Surfing pres. by Swatch Round 2 (Heats 1-6) Results:
Heat 1: Caroline Marks (USA) 12.34, Tia Blanco (PRI) 11.60, Pauline Ado (FRA) 9.70, Dimity Stoyle (AUS) 7.90
Heat 2: Alyssa Spencer (USA) 12.33, Zahli Kelly (AUS) 10.47, Silvana Lima (BRA) 7.53, Bethany Hamilton (HAW) 4.60
Heat 3: Courtney Conlogue (USA) 14.20, Summer Macedo (HAW) 11.23, Philippa Anderson (AUS) 9.83, Gabriela Bryan (HAW) 5.77
Heat 4: Isabella Nichols (AUS) 14.73, Brisa Hennessy (CRI) 12.27, Zoe McDougall (HAW) 11.73, Bianca Buitendag (ZAF) 8.26
Heat 5: Keely Andrew (AUS) 10.50, Minori Kawai (JPN) 8.87, Johanne Defay (FRA) 8.20, Kobie Enright (AUS) 6.16
Heat 6: Sally Fitzgibbons (AUS) 14.20, Kirra Pinkerton (USA) 12.10, Leilani McGonagle (CRI) 9.93, Alana Blanchard (HAW) 8.93
Vans US Open of Surfing pres. by Swatch Round 1 Results:
Heat 1: Zahli Kelly (AUS) 12.84, Tia Blanco (PRI) 11.00, Kalani Johnson (IDN) 6.27, Leticia Canales Bilbao (ESP) 6.17
Heat 2: Bianca Buitendag (ZAF) 11.33, Gabriela Bryan (HAW) 9.27, Keala Tomoda-Bannert (HAW) 7.74, Justine Dupont (FRA) 7.20
Heat 3: Alana Blanchard (HAW) 13.66,  Minori Kawai (JPN) 12.04, Cannelle Bulard (FRA) 11.70, Ella Williams (NZL) 9.26
Heat 4: Nao Omura (JPN) 9.04, Hinako Kurokawa (JPN) 8.10, Sara Wakita (JPN) 7.23, Rachel Presti (DEU) 7.07
Heat 5:  Minami Nonaka (JPN) 12.00, Kirra-Belle Olsson (AUS) 11.97, Samantha Sibley (USA) 10.63, Bailey Nagy (HAW) 7.67
Heat 6: Vahine Fierro (FRA) 9.94, Meah Collins (USA) 9.57, Garazi Sanchez-Ortun (EUK) 7.73, Josefina Ane (ARG) 6.60
Vans US Open of Surfing pres. by Swatch Round 3 (H6-12) Results:
Heat 6: Caio Ibelli (BRA) 13.03, Kalani Ball (AUS) 11.10, Kolohe Andino (USA) 9.57, Josh Burke (BRB) 6.90
Heat 7: Weslley Dantas (BRA) 11.83, Liam O'Brien (AUS) 11.20, Miguel Pupo (BRA) 9.27, Thiago Camaro (BRA) 8.26
Heat 8: Kanoa Igarashi (JPN) 13.23, Jack Freestone (AUS) 11.30, Ian Crane (USA) 8.60, Ezekial Lau (HAW) 4.00
Heat 9: Barron Mamiya (HAW) 12.00, Morgan Cibilic (AUS) 11.83, Matt Wilkinson (AUS) 10.77, Deivid Silva (BRA) 10.46
Heat 10: Adriano de Souza (BRA) 12.77, Luel Felipe (BRA) 12.60, Reef Heazlewood (AUS) 10.30, Willian Cardoso (BRA) 10.20
Heat 11: Griffin Colapinto (USA) 16.00, Tomas Hermes (BRA) 13.90, Joan Duru (FRA) 11.73,  Jordan Lawler (AUS) 11.47
Heat 12: Conner Coffin (USA) 12.64, Mateus Herdy (BRA) 11.97, Jake Marshall (USA) 11.17, Dylan Lightfoot (ZAF) 8.26