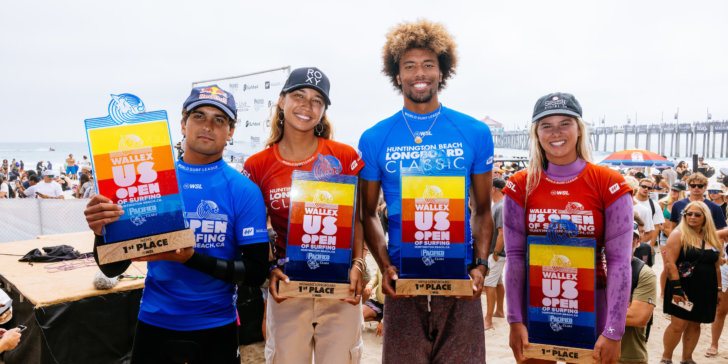 Lindblad and Hanneman Claim Biggest Wins of Their Careers
Cousins Kaleopa'a and Stewart Share Podium and WSL Longboard Tour Rankings Lead
Pictured: [From L to R] Eli Hanneman (HAW), Kelis Kaleopa'a (HAW), Kaniela Stewart (HAW), and Sawyer Lindblad (USA),  winners of the Wallex US Open of Surfing Presented by Pacifico and Huntington Beach Longboard Classic. Credit: © WSL /  Nolan
HUNTINGTON BEACH, Calif., USA (Sunday, August 6, 2023) – Today, Sawyer Lindblad (USA) and Eli Hanneman (HAW) won the Wallex US Open of Surfing Presented by Pacifico, Stop No. 4 on the World Surf League (WSL) 2023 Challenger Series, and Kelis Kaleopa'a (HAW) and Kaniela Stewart (HAW) emerged victorious at the Huntington Beach Longboard Classic, Stop No. 1 on the 2023 WSL Longboard Tour.
Southern California's Lindblad earned the biggest win of her career today in front of friends and family. Hanneman's absolute showcase in the Final earned him the event's highest heat total and a career-changing win. In a heartwarming finish to the Huntington Beach Longboard Classic, cousins Kaleopa'a and Stewart shared the podium as they celebrated their victories.
Lindblad Makes Her Dreams a Reality With Biggest Career Win
A dream run in home waters culminated in a remarkable victory for Southern California's own Sawyer Lindblad. Lindblad started her season with a runner-up finish that kickstarted her Championship Tour (CT) qualification run. She now sits at No. 3 on the rankings and is within reach of qualifying for the CT.
Former CT star Sally Fitzgibbons (AUS) put pressure on Lindblad in the opening minutes of the Final. Fitzgibbons then added to her score line with an impressive 7.17 (out of a possible 10). A key exchange at the 15-minute mark added a 6.00 to Fitzgibbons lead. But Lindblad answered back using her forehand power and earned a 7.60. Lindblad then delivered another stunner that drew eruptions from the crowd and earned an excellent 8.93 to solidify her most significant career result to date.
"Honestly, it's been a dream of mine to win this event since I was five years old," said Lindblad. "I've always looked up to all the girls that have done this event, and to go against Sally (Fitzgibbons) in the Final was a dream come true. And taking the win, I can't even describe the feeling right now. I'm so happy. My whole family is on the beach right now, and I want to thank them for supporting me and my sponsors for coming down to support me too."
Hanneman Earns Career-Changing Win at Huntington Beach Pier 
A jaw-dropping performance from Eli Hanneman (HAW) earned him the biggest win of his young career here in Huntington Beach. After a rough start to the 2023 Challenger Series season, today's statement-making victory has sent Hanneman soaring up the rankings. He now sits at No. 4 on the rankings and has become a CT qualification threat.
Hanneman took on Southern California's standout Crosby Colapinto in the Final. After a slow start, the ocean came to life and Hanneman wasted no time. He took to the air and completed a combination of major maneuvers that earned him a near-perfect 9.00, the highest score of the day. The Maui phenom then added another solid score of a 6.83 to put major pressure on Colapinto. Heading into the final minutes, Hanneman soared in the air once again and posted an excellent 8.10 to his score line, shutting down any hopes of a comeback for Colapinto.
"This means everything," said Hanneman. "You work so hard every single day, and for it to finally pay off is just crazy. It just took a little bit of trust in God. I don't even know how I got that 9.00. I know Crosby (Colapinto) is so good on the face, he's the best of our generation for on-the-face surfing, so I went out thinking I have to airs because that's what I do. I felt a little bit of wind coming and knew it was my time. I just had to stay calm and stay ready."
It was no easy road to the Final for Hanneman, as he had to overcome two-time US Open of Surfing victor and Huntington Beach's own, Kanoa Igarashi (JPN), in the Semifinals. Hanneman now looks to add to his success at the upcoming Challenger Series events of the season.
Kelis Kaleopa'a (HAW) earned back-to-back wins at Huntington Beach today, after taking down three-time WSL Longboard Champion Honolua Blomfield (HAW) in the Final. Kaleopa'a started the season ranked No. 2 in the world. After today's big win, she will now be the rankings leader going into the second stop on the 2023 WSL Longboard Tour at Bells Beach, Australia.

The women's longboard Final was an all-Hawaiian showcase of style and flow between Blomfield and Kaleopa'a. The two met in the Final here last year and today Kaleopa'a got the better of Blomfield once again. Kaleopa'a's poise earned her a 6.17 early in the heat. Blomfield answered back with a 7.00 to momentarily take the lead. But, Kaleopa'a wasn't done yet and she styled her way to a near-excellent 7.87 with a brilliant hang-five before finishing the wave with multiple turns. The score proved to be too much for three-time WSL Longboard Champion, Blomfield, and Kaleopa'a emerged victorious.

"It definitely hasn't sunk in yet," said Kaleopa'a. "It's crazy. That was a repeat of last year, even on the men's side, and just surfing against Honoula (Blomfield), she really pushes you. She's a three-time World Champ and that's what I aspire to be. Just missing a World Title last year really motivated me more, so to get that start here in Huntington feels really nice."

Kaleopa'a's Finals Day started with a nail-biting Semifinal against Sophia Culhane (HAW). With only a few seconds remaining, Kaleopa'a needed a 6.90 to overtake the lead. She narrowly overcame the requirement, earning a 6.93 for a nose ride and multiple sweeping cutbacks.
Stewart Earns Redemption in Final Rematch with Jensen 
Huntington Beach Longboard Classic winner Kaniela Stewart (HAW) earned redemption today after finishing runner-up to Taylor Jensen (USA) at this event in 2022. This is Stewart's second major WSL Longboard Tour event win of his career. Stewart entered the 2023 season ranked No. 2 in the world. He now has established himself as the highest-ranked man on the 2023 WSL Longboard Tour and the one to beat.
At the 20-minute mark of the Final, Stewart showed his signature style to earn a 7.33. He wasn't done yet, and added an excellent 8.00 to his heat total, putting Jensen in need of a 15.33 combination. As time expired, Jensen couldn't find the waves necessary to answer back and Stewart was able to take home the win.
"This means a lot, and I wouldn't be here without the crew," said Stewart. "I'm just soaking it in. I was just looking for the smaller waves that looked better to get higher scores. I knew the tide was going to be high and a bit slower, so I just wanted to be busy. It's amazing to share this with Kelis (Kaleopa'a). We've tried to link up every time, and it just never worked out. But finally here at the US Open, we'll both be on the podium."
For highlights and more information from today's competition, please visit WorldSurfLeague.com.
Wallex US Open of Surfing Presented by Pacifico Women's Final Results:
1 – Sawyer Lindblad (USA) 16.53
2 – Sally Fitzgibbons (AUS) 13.17Wallex US Open of Surfing Presented by Pacifico Men's Final Results:
1 – Eli Hanneman (HAW) 17.10
2 – Crosby Colapinto (USA) 9.60Huntington Beach Longboard Classic Women's Final Results: 
1 – Kelis Kaleopaa (HAW) 14.14
2 – Honolua Blomfield (HAW) 13.73

Huntington Beach Longboard Classic Men's Final Results: 
1 – Kaniela Stewart (HAW) 15.73
2 – Taylor Jensen (USA) 12.43

Wallex US Open of Surfing Presented by Pacifico Women's Semifinal Results:
HEAT 1: Sawyer Lindblad (USA) 12.76 DEF. Ellie Harrison (AUS) 12.50
HEAT 2: Sally Fitzgibbons (AUS) 13.20 DEF. Leilani McGonagle (CRC) 12.80

Wallex US Open of Surfing Presented by Pacifico Men's Semifinal Results:
HEAT 1: Crosby Colapinto (USA) 13.83 DEF. Nolan Rapoza (USA) 11.20
HEAT 2: Eli Hanneman (HAW) 13.13 DEF. Kanoa Igarashi (JPN) 11.10

Huntington Beach Longboard Classic Women's Semifinal Results: 
HEAT 1: Kelis Kaleopa'a (HAW) 13.70 DEF. Sophia Culhane (HAW) 13.67
HEAT 2: Honolua Blomfield (HAW) 13.70 DEF. Soleil Errico (USA) 13.40

Huntington Beach Longboard Classic Men's Semifinal Results: 
HEAT 1: Taylor Jensen (USA) 15.40 DEF. Tony Silvagni (USA) 14.10
HEAT 2: Kaniela Stewart (HAW) 16.10 DEF. Rogelio Jr Esquievel (PHL) 14.87