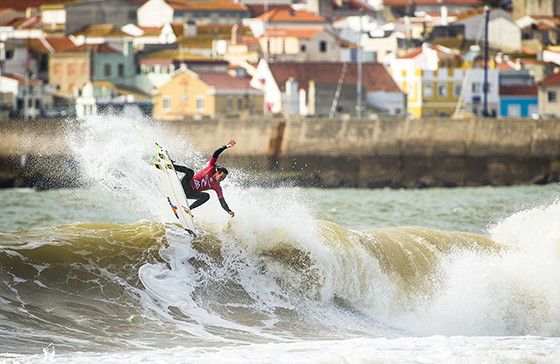 Photo: Jordy Smith © ASP/Kirstin
Tricky Barrels Score High on Opening Day at Supertubos.
Moche Rip Curl Pro Portugal
ASP Men's World Tour Event
Supertubos, Peniche Portugal
12 – 23 October 2014
Surf News Network, 14 October, 2014: Supertubos – The Moche Rip Curl Pro Portugal got underway today in wind-affected 3-to-5 foot waves at the iconic Supertubos in Peniche, and completed the opening round of competition.
Stop No. 10 of 11 on the Samsung Galaxy ASP World Championship Tour, the Moche Rip Curl Pro Portugal, could see a World Champion crowned. With just seven surfers remaining in contention to clinch the coveted trophy, only Gabriel Medina (BRA) has the chance to take the ASP World Title in Portugal.
In one of the most highly anticipated match-ups of the day, 11-time ASP World Champion and current World No. 2 Kelly Slater (USA) took on Matt Wilkinson (AUS) and event wildcard Nic Von Rupp (PRT). Wilkinson found a deep barrel to launch his campaign and net a near-perfect 9.57. With the World Title race on the line Slater kept scouring the Supertubos lineup and eventually found his own radical late-drop to barrel for an even higher 9.67 and the heat win. Slater advances directly to Round 3 thanks to his two-wave heat total of 17.00, the highest of the day, while Wilkinson and Von Rupp will surf again in Round 2.
"It's always tough in conditions like this and even more so when a guy starts out with almost a 10-point score," said Slater. "I just wanted to get myself going, get some waves and start feeling the flow. Gabriel (Medina) is a real competitor. He wants to win the Title more than anyone, and at his age I was the same exact way. You can see that he loves to surf, he loves to get better and improve what he is already doing and he's got crazy skills."

Gabriel Medina © ASP/Kirstin
Jordy Smith (ZAF) opened his account with a solid 7.33 for a succession of powerful gauges on his forehand to take an early lead over Australians Mitch Crews and Adrian Buchan. Smith, who kept his momentum going after a fifth place in Cascais last week, followed his opener by launching into a massive aerial rotation and landing it right on the wave's critical point to collect a 9.27 and the win.
"I had a good start, it's pretty tricky out there, so you need to make sure you fit your turns in really sharp and really quick," said Smith. "The wave picked up at the back and gave me a lot of speed, so I thought I'd try to get a big turn in. I threw caution to the wind and ended up sticking it. It came out a 9.20 so I was really pumped to hear that."
Current rankings leader Gabriel Medina (BRA), bearing the yellow jersey in Peniche, displayed the full array of his talents in a tricky Supertubos lineup. Medina used his repertoire of barrels, turns and aerial maneuvers to defeat defending event champion Kai Otton (AUS) and dangerous wildcard Jacob Willcox (AUS) and earn a pass straight to Round 3.
"Its pretty difficult out there, you have to be in the right spot at the right time," said Medina. "I got lucky in that one so I'm stoked that I made it through. The fans here are really passionate about surfing and the sport. I really like the support I'm getting, it doesn't put more pressure on me, it's motivating me and I feel good."
Jadson Andre (BRA) was first to take to the water in Round 1 and found the clean barrels and big scores on offer at Supertubos. In a moving lineup, Andre was able to get one back on John John Florence (HAW), after their clash in the Quiksilver Pro France final. Fresh from victory at the ASP Qualification Series Prime event, the Cascais Billabong Pro, Andre used his momentum to take the win and will avoid elimination Round 2.

Kelly Slater © ASP/Kirstin
"I'm really happy to find my way, to be surfing good and enjoying it," said Andre. "It's not easy out there and you have to be lucky to get the right waves. My game plan was to catch a lot of waves and I'm stoked I made the heat."
Sebastian Zietz (HAW) took control of his heat in the opening minutes with a long beautiful barrel for an excellent 8.17. Backing it up quickly with yet another clean exit on a Supertubos drainer, Zietz pushed reigning three-time ASP World Champion Mick Fanning (AUS) and Raoni Monteiro (BRA) against the ropes, eventually relegating them to Round 2.
"I was watching the waves and it just started cleaning up," said Zietz. "I was hunting for the barrels, like I do at home everyday. Supertubos reminds me a little bit of my local beach break. Hopefully I can get a result here, so I don't have to do the Prime in Brazil and I can go home a little sooner."
Owen Wright (AUS) rounded up the day's action with an impressive win over local favourite Tiago Pires (PRT) and former event finalist Nat Young (USA). Wright and Pires went head-to-head in a couple of exchanges, the Portuguese getting the best of it for the first half of the heat. Wright took things to the air and posted his first major score of 7.33, before following it up with an excellent 8.83 for a series of tail slides, laybacks and solid carves for the win.
"I felt great, the conditions are really tough but it felt great to be here again, I haven't been in Peniche for two years," Wright said. "It's good to be back surfing in these waves, I love these conditions. Straight away Tiago (Pires) started with a 7 and I needed to catch him. But these conditions allow it, and I came back with a 5 and 6 and eventually a 7 and an 8. There were barrels, and airs and turns, I just was ready for anything really."
Moche Rip Curl Pro Portugal Round 1 Results
Heat 1: Taj Burrow (AUS) 12.10, Fredrick Patacchia (HAW) 8.97, Travis Logie
Heat 2: Jadson Andre (BRA) 15.93, Brett Simpson 12.60, John John Florence
Heat 3: Joel Parkinson (AUS) 15.83, C.J Hobgood (USA) 9.24, Jeremy Flores
Heat 4: Sebastian Zietz (HAW) 16.10, Mick Fanning10.66, Raoni Monteiro
Heat 5: Kelly Slater (USA) 17.00, Matt Wilkinson (AUS) 16.07, Nic Von Rupp
Heat 6: Gabriel Medina (BRA) 14.27, Kai Otton (AUS) 12.83, Jacob Willcox
Heat 7: Filipe Toledo (BRA) 14.33, Aritz Aranburu (ESP) 8.73, Michel Bourez
Heat 8: Adriano De Souza (BRA) 12.83, Alejo Muniz (BRA) 10.60, Julian Wilson
Heat 9: Jordy Smith (ZAF) 16.60, Mitch Crews (AUS) 12.83, Adrian Buchan
Heat 10: Miguel Pupo (BRA) 10.60, Adam Melling (AUS) 10.50, Kolohe Andino
Heat 11: Josh Kerr (AUS) 15.13, Bede Durbidge (AUS) 14.00, Dion Atkinson
Heat 12: Owen Wright (AUS) 16.16, Tiago Pires (PRT) 12.93, Nat Young
Upcoming Moche Rip Curl Pro Portugal Round 2 Match-Ups:
Heat 1: Mick Fanning (AUS) vs. Jacob Willcox (AUS)
Heat 2: John John Florence (HAW) vs. Nic Von Rupp (PRT)
Heat 3: Michel Bourez (PYF) vs. Raoni Monteiro (BRA)
Heat 4: Kolohe Andino (USA) vs. Jeremy Flores (FRA)
Heat 5: Nat Young (USA) vs. Brett Simpson (USA)
Heat 6: Bede Durbidge (AUS) vs. Travis Logie (ZAF)
Heat 7: Adrian Buchan (AUS) vs. Aritz Aranburu (ESP)
Heat 8: Julian Wilson (AUS) vs. Alejo Muniz (BRA)
Heat 9: Fredrick Patacchia (HAW) vs. Mitch Crews (AUS)
Heat 10: C.J. Hobgood (USA) vs. Adam Melling (AUS)
Heat 11: Matt Wilkinson (AUS) vs. Dion Atkinson (AUS)
Heat 12: Kai Otton (AUS) vs. Tiago Pires (PRT)