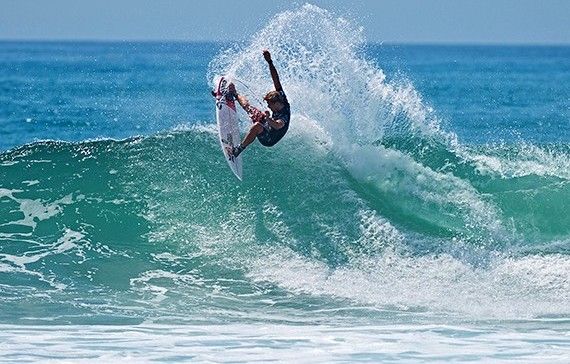 WCT is on the back end of the year! And, John John Florence (HAW) heads into the Hurley Pro as the Jeep Ratings' Leader ahead of Matt Wilkinson (AUS) and Gabriel Medina (BRA).
| | |
| --- | --- |
| Location:    | Lower Trestles, San Clemente, California |
| Event window: | September 7 – 18, 2016 |
| Today's call: | Upcoming |
The Hurley Pro at Trestles, Stop No. 8 of 11 on the 2016 Samsung Galaxy World Surf League (WSL) Championship Tour (CT), will see current Jeep Ratings Leader John John Florence (HAW) battle to keep his lead over the field. Florence emerged from the Billabong Tahiti Pro with the yellow Jeep Leader Jersey and No. 1 position and comes to the competition with a renewed vigor.
Florence sits 3,900 points above No. 2 ranked Matt Wilkinson (AUS) after a runner-up finish in Tahiti, but will need to follow up with another big result here to stay in contention. The Hawaiian is currently holding on to two Equal 13th place finishes that will be thrown out at season's end if he maintains his current form. Florence will start his Trestles campaign against Australian threat Davey Cathels (AUS) and Hurley Pro Trials winner and former CT competitor, Brett Simpson (USA).
"It would mean everything to have my name on the World Title Trophy," said Florence. "It is my life's goal to win a World Title, but I am not thinking about it too much. We still have so many contests to go this season. I am so stoked to be at Lowers, and I plan to have fun here. This place is so rippable and one of the most playful waves on Tour. I am stoked to be first on the rankings, but again I am not thinking about it too much. I don't want to put that pressure on myself. I am just going to surf the way I've been surfing and it seems like it has been working, so I will keep on that path."
Wilkinson could not be more eager to get the yellow jersey back and reclaim his position atop the rankings. The Australian goofy-footer must find the spark that carried him through two wins at the start of the year in order to keep pace with Florence. Wilkinson will face the powerful style of 2016 WSL Rookie Conner Coffin (USA) and wildcard Tanner Gudauskas (USA) in Round 1 Heat 5.
"I love surfing out here even though I haven't had a huge result, but that kind of number hasn't stopped me this year so hopefully I can get another big one," Wilkinson said. "It's been a goal of mine since I was a little kid so to have my name on the World Title trophy would be pretty unbelievable. I'm really excited for this one and maybe get that yellow jersey back."
2014 WSL Champion Gabriel Medina (BRA) currently sits at the No. 3 spot and is in the hunt for his second World Title. This is the third consecutive year Medina has been locked into a Title race, including his impressive European leg last year that put him within striking distance of the 2015 World Title. Now with a chance to capitalize one stop earlier, the Brazilian is coming into Trestles feeling no pressure. Medina will face Adam Melling (AUS) and rookie Alex Ribeiro (BRA) in Round 1 Heat 4.
"It's going to be hard and I'm just stoked to be in the title race," Medina said. "Hopefully I can get a few results now and put myself into a good position for another chance. I've been training a lot and doing a similar routine to when I won it two years ago so hopefully it'll all work out and we will get another title for Brazil. It's been a different kind of year and I've been learning a lot each year. Now I feel more confident because I'm at home on Tour. I know these waves and how to surf them, as well as what I need to do. I know my boards too, which is great, and all my concentration is in the water now."
Reigning WSL Champion Adriano de Souza (BRA) currently sits at No. 7 with hopes of a big result to jump start his year with back-to-back World Titles.
"It's an amazing feeling to have my name on that trophy and I'm really happy with my year so far sitting at number seven," De Souza said. "This year the title race is so exciting with Gabriel [Medina], Matt [Wilkinson], and John John [Florence] going for it – even Ace [Adrian Buchan] has a chance so it's really cool. It's great to be searching for results and try to get back into the race as well so this would be a huge turning point."
Tyler Wright (AUS) leads the Top 17 heading into the Swatch Women's Pro, Stop No. 7 of 10 on the women's CT. The Australian has had an incredible season so far with three out of six CT wins and is just 550 points ahead of California-native Courtney Conlogue (USA). Conlogue and Wright have been battling each other all season for the coveted yellow Jeep Leaders Jersey and this event is critical to their Title race campaigns. Wright be up against event wildcard Bethany Hamilton (HAW) and Nikki Van Dijk (AUS) in Round 1 Heat 3 of competition.
"My plan is to win every heat and win every final," said Wright. "I have a good team behind me. I've spent the last couple of months training and working on boards. I am feeling strong and ready. It is a very tough draw, but I like that. There are definitely two talented surfers going after the World Title, but it is irrelevant to what I do because we are on opposite sides of the draw. It never really comes into play until we are in a Final together, and even then, I am very focused on what I am doing. I know what I have to do. I feel better than I did at the start of the year. I feel that I am surfing better and I feel stronger. I have had a lot more time to prepare and be comfortable in various conditions."
Conlogue will face Laura Enever (AUS) and 2016 WSL Rookie Chelsea Tuach (BRB)in Round 1 Heat 4.
"I would love to have my name on that World Title trophy, but there is a lot of work to be done," said Conlogue. "There are still four events left in the season, so there are still obstacles to overcome and things to deal with. I am just trying to gain momentum and get the results that I want. I have been competing against Tyler [Wright] since I was 13 years old, so we go pretty far back. I definitely have had a lot of heats against her and it is great to have a Title race against her."
Two-time defending event winner and reigning three-time WSL Champion Carissa Moore (HAW) is currently ranked third on the Jeep Leaderboard and will battle to defend her event Title at Lowers. Moore will take on Bianca Buitendag (ZAF) andCoco Ho (HAW) in Round 1 Heat 5.
"I have had a lot of third place finishes this year, but I would love to break through to that Semifinal and Final to get a win here at Lowers," Moore said. "I am keeping it super low-key. For me, there is really no pressure and it is all on the girls in the top two. I am staying stoked and feeling good. I've been surfing well so I am excited. I love this spot — Lower Trestles is a really playful wave and you can do lots of different maneuvers, so I am stoked."

SAN CLEMENTE, CA/USA- The famed cobblestone break of Lower Trestles, one of the of the most high-performance waves on the planet, will host the world's best surfers for the Hurley Pro at Trestles, Stop No. 8 of 11 on the 2016 Samsung Galaxy World Surf League (WSL) Championship Tour (CT).
With four events remaining on this year's CT a thrilling three-way title race is emerging between John John Florence (HAW), Matt Wilkinson (AUS) and Gabriel Medina (BRA). Florence and Wilkinson are on the hunt for their first world title while Medina looks to reclaim his 2014 surfing crown.
Florence will wear the coveted Jeep Leader Jersey heading into the Hurley Pro after taking back-to-back runner-up finishes as the previous two events on the CT in South Africa and Tahiti. Florence, whose best result at Lower Trestles was a second place in 2014, will be looking to improve on last year's 25th place finish at the event and extend his lead heading into the European leg of the tour. Florence will face Davey Cathels (AUS) and either Brett Simpson (USA) or Tanner Gudauskas (USA) in Round 1.
Close behind Florence at No. 2 on the Jeep Leaderboard is Wilkinson, who held first place throughout the opening half of the season following back-to-back wins at the first two events. The Australian has to yet to make it past Round 3 at Lower Trestles and will need a strong showing to close the gap between him and Florence. Wilkinson matches up against Conner Coffin (USA) and one of the wildcards Simpson or Gudauskas in the opening round of competition
2014 WSL Champion Medina reached the Semifinals at the Hurley Pro last year. Medina is just 300 points behind Wilkinson on the Jeep Leaderboard and a good result will keep him in contention for his second world title. Medina will take on Adam Melling (AUS) and Alex Ribeiro (BRA) in Round 1.
Mick Fanning (AUS), three-time WSL Champion and 2015 event winner, will return to Lower Trestles to defend his title. Fanning, who elected to take a personal year in 2016 and is only competing in select events, will face Joel Parkinson (AUS) and Jadson Andre (BRA) in Round 1.
11-time WSL Champion Kelly Slater (USA) has taken six wins at Lower Trestles, more than any other surfer, with victories in 2005, 2007, 2008, 2010, 2011 and 2012. After an incredible return to form in Tahiti with his first CT win since 2013, the iconic Floridian currently sits in 8th place on the Jeep Leaderboard. Slater will battle Filipe Toledo (BRA) and Jeremy Flores (FRA) in Round 1.
Former CT competitor Brett Simpson (USA) and San Clemente local Tanner Gudauskas (USA) claimed the two wildcard spots into the event, which were decided at the Hurley Pro Trials in July.
Taj Burrow (AUS) surfed his last Championship Tour event during June's Fiji Pro. His position on the 2016 WSL Top 34 has been taken by Adam Melling (AUS).
Owen Wright (AUS) and Bede Durbidge (AUS) remain out with injury and have been replaced by Stuart Kennedy (AUS) and Sebastian Zietz (HAW).
The Hurley Pro at Trestles will be webcast LIVE on WorldSurfLeague.com as well as the WSL app and runs in conjunction with the Swatch Women's Pro, event No. 7 on the Women's Samsung Galaxy Championship Tour.
The event is also being carried by the WSL's LIVE broadcast partners Fox Sports Australia, CBS Sports in the United States, ESPN Brasil, Globosat in Brazil, Edgesport, Sky NZ, Sport TV in Portugal, Canal + Deportes in Spain, Channel Nine, MCS France, Starhub in Singapore, and Oceanic Time Warner Cable 250 & 1250 in Hawaii.
Hurley Pro at Trestles Round 1 Match-Ups:
Heat 1: Jordy Smith (ZAF), Nat Young (USA), Keanu Asing (HAW)
Heat 2: Julian Wilson (AUS), Kanoa Igarashi (USA), Ryan Callinan (AUS)
Heat 3: Adrian Buchan (AUS), Miguel Pupo (BRA), Kai Otton (AUS)
Heat 4: Gabriel Medina (BRA), Adam Melling (AUS), Alex Ribeiro (BRA)
Heat 5: Matt Wilkinson (AUS), Conner Coffin (USA), TBD
Heat 6: John John Florence (HAW), Davey Cathels (AUS), TBD
Heat 7: Adriano De Souza (BRA), Wiggolly Dantas (BRA), Matt Banting (AUS)
Heat 8: Kelly Slater (USA), Filipe Toledo (BRA), Jeremy Flores (FRA)
Heat 9: Italo Ferreira (BRA), Caio Ibelli (BRA), Jack Freestone (AUS)
Heat 10: Mick Fanning (AUS), Joel Parkinson (AUS), Jadson Andre (BRA)
Heat 11: Kolohe Andino (USA), Josh Kerr (AUS), Stu Kennedy (AUS)
Heat 12: Sebastian Zietz (HAW), Michel Bourez (PYF), Alejo Muniz (BRA)
Swatch Women's Pro at Trestles Round 1 Match-Ups:
Heat 1: Stephanie Gilmore (AUS), Malia Manuel (HAW), Lakey Peterson (USA)
Heat 2: Tatiana Weston-Webb (HAW), Sage Erickson (USA), Alessa Quizon (HAW)
Heat 3: Tyler Wright (AUS), Nikki Van Dijk (AUS), Bethany Hamilton (HAW)
Heat 4: Courtney Conlogue (USA), Laura Enever (AUS), Chelsea Tuach (BRB)
Heat 5: Carissa Moore (HAW), Bianca Buitendag (ZAF), Coco Ho (HAW)
Heat 6: Johanne Defay (FRA), Stephanie Gilmore (AUS), Keely Andrew (AUS)