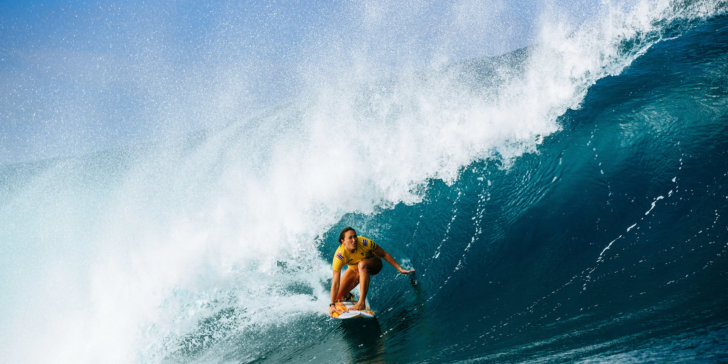 This Sunday January 29 through February 10.
Day one expects an 6-8′ maybe near 10′ long period NW but conditions will be 15-30mph side shore NE winds and weather throwing a wrench into making the call. Since the forecast isn't great, they may need to jump on it. Check in here Sunday morning. SNN
Wildcards and Injury Replacements, Moana Jones Wong, Teresa Bonvalot, Josh Moniz, Imaikalani deVault, and Alyssa Spencer, Ready To Mix up the Draw
World Champions Hope To Make History Once Again
Billabong and Na Kama Kai Host Surfboard Drive Ahead of Competition Start
Select Your Billabong Pro Pipeline Picks Now for WSL CT Fantasy
Front page: Five-time World Champion Carissa Moore (HAW) returns to the Billabong Pro Pipeline, January 29 – February 10, 2023. Credit: © WSL /  Bielmann
BANZAI PIPELINE, Oahu, Hawaii, USA (Tuesday, January 24, 2023) – The World Surf League (WSL) 2023 Championship Tour (CT) season is less than one week from launching at the Billabong Pro Pipeline.
The Billabong Pro Pipeline holds a competition window from January 29 through February 10, 2023. As one of the most prestigious events on tour, a win here cements one into surfing history. A solid finish here gives surfers momentum going into the season and confidence at all other waves of consequence on tour.
World Champions Hope To Make History Once Again
Some of the greatest names in surfing are ready to return to competition and bolster their already impressive careers. Two-time World Champion Tyler Wright (AUS) made history in 2020 as the first woman to win a CT event at Pipeline after the remainder of the competition was moved from Maui. Wright came close to winning the event again in 2022, finishing in third place. Wright could become the first woman to win twice at Pipeline, and she will kick off her campaign in Heat 6 against Courtney Conlogue (USA) and Molly Picklum (AUS).
Eight-time Billabong Pro Pipeline victor and 11-time WSL Champion, Kelly Slater (USA), returns to defend his 2022 event win. Three-time WSL Champion Gabriel Medina (BRA) and two-time WSL Champion John John Florence (HAW) will make their highly anticipated returns to the jersey.
The reigning 2022 WSL Champions, Filipe Toledo (BRA) and Stephanie Gilmore (AUS), start their campaigns to retain their World Titles. Gilmore is now chasing a historic ninth World Title, jumpstarting her campaign at Pipe. Five-time WSL Champion Carissa Moore (HAW) has been the runner-up twice here at Pipeline and returns this year eager to add an event win to her name.
Wildcards and Injury Replacements, Moana Jones Wong, Teresa Bonvalot, Josh Moniz, Imaikalani deVault, and Alyssa Spencer, Ready To Mix up the Draw 
In a truly historic moment, wildcard Moana Jones Wong won the 2022 Billabong Pro Pipeline. It was the first time a full-length women's Championship Tour event took place at surfing's ultimate proving ground. She overcame five-time World Champion Moore in the Final, earning the title "Queen of Pipe." Jones Wong returns this year eager to defend her title, but she will have to face none other than the reigning, eight-time World Champion Gilmore in her first Heat of the event.
Teresa Bonvalot (PRT) missed qualification for the CT by the narrowest of margins, finishing No. 6 in the Challenger Series rankings. She will now get a shot to prove she belongs alongside the best in the world in her debut at Pipeline as an injury replacement for Johanne Defay (FRA).
Josh Moniz (HAW) gave an impressive performance at Pipeline to win the 2021 trials, earning him a spot to compete at this year's Billabong Pipeline Pro. Now, the former Volcom Pipe Pro victor will get another shot at mixing up the draw to begin the 2023 Championship Tour season. He will be joined by fellow Hawaiian Imaikalani deVault, who earned his wildcard spot in the 2023 Billabong Pro Pipeline by being the highest-ranked Hawaiian surfer on the Challenger Series.
Sophie McCulloch (AUS) has withdrawn from competition due to an injury she sustained while training at Snapper Rocks. Alyssa Spencer (USA), who is next in line on the Women's Challenger Series rankings, will replace McCulloch in the draw.
Pictured: World Champion Italo Ferreira (BRA) is hungry for an event win and another World Title in 2023. Credit: © WSL /  Bielmann
Billabong and Na Kama Kai Host Surfboard Drive Ahead of Competition Start
Billabong is working with non-profit, Na Kama Kai, to organize a board drive which will benefit the youth of the Westside Oahu community. There will be drop-off destinations as well as a pick-up service for donations of boards in any condition and  size on the North Shore. Boards and a two-week supply of food will be given to approximately 200 families on the Westside during the Billabong Pro Pipeline window following the board drive. To learn more about how to participate, please visit nakamakai.org.
Select Your Billabong Pro Pipeline Picks Now for WSL CT Fantasy
WSL CT Fantasy is open for the Billabong Pro Pipeline and will lock once the men's Round of 16 and women's Quarterfinals start. Sign up, create your team, and start playing now.
Players can register now at ctfantasy.worldsurfleague.com and on the free WSL app.
Billabong Pro Pipeline Women's Opening Round Matchups:
HEAT 1: Tatiana Weston-Webb (BRA) vs. Caroline Marks (USA) vs. Teresa Bonvalot (POR)
HEAT 2: Carissa Moore (HAW) vs. Bettylou Sakura Johnson (HAW) vs. Alyssa Spencer (USA)
HEAT 3: Stephanie Gilmore (AUS) vs. Macy Callaghan (AUS) vs. Moana Jones Wong (HAW)
HEAT 4: Brisa Hennessy (CRC) vs. Isabella Nichols (AUS) vs. Sally Fitzgibbons (AUS)
HEAT 5: Lakey Peterson (USA) vs. Gabriela Bryan (HAW) vs. Caitlin Simmers (USA)
HEAT 6: Courtney Conlogue (USA) vs. Tyler Wright (AUS) vs. Molly Picklum (AUS)
Billabong Pro Pipeline Men's Opening Round Matchups:
HEAT 1: Miguel Pupo (BRA) vs. Nat Young (USA) vs. Ian Gentil (HAW)
HEAT 2: Kanoa Igarashi (JPN) vs. Jake Marshall (USA) vs. Joao Chianca (BRA)
HEAT 3: Ethan Ewing (AUS) vs. Kolohe Andino (USA) vs. Liam O'Brien (AUS)
HEAT 4: Jack Robinson (AUS) vs. Jadson Andre (BRA) vs. Ezekiel Lau (HAW)
HEAT 5: Italo Ferreira (BRA) vs. Seth Moniz (HAW) vs. Imaikalani deVault (HAW)
HEAT 6: Filipe Toledo (BRA) vs. Jackson Baker (AUS) vs. Joshua Moniz (HAW)
HEAT 7: Griffin Colapinto (USA) vs. Barron Mamiya (HAW) vs. Michael Rodrigues (BRA)
HEAT 8: Caio Ibelli (BRA) vs. Kelly Slater (USA) vs. Ramzi Boukhiam (MAR)
HEAT 9: Connor O'Leary (AUS) vs. Jordy Smith (RSA) vs. Maxime Huscenot (FRA)
HEAT 10: Samuel Pupo (BRA) vs. Matthew McGillivray (RSA) vs. Rio Waida (IDN)
HEAT 11: Callum Robson (AUS) vs. Yago Dora (BRA) vs. Ryan Callinan (AUS)
HEAT 12: John John Florence (HAW) vs. Gabriel Medina (BRA) vs. Leonardo Fioravanti (ITA)
Watch LIVE
The Billabong Pro Pipeline will open on January 29 and holds a competition window through February 10, 2023. Once called ON, the competition will be broadcast LIVE on WorldSurfLeague.com, the WSL's YouTube channel, and the free WSL app. Also, check local listings for coverage from the WSL's broadcast partners. For fans watching in Brazil, coverage of the competition's Quarterfinals and beyond will continue exclusively on WorldSurfLeague.com and SporTV.The Billabong Pro Pipeline is proudly supported by Billabong, Pacifico, Apple, Yeti, 805 Beer, Red Bull, Shiseido, Craft 1861, Turtle Bay, True Surf, Sambazon, Spectrum, Pura Vida, Surfline, and Surf Shark.For more information, please visit WorldSurfLeague.com.