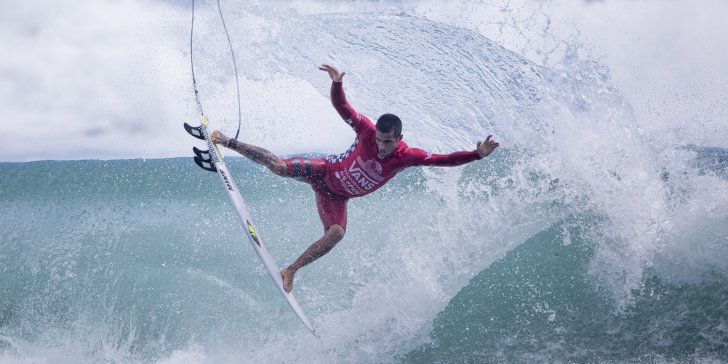 VANS US OPEN OF SURFING
Image:  TOLEDO ELECTRIFIES HUNTINGTON AS MEN CONTINUE ROUND 2. WSL/Morris
– ADO ELIMINATES PETERSON IN FIRST HEAT WIN OF 2017
– DEFAY DOMINATES WITH EXCELLENT SCORES
[caption id="attachment_7524" align="alignnone" width="600"]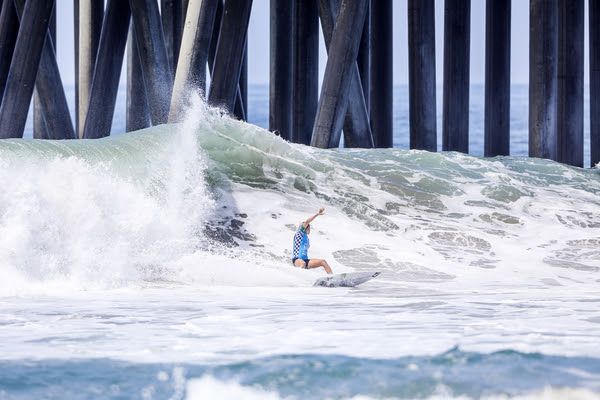 Trials winner Maud Le Car of France caused a major upset in Round Two of the VANS US Open of Surfing by eliminating title contender and 6X World Champion Stephanie Gilmore of Australia in 4 – 5 foot conditions at Huntington Beach, California, USA. © WSL / Rowland[/caption]
HUNTINGTON BEACH, California/ USA (Tuesday, August 1, 2017) – Stop 6 of the World Surf League (WSL) Championship Tour (CT), the Vans US Open of Surfing, kicked off with Rounds 1 and 2  in clean four-to-five foot+  waves. The competition saw impressive performances from the world elite, but it was the Frenchwomen who stole the show today with top scores and big upsets. The Men's Qualifying Series (QS) 10,000 event followed as Round 2, Heats 9 through 13, finished the day with an incredible showcase of progressive surfing.
2015 Vans US Open event winner Johanne Defay (FRA) dominated the opening heat of Round 1 with the highest two-wave score of the day, a commanding 17.00 (out of a possible 20). Defay fired off an excellent 8.00 (out of a possible 10) and followed that up with a near-perfect 9.00, which was also the highest single-wave score of the day. Defay's sharp surfing forced competitors Carissa Moore (HAW) and Silvana Lima (BRA) to surf again in elimination Round 2.
"It's special here being my first CT win, but then last year I lost in the second round," said Defay. "I'm just really happy there are good waves out there. There's always a lot of water moving here so the board I'm on just helps keep the line and with the lower tide you won't make the inside every time. I was just thinking I need to get one or two good hits to get the score. I wasn't sure about my board at first, but I'm happy it was a good choice."
Trials winner Maud Le Car (FRA) upset the competition as she took down six-time WSL Champion Stephanie Gilmore (AUS) in Round 2 Heat 3. The exciting match-up witnessed Le Car put early pressure on Gilmore with a 6.67 in her first CT event. Gilmore battled back with a 5.17, but Le Car's backup score of a 4.17 kept her in the lead. Gilmore only needed a 5.68, but could not find the waves to combat Le Car and will exit with her worst result in 2017.
"I'm feeling super good and super grateful to be at this event, and just want to say thank you to Vans for this opportunity as a wildcard in the trials — I'm so excited," Le Car said. "Stephanie [Gilmore] is one of my favorite surfers and I watch her surf every time she's on. She's just really inspiring and love her surfing. I didn't have any expectation and have nothing to lose so I'm just enjoying the opportunity, and just want to show a little bit of my surfing."
With current World No. 3 Gilmore out of the event, Tyler Wright (AUS), reigning WSL Champion and current World No. 1, will now have the opportunity to further her lead on the Jeep Leaderboard. Wright is in a great position to do so as she took the win in Round 1 Heat 3 to advance straight to non-elimination Round 3. With the WSL Title race in full swing, Wright will work to surpass last year's 3rd place result in Huntington Beach.
"I wanted to make the most of that wave when it came through without completely safety-surfing it," said Wright. "It was quite a fumble on my behalf. I probably went a bit too straight up into the lip when I could've just gone around so I adjusted that on my second wave for that 7. Last year at this event and Trestles, I spent a couple of months here, which set up my whole run through those events and continued into France and Portugal as well. Having that time where I could just focus on boards and surfing really set me up coming here again."
Hometown hero Courtney Conlogue (USA) survived elimination Round 2 Heat 4 against injury replacement Bianca Buitendag (ZAF). Conlogue barely got the edge over Buitendag with just a 0.33-point lead. The Santa Ana local was disappointed with her 5th place result last year and is hungry for her first CT win in Huntington Beach.
"It's amazing to be here with so many friends and family on the beach, and to perform in front of them is incredible," Conlogue said. "Just to see all the fans who watch me on the webcast here and to compete on home soil is great. I definitely rolled the dice a bit letting her go on that last one thinking it was the first wave of the set and still twenty seconds left on the clock. After seeing her first hit and then fall I figured it'd be a low score so I'm stoked to make it through even though it wasn't a great performance, a win's a win and I'll just keep trying to charge through."
In her first heat win of 2017, Pauline Ado (FRA) dispatched 2016 Vans US Open SemifinalistLakey Peterson (USA) in Round 2 Heat 5. Ado sat in the second position for the entire heat, but seized one last opportunity in the final seconds of the heat to play spoiler by only 0.17 points. Peterson will exit with a 13th place finish, her second this season.
Tatiana Weston (HAW) is off to a strong start to defend her Vans US Open of Surfing title after taking down Gilmore and Ado earlier today in Round 1 Heat 5. Weston-Webb delivered a stunning performance on her backhand for the opportunity to skip elimination Round 2.
"I luckily found a right out there after I was only seeing those lefts and used that to my advantage," Weston-Webb said. "I prepared for this one by surfing the Oceanside contest and that was good preparation because it's also pier bowl rights and lefts. That one looked like it was going to stay open, and Steph [Gilmore] was definitely eyeing it, so I had to go and not let her smash that right. I went just to be smart. The US Open is one of my favorite events now that I'm a past champion and I dig the vibe a lot."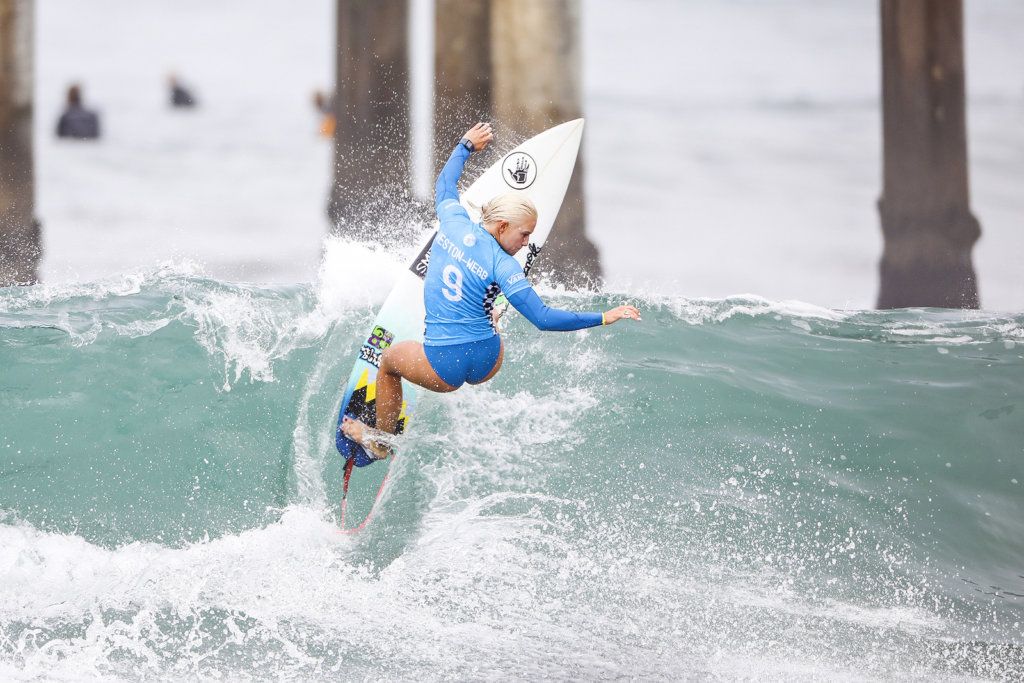 Image: WSL Morris
Current World No. 2 Sally Fitzgibbons (AUS) found her rhythm in the pumping Huntington Beach lineup today with a win in Round 1 Heat 4. Fitzgibbons gained an early lead with a 7.00 and fended off 2016 Rookie of the Year Keely Andrew (AUS) and Buitendag for the win.
"With the number of winners we've had — and on any given day — any of these surfers can take this event out," said Fitzgibbons. "It creates a lot of excitement in me and even right to the buzzer you never know if you've got a heat won so you're just on a hustle. I want to keep building my performance and bring out my best surfing."
Three-time WSL Champion Moore bounced out of elimination Round 2 with her signature power-turns against 2017 CT rookie Bronte Macaulay (AUS). The CT superstar put on a clinic with progressive maneuvers to force the rookie to turn in two new scores. Macaulay was not able to meet the requirement and will be eliminated in Equal 13th place.
Lima eliminated Andrew from the event in first elimination heat of Round 2. Lima kept busy throughout the heat with eight attempted rides. Her persistence paid off as she received a 7.17 and 5.17 for her second CT heat win in 2017.
"All my confidence is coming from my win in Los Cabos for sure and I'm really happy to make it through this one," Lima said. "Hopefully I can take it to the air in this one and hoping for more of the same conditions as today for our heat tomorrow. I'm just overjoyed with all the people here and want to give them a show, and I'm just happy to be back."
Earlier today, Sage Erickson (USA) edged through her Round 1 heat against Conlogue and Macaulay to advance directly into non-elimination Round 3. In a rematch of the Supergirl Pro Final a few days before, Erickson was able to get one back over Conlogue, who took the win at that event. The Californian earned a fifth place finish last year at the Vans US Open, her best result at this event, and her win today keeps her on track to best that finish.
"That was kind of the perfect scenario," said Erickson. "Courtney [Conlogue] is the hometown hero and absolutely smashed me with one maneuver down in Oceanside on Sunday so to get the upper nod, and get some solid waves under my feet felt really good. There's so many options out there right now. It's really peaky and just enabled me to be comfortable and confident that a good wave would come in so I just had to surf it to a good score."
Nikki Van Dijk (AUS) looked in great form today with her win in Round 1 Heat 6 against Peterson and Laura Enever (AUS). Enever went on to battle Coco Ho (HAW) in Round 2, but after close back-and-forth exchanges, Ho took the win.
Once the world's best women finished their brilliant performances, the men got back underway with Round 2 action and continued to showcase dynamic surfing once again in pumping Huntington Beach conditions.
Defending Vans US Open of Surfing winner Filipe Toledo (BRA) picked up right where he left off last year and ripped his way to a 15.43 heat total. Toledo picked apart the pier bowl left with quick, powerful surfing that earned him a 7.33 before finding a right that allowed him to blast a layback forehand-gauge and then finished on a soaring rotation for an excellent 8.10. Toledo is fresh off a massive Corona Open J-Bay win and comes into Huntington wanting to defend his title despite fighting ailments heading into this event.
"I showed up three days ago and just had the craziest stomach flu and it was the worst day ever, but I've just recovered from that and it's my first surf back since," Toledo said. "It's always good to back here after growing up surfing waves like this and my new home San Clemente has a few waves around that resemble this as well. It's always good training and come back here trying to win my third US Open. Having my daughter changed everything, it's a crazy feeling and has given me a new perspective on life along with such a good energy. My family just helps get rid of the pressure and I think that's the main goal is just to have fun which I am."
Adam Melling (AUS) put on a backhand clinic, attacking bomb sets throughout the heat that earned him an 8.00. Melling, former CT competitor, continues to show why he is one of the world's best with his powerful approach and aggressive surfing. After last year's Equal 9th, the 32-year-old returns with unfinished business and is off to a great start. Nat Young (USA) will join the Australian in Round 3. Bino Lopes (BRA) injured himself by hitting the Huntington Beach Pier and left the water mid-way through the heat.
"I'm excited we had some of the better sets out there hold up enough for me to get a big turn off," Melling said. "It's a good start to the event for me. Hopefully the swell sticks around and we can put on a good show. I was just worried because Bino [Lopes] came straight out of the whitewash after that last turn and as he looked up and the pole was there. He got sideswiped and I thought he may get caught underwater and I couldn't even get to him because of the rip, but luckily he came out the other side and seemed okay."
The medical staff assisted Lopes immediately following the injury, diagnosing him with a broken nose and multiple abrasions, before sending him to the hospital for further examination.
2017 CT rookie Connor O'Leary (AUS) joins top seeds Evan Geiselman (USA), Michael Dunphy (USA) and surprise threats Ian Crane (USA) and Gony Zubizarreta (ESP) in Round 3.
The Vans US Open of Surfing Women's CT will resume with Rounds 3 and 4 action beginning at 7:30 a.m. tomorrow morning, followed by more heats of Men's QS Round 2 (H14 -22).
The Vans US Open of Surfing will be broadcast LIVE from July 31 – August 6 via VansUSOpenofSurfing.com, WorldSurfLeague.com, the WSL app and on Facebook LIVE via the WSL's Facebook page. Also check local listings for coverage on CBS Sports Network in the U.S., Fox Sports in Australia, ESPN in Brazil, Sky NZ in New Zealand, SFR Sports in France and Portugal and as part of the EDGEsport Network.
For more information, check out WorldSurfLeague.com and for continued updates and schedule for the Vans US Open of Surfing visit VansUSOpenofSurfing.com.
Vans US Open of Surfing Women's Round 1 Results:
Heat 1: Johanne Defay (FRA) 17.00, Carissa Moore (HAW) 13.83, Silvana Lima (BRA) 8.94
Heat 2: Sage Erickson (USA) 12.90, Courtney Conlogue (USA) 12.10, Bronte Macaulay (AUS) 4.30
Heat 3: Tyler Wright (AUS) 11.97, Coco Ho (HAW) 10.90, Maud Le Car (FRA) 9.07
Heat 4: Sally Fitzgibbons (AUS) 11.67,  Keely Andrew (AUS) 9.74, Bianca Buitendag (ZAF) 7.07
Heat 5: Tatiana Weston-Webb (HAW) 13.74, Stephanie Gilmore (AUS) 8.63, Pauline Ado (FRA) 7.80
Heat 6: Nikki Van Dijk (AUS) 5.50, Lakey Peterson (USA) 3.17, Laura Enever (AUS) 0.87
Vans US Open of Surfing Women's Round 2 Results:
Heat 1: Silvana Lima (BRA) 12.34 def. Keely Andrew (AUS) 9.80
Heat 2: Carissa Moore (HAW) 15.83 def. Bronte Macaulay (AUS) 5.23
Heat 3: Maud Le Car (FRA) 10.84 def. Stephanie Gilmore (AUS) 8.90
Heat 4: Courtney Conlogue (USA) 10.10 def. Bianca Buitendag (ZAF) 9.77
Heat 5: Pauline Ado (FRA) 11.07 def. Lakey Peterson (USA) 10.90
Heat 6: Coco Ho (HAW) 11.67 def. Laura Enever (AUS) 10.20
Vans US Open of Surfing Women's Round 3 Match-Ups:
Heat 1: Johanne Defay (FRA), Nikki Van Dijk (AUS), Maud Le Car (FRA)
Heat 2: Tyler Wright (AUS), Tatiana Weston-Webb (HAW), Coco Ho (HAW)
Heat 3: Sally Fitzgibbons (AUS), Sage Erickson (USA), Silvana Lima (BRA)
Heat 4: Courtney Conlogue (USA), Carissa Moore (HAW), Pauline Ado (FRA)
Vans US Open of Surfing Men's QS 10,000 Round 2 (H9-13) Results:
Heat 9: Evan Geiselman (USA) 14.76, Michael Dunphy (USA) 14.07, Hiroto Arai (JPN) 13.04, Koa Smith (HAW) 11.07
Heat 10: Marc Lacomere (FRA) 12.34, Jack Freestone (AUS) 9.03, Marco Fernandes (BRA) 8.66, Mihimana Braye (PYF) 8.20
Heat 11: Adam Melling (AUS) 14.87, Nat Young (USA) 13.97, Dimitri Ouvre (FRA) 12.94, Bino Lopes (BRA) 11.36
Heat 12: Filipe Toledo (BRA) 15.43, Ian Crane 13.50, Shun Murakami (JPN) 12.43, Hizunome Bettero (BRA) 11.66
Heat 13: Connor O'Leary (AUS) 13.33, Gony Zubizarreta (ESP) 12.20, Mikey Wright (AUS) 8.57, Torrey Meister (HAW) 7.86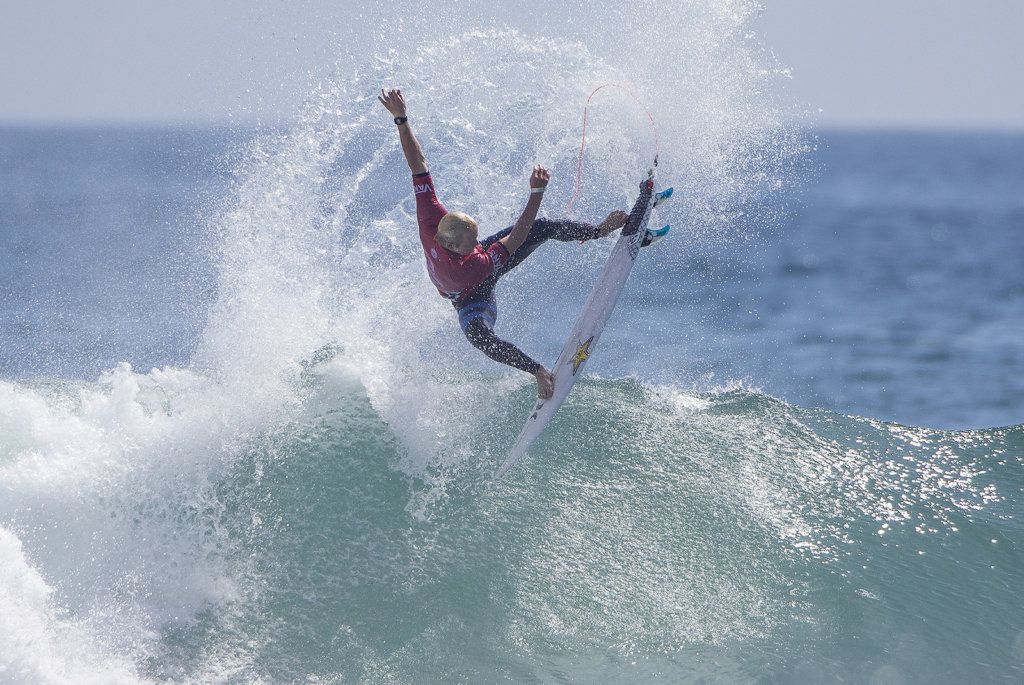 Nat Young making it through with airs like this: Image: Morris
Vans US Open of Surfing Remaining Men's QS 10,000 Round 2 (H14-22) Match-Ups:
Heat 14: Keanu Asing (HAW), Yago Dora (BRA), Carlos Munoz (CRI), Tom Whitaker (AUS)
Heat 15: Ian Gouveia (BRA), Michael February (ZAF), Heitor Alves (BRA), Charly Martin (FRA)
Heat 16: Ezekial Lau (HAW), Michael Rodrigues (BRA), Beyrick De Vries (ZAF), Noe Mar McGonagle (CRI)
Heat 17: Conner Coffin (USA), Mitch Crews (AUS), Krystian Kymerson (BRA), Mateia Hiquily (PYF)
Heat 18: Jadson Andre (BRA), Tomas Hermes (BRA), Nathan Yeomans (USA), Wyatt McHale (HAW)
Heat 19: Miguel Pupo (BRA), Griffin Colapinto (USA), Diego Mignot (FRA), Dusty Payne (HAW)
Heat 20: Caio Ibelli (BRA), Ramzi Boukhiam (MAR), Maxime Huscenot (FRA), Finn McGill (HAW)
Heat 21: Italo Ferreira (BRA), Patrick Gudauskas (USA), Santiago Muniz (BRA), David do Carmo (BRA)
Heat 22: Leonardo Fioravanti (ITA), Soli Bailey (AUS), Marco Giorgi (URY)
Heat 23: Jesse Mendes (BRA), Tanner Gudauskas (USA), Billy Stairmand (NZL), Billy Kemper (HAW)
Heat 24: Frederico Morais (BRA), Brett Simpson (USA), Joshua Moniz (BRA), Kiron Jabour (HAW)