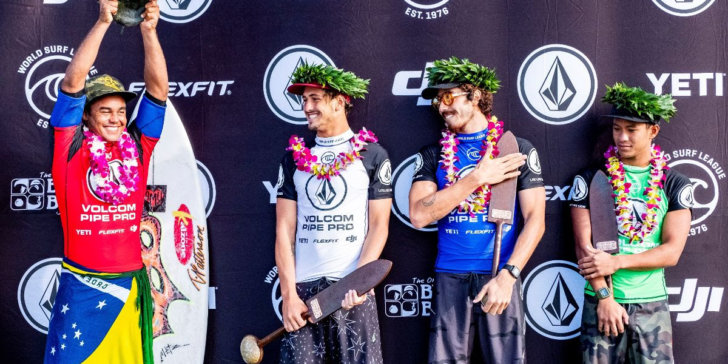 Brazilians Dominate Final, Hawaiian Seth Moniz Earns Fourth

Billy Kemper Honored with Hard Charger Award in Memory of Todd Chesser
Pictured: Wiggolly Dantas (BRA) hoists the warrior helmet on stage during the 2020 Volcom Pipe Pro, alongside finalists Joao Chianca in white, Yago Dora (BRA) in blue and Seth Moniz (HAW) in green. 
Credit: © WSL / Keoki
Haleiwa, Oahu/HAWAII — (Saturday, February 1, 2020) – After three flawless days of surf at Pipeline, the Volcom Pipe Pro, a World Surf League (WSL) Men's Qualifying Series (QS) 5,000, saw Wiggolly Dantas (BRA) win in powerful and challenging conditions on the fourth and final day to join the list of illustrious winners and take home his very first Pipeline victory. The Brazilian representation was strong as Dantas went against Joao Chianca (BRA) and Yago Dora (BRA) in the Final, who earned runner up and third place respectively, and Hawaiian, Seth Moniz (HAW).
Dantas' road to glory began back in 2014 when he earned runner up to 11-time World Champion Kelly Slater (USA) and became fixated on a win at the world-famous wave. The Brazilian has competed in the event nine times and has been traveling to the North Shore for over twenty years, so it was only a matter of time before his name would emerge.
"I feel amazing, I feel tired at the same time, but I feel amazing," said Dantas. "That's my goal for many years, to win an event at Pipeline. This wave for me is a special wave in my life and it's such a pleasure to be here and compete with the boys and get good barrels and get good turns and win an event here. It's my goal for many years and I'm super stoked to start the year."
Pictured: Wiggolly Dantas (BRA).
Credit: © WSL / Heff
It was his lethal backhand attack that earned him today's win, as conditions turned from dreamy to difficult on Day 4. In the Final, he scored an excellent 8.00 (out of a possible 10) after throwing hammers for vertical backside snaps, making a statement to fellow finalists and judges that turns were going to dominate the heat.
In Semifinal 1, Dantas earned his first excellent score of the day, another 8.00, for two strong backhand turns that took him from Backdoor all the way to Off The Wall. He searched out the open-faced walls to deliver the best power turns of the day and will take the momentum straight into the Oi Hang Loose Pro event in Brazil, which begins February 11.
"Every wave you get here at Pipeline is a special moment and a special day," Dantas continued. "Because you can get the best wave of your life and you can get the best wipeout of your life so that's why every time I surf here I want to get good waves, I want to surf good here. I've been coming here for 25 years at least and it's been hard because I wanted to win this event a couple times and I got second, I lost in the Quarters and Semis. This year I just like, 'okay that's the year to try and win this event.'"
Pictured: Wiggolly Dantas (BRA).
Credit: © WSL / Keoki
In an attempt to redeem Pipeline's reputation, the sole Hawaiian pulled into multiple barrels throughout the 35-minute Final but was only awarded a 2.67 and 2.50 despite his valiant efforts. He wove through double-up throaty tubes on his backhand and wrestled foam balls for long rides but was unable to complete them successfully and ultimately took fourth place out of the 144-man field.
"My strategy was to get barreled, even if there wasn't that much potential. I wasn't going to try and do turns and win this contest," said Moniz. "I wanted to go and try to get barreled and go for the win and do it properly at Pipe. It's bittersweet to me. I made the Finals so I'm happy about that, but I definitely was going for the win. But I'm stoked, you know a little momentum. I'm going to get ready for the big events in Australia, the first CT at Snapper, I'm really excited about that. I have a couple months before that so I'll probably just be at home training before that and getting ready."
Moniz went against his brother, former Volcom Pipe Pro winner Joshua Moniz (HAW) in the Semifinals for their first QS heat together at Pipe.
Pictured: Seth Moniz (HAW).
Credit: © WSL / Heff
"Josh will be on the QS, so hopefully he'll make it (the Championship Tour) with me in 2021," Moniz continued. "That was our first QS heat together, and at Pipe. We had a junior heat out here and a final when we were younger, but that was the first QS. It was mellow, we're just doing our own thing, it's like he's another competitor."
Dora was a standout throughout the competition and instigated an air show on Day 3 after pulling an air reverse in Round 4 Heat 1. In today's Final, he cracked a few beautiful turns on his forehand in an attempt to manufacture scores but settled for third place behind Chianca, who displayed lightning-fast surfing.
Chianca scored an excellent 8.17 in the second Semifinal after free-falling into a Backdoor barrel and sticking the fins for a successful ride out. In the Final, he posted a 4.00 and 3.83 for the runner up postition to demonstrate his versatility and adaptability at Pipeline.
Pictured: Joao Chianca (BRA).
Credit: © WSL / Keoki
Billy Kemper (HAW) stood alongside finalists today as he received his own prestigious honor, the Hard Charger Award in memory of Todd Chesser, for his commitment to pushing himself over the ledge and charging throughout the entire event. Kemper's performance throughout the Volcom Pipe Pro was reminiscent of Chesser's, as he powered through multiple rounds and ended up with the second-highest single wave score of the event, a near-perfect 9.00 on Day 3.
"Inspiration at its finest for this award," said Kemper. "Todd was before my time and I think what he did for not only myself but everyone was something so far beyond inspiring. This is very monumental for me, this goes up with the biggest award I've ever won in my life. There is such a list of amazing people that are looking down on us and I just want to thank them and thank this beautiful woman for being such an amazing mom. I think moms don't get the credit that they deserve and thank you to all of you for raising us boys and letting us live our dreams and perform in beautiful waves. Thank you to the Chessers, I truly love you guys and I am beyond honored to walk home with this award."
Pictured: L to R: Volcom's Ryan Immegart, Jeannie Chesser, Billy Kemper with son Lion, and Kaipo Guerrero.
Credit: © WSL / Keoki
The Volcom Pipe Pro is known as one of the most community-oriented events of the year, with its Hawaii Giveback Program donating over $500,000 to non-profits including the Boys and Girls Club of Hawaii and the Live Like Sion Foundation. Volcom's CMO, Ryan Immegart, awarded two checks in the amount of $45,000 to both organizations, both of which are close to heart for Volcom.
One of the most choice events on the Men's QS circuit, the Volcom Pipe Pro is known for its world-class competitors and all-time waves, thanks to its peak-season holding window from January 29 – February 10. Dantas now joins the list of notorious names who have received the warrior trophy, including Slater, two-time World Champion John John Florence (HAW), and Pipeline mavens Jack Robinson (AUS) and Jamie O'Brien (HAW).
The WSL Hawaii/Tahiti Nui region now travels to the islands of French Polynesia for the upcoming QS and Pro Junior competitions, with Kemper in the lead on the rankings followed by 2020 standouts Eli Hanneman (HAW) and Koa Smith (HAW). The Air Tahiti Rangiroa Pro Open Men's QS 1,000 has a holding window from March 2 – 6 followed by the Papara Pro Open Men's and Women's QS 1,000 and Men's and Women's Pro Junior from March 9 – 13, which can be watched LIVE on WorldSurfLeague.com and TNTV.pf.
About the WSL 
The World Surf League (WSL), established in 1976, is the enablement platform for surfing and surfers worldwide. The WSL is dedicated to changing the world through the inspirational power of surfing by creating authentic events, experiences, and storytelling to inspire a growing, global community to live with purpose, originality, and stoke.
The WSL is a global organization, headquartered in Santa Monica and with regional offices in North America, Latin America, Asia Pacific, and EMEA. The WSL possesses a deep appreciation for the sport's rich heritage while promoting progression, innovation, and performance at the highest levels.
The WSL is comprised of Tours & Events, celebrating the world's best surfers across all disciplines and annually running more than 180 global contests and crowning the undisputed World Champions across all divisions; WSL WaveCo, where innovation meets experience; and WSL Studios, which offers best in class storytelling across competition, lifestyle, and conservation.
For more information, please visit WorldSurfLeague.com
About Volcom 
Inspired by creative spirit, Volcom was founded as a clothing company rooted in skateboarding, surfing and snowboarding. Building upon the foundation of sport culture, Volcom also supports initiatives in music and the arts and lives by the mantra 'True To This' as a rallying cry for persistent rebels and creatives that follow their passions. Volcom creates meaningful products for men's, women's and kid's across a variety of categories including outdoor, swim, skate, denim, fashion and more. Volcom has more than 100 direct-to-consumer retail outposts globally and has distribution in hundreds of specialty retail and department store locations. To learn more about Volcom's deep product assortment visit www.volcom.com and follow @Volcom on Instagram, Facebook and Twitter.
About Red Bull TV
Red Bull TV features beyond the ordinary live events and videos featuring inspirational stories covering sports, music and lifestyle entertainment. Anytime, anywhere. Red Bull TV is available on the web, connected TVs, gaming consoles, mobile devices, and more. Accessible via the web at www.redbull.tv and its Android, iOS and Windows Phone applications, Red Bull TV is also available as a pre-installed channel on Apple TV and Samsung Smart TVs and as a free, downloadable app on Amazon Fire TV, Kindle Fire, Chromecast, Nexus Player, Roku Players, Roku TV models and Xbox consoles.