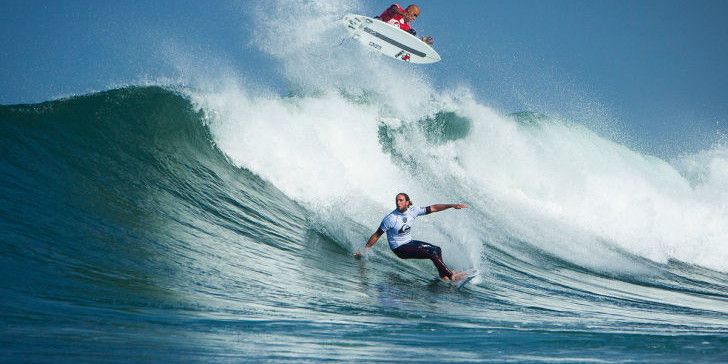 Photo: Matt Wilkinson (below Kelly Slater) may not requalify © ASP/Poullenot
ASP Updates
Situation Room: Surfers on the Bubble for 2015
 Surf News Network, 5 November, 2014. The story behind the story going into the final stretch of the season is the race to qualify for the 2015 World Championship Tour (WCT). According to ASP rules, the men's WCT is comprised of the previous year's top 22 surfers, the top 10 on the Qualification Series (QS) rankings, and two season wildcards. What remains of the season are three Prime-rated events and the Billabong Pipe Masters.
With 27,200 points or more, the Top 14 on the WCT rankings have officially solidified spots on next year's elite Tour:
1. Gabriel Medina (BRA)
2. Mick Fanning (AUS)
3. Kelly Slater (USA)
4. John John Florence (HAW)
5. Michel Bourez (PYF)
6. Joel Parkinson (AUS)
7. Jordy Smith (ZAF)
8. Adriano De Souza (BRA)
9. Taj Burrow (AUS)
10. Kolohe Andino (USA)
11. Josh Kerr (AUS)
12. Owen Wright (AUS)
13. Nat Young (USA)
14. Bede Durbidge (AUS)
For the current class of WCT competitors, Pipe is the final opportunity to qualify through their WCT rank. The Top 22 cuts off after HawaiianSebastian Zietz, who has 17,950 points going into the last event of the season. Below him are 10 surfers who can mathematically overtake his spot at No. 22.
The eight surfers who directly follow the Top 14 — who would fill out the Top 22 if the rankings statuses stay as-are — can solidify their positions, regardless of what happens to the surfers ranked lower than them, by achieving the following at Pipe:
15. Miguel Pupo (BRA): finishing 9th.
16. Filipe Toledo (BRA): finishing 5th.
17. Adrian Buchan (AUS): finishing 5th.
18. Kai Otton (AUS): finishing 3rd.
19. Freddy Patacchia (HAW): finishing 2nd.
20. Jadson Andre (BRA): finishing 2nd.
21. Julian Wilson (AUS): winning Pipe.
22. Sebastian Zietz (HAW): winning Pipe.
The 10 surfers outside the current Top 22 need a 13th-place finish or better to break 17,950 points, with C.J. Hobgood (USA) and Matt Wilkinson (AUS) the top two below the cutoff line.
If Wilkinson is eliminated before the Pipe Quarterfinals, there's a good chance he won't make next year's Tour.
The surfers rounding out the bottom half of the Top 22 can easily improve their rankings at Pipe, even with 13th-place finishes. So while Hobgood and Wilko are a 13th-place point-difference out of range, a Quarterfinal finish or better from each would put the heat on the Top 22.
Jeremy Flores (FRA) and Raoni Monteiro (BRA) cannot requalify with their WCT results. But with three Prime events left on the QS, both have a shot at the 2015 Tour. Ranked No. 16 on the QS, Flores is in the best spot, and only needs one good result. Monteiro, in contrast, needs several good results.
Surfers who will qualify through the QS, however, are harder to determine. The 6-Star Oceano Santa Catarina Pro just finished in Brazil, which shook up the rankings yet again. But with three Primes left, anything could happen.
After his victory at the Prime-rated Cascais Billabong Pro, Jadson Andre currently tops the QS rankings.
The O'Neill SP Prime will be the big chance for the non-WCT surfers to make their mark. Once the tour hits Hawaii both the Reef Hawaiian Proat Haleiwa and Vans World Cup at Sunset will be filled with WCT seeds, pushing all the QS hopefuls back a round or two — the events at Haleiwa and Sunset will have four-man heats and no man-on-man heats.
Right now the QS surfers above the cutoff include:
1. Jadson Andre (BRA)
2. Matt Banting (AUS)
3. Wiggolly Dantas (BRA)
4. Filipe Toledo (BRA)
5. Adriano De Souza (BRA)
6. Adam Melling (AUS)
7. Tomas Hermes (BRA)
8. Italo Ferreira (BRA)
9. Keanu Asing (HAW)
10. Jesse Mendes (BRA)
With De Souza requalifying through his WCT rank, he vacates a spot in the Top 10, allowing Charly Martin (GLP) to enter the ranks. With Toledo looking safe to qualify through the WCT, Willian Cardoso (BRA) would edge his way into the Top 10 as well. Although that makes a lot of assumptions — Toledo making the 2015 Tour through the WCT and Cardoso remaining in good standing on the QS — they're fairly safe assumptions.
Toledo is counting a low score of 500 in his WCT scoreline so anything better than 25th at Pipe and he moves up. If he gets a fifth-place or better there is no chance he can drop off. As for Cardoso, he's already put the Top 34 on notice: He topped WCT surfers Hobgood, Kerr and Adam Melling(AUS) on his way to a runner-up finish at the Prime-rated Vans US Open of Surfing.
Hot on the heels of Willian, who has 9,285 points, are 61 others who could make the Top 10 with just one stellar result. Seeing as there are three events to get a result, any one of those contenders can make it.
Most of the surfers just out of qualification range are looking to replace 400-600 low scores:
13. Ricardo Christie (NZL)
14. Brett Simpson (USA)
15. Tim Reyes (USA)
16. Jeremy Flores (FRA)
17. Michael Dunphy (USA)
Christie and the surfers ranked 13 through 17 on the QS all have a chance to qualify.
All are close in points, ranging from 9,265 to 8,940. After that there's a significant drop. No. 18 Billy Stairmand (NZL) has 8,105 points and from there onwards there are 100-point drops per rank. That makes chances pretty slim for lower-ranked QS competitors.
As for No. 13 through 17, Flores loves Hawaii and should do well there and Christie has had some good results in Hawaii in the past. There are also a few dark horses: Patrick Gudauskas (USA) is always a threat at crunch time. At No. 21 on the QS rankings, he'll need one great result and two results in fifth place or better.
The cutoff number will likely be about 12,000 points. However, it could theoretically be as low as 10,500. That benchmark will become clearer after the Prime event in Brazil.
Al Hunt Bio: Al Hunt is a former competitor who has helped develop the ASP since its inception. Hunt was Head Judge in 1983, the ASP's first year, and became Tour Manager starting in 1984.
Hunt has worked as ASP Tour Manager since that time, attending more than 1,000 events and contributing a wealth of professional surfing knowledge and history. Hunt's Situation Room is designed to keep fans informed on rankings shifts throughout the 2014 ASP season