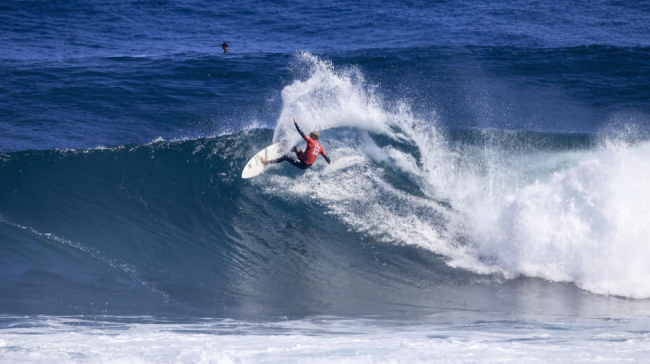 It's almost impossible to image Mr. Florence on the 2019 Tour and not wearing the Yellow Jeep Jersey…and being 20,000 points ahead of everyone; esp. if he kept his momentum going early in the '19 season (before the re-tear of his ACL in Brazil). SNN.
Check out STAB MAG's piece with the World's Best chiming in on John's ground breaking rail game at Margaret's 2016.
"John Florence And The Peerless New Standard Of Power Surfing"
Kelly Slater, Mick Fanning, Trav Logie, Jake Paterson and Brad Gerlach analyze John's win at Main Break.
You think you've seen every type of power surfing, then you see what John Florence did at Margaret River yesterday.
In a single contest, John redefined power surfing, and proved that not all progression occurs above the lip.
He was operating at the sharpest end of performance in the modern tour era.
Have you ever seen such speed, timing, flow and aesthetics blended so flawlessly on waves of that size?
This is a discussion beyond the numbers he was clocking (non-stop nines, obviously); this is about a resetting of the level.
"The rest of the guys on tour are so competitive, they'll all be eyeing how John's fins were set, how his rails are,
how his board is, slo-mo'ing his technique," says WQS Commissioner and ex-Tour surfer, Travis Logie.
"Goofyfooters will be watching it in a mirror. That's what I would do if I was still on tour, trying to con myself that I had a chance (laughs)."
Appreciating that good judgment comes from experience, Stab spoke with some immensely good power surfers
and other dignified voices for their analysis of John's Main Break clinic. How significant was his exhibition?
What does it mean for the future of competition and power surfing (if anything)?
Let's discuss.
Mick Fanning
"Watching John John yesterday felt like a shift in power surfing, he went crazy. It was epic.
Everyone has their ideal size – Filipe in three foot, Kelly at Cloudbreak – and I think that size we saw yesterday is perfect for John.
"You see him in Hawaii surfing Pupukea that size, or wherever, he's surfing that size all the time. He was so comfortable and had the perfect equipment for it.
Everything just came together for him. He's an incredible surfer as is, so when everything comes together for him, well… you're going to see a spectacle like we did yesterday.
"In regards to the difficulty of doing turns like that, it takes a whole lot of core strength. But that wave, in particular, is such a weird wave.
It's not perfect, you don't see all the bumps in it. So for him to have the strength to cut through all those cuts was just stupid.
Any type of rail requires commitment – you need that strength to push through.
But there's always a perfect time and perfect place where it all comes together, and all that came together for John yesterday. He just thought he was at Pupukea again."
Brad Gerlach
"This was just the best surfing I've seen in a long time. Maybe ever. It fucking stoked me out, it's what I'd teach my students to do –
to be loose, driving and radical in their positioning, all without messing with their own style. I don't touch style or get into arms, that'll be fine if your body is holistic, which John's was.
"I love that he's brought on Ross Williams to coach. It just shows that having intelligent, experienced feedback can only help the performer reach his new levels.
And John was on a new level to me."
Jake Paterson
"I haven't seen such a dominant performance in surfing since Kelly in the early 2000s at J-Bay. 
John John was on a whole different level to the field, it looked like everyone was surfing Sunset and John was surfing fun Haleiwa or something. 
"Marg's right is really similar to John John's home break right in front of his house in Hawaii called Rockpiles.
Maybe that is why he destroyed everyone he surfed against out there. Check this, the only person he didn't combo in the whole event was Michel Bourez in the quarters, but he was still left needing a 9.28. 
"Incredible if you ask me or anyone else in the surfing world I think. 
Give him another title already, I can't see anyone matching what I have seen in the first couple events." 
Kelly Slater
"It was incredible to watch someone so thoroughly in tune with all aspects of their surfing.
John John's performance was one that will be talked about forever because it truly encompassed the essence of surfing.
"Margaret River is a difficult wave to read and have confidence in and he somehow unlocked the riddle perfectly.
I said it would've been a shame had he not won that event after such a performance.
"I can assure you every surfer on tour is questioning either their talent or approach after watching that, and will all need to step up or step aside.
John didn't surf to win heats, he simply surfed to express what he does best in his own way."
"Whereas the other guys, as amazing as surfers they are, still have to come out of their turns and brush off a lot of speed and get to the bottom of the wave and do long, drawn-out bottom turns. John was going out of turns and going straight back on his inside rail and getting straight back up the face. Then doing the exact same thing on his opposite rail. It looked like everyone else was being a little tentative off the top and the bottom, which you sort of have to be out there. But John John just never was. It didn't matter what wind was blowing, anything. He was literally surfing 10 foot gusty Margs like it was a perfect two-to-three foot day.
"Regarding what this means for carves in the future, he 100 percent changed the definition. He executed so many different types of carves on those faces, so it never got boring to watch. He was doing those laybacks, full wraps and that one crazy one where he put both his arms back and went into a full rebound after the tube. Those waves had full ribs on it and everything, and he didn't even have a wobble. Carves have always been there, but it just made you realize that it's never done. Surfing can always move forward, and he showed that. The good old carve, he went and made it better.
"In the last 10 years, you can arguably say Kelly's wrap, Mick's wrap, Parko and Jordy, those were the guys. But now, you'd be a fool to argue that John John doesn't have the best wrap of them all, after what he was doing at Margaret River. Sometimes it's a tough wave to watch, but he made it really exciting. Like you're watching Lowers, you couldn't wait to watch him get on one of those faces. He's definitely the guy right now when it comes to open faced surfing.
"Compared to what he did in View From A Blue Moon, the stuff he was doing had evolved so much in the past 18 months. Not only in the carves, but also in every aspect of his surfing. Not so long ago, the year he was qualifying for the tour, I was still on tour, and I remember thinking I wanted him on a pointbreak because I thought, 'Oh, he'll fall. He's just going to try to go bigger on every turn and he's going to fall. Yeah, he's amazing at airs and barrels, but with linking turns together, I'll have a go.' But now, every year, everything gets better.
"I'm excited to see how everyone responds at Bells. That's another wave where you can seriously lay into some rail if there's some decent waves. Some guys could learn what John John is doing in time, but a lot of it's gonna depend on what type of equipment they have, that might be the one limitation. But, if all those boxes are ticked, it could be done. Those guys have done carves similar to that before in their lives, let's be honest, but John's the first guy who's gone out there and done it on literally every wave he took off on, without putting a foot wrong for a week."