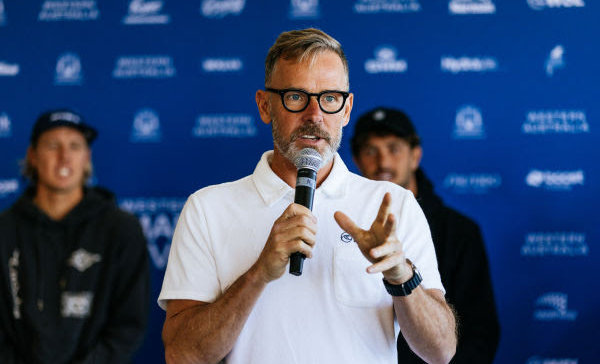 Can the Surf Community resolve this important debate without someone getting hurt? SNN
Heated HEATS below: Medina vs Ewing plus Ferreira vs Colapinto ….
Front page image WSL CEO Erik Logan.
Photo: WSL/Cait Miers
WSL on Judging Controversy and Death Threats
WSL CEO, Erik Logan, addressed recent claims of unfair, unclear judging post Surf Ranch Pro.
It started when Gabriel Medina called out the judges for "poor clarity and inconsistence of judging."
Then, Medina's fellow countrymen, Italo Ferreira and Filipe Toledo, backed him up.  (Read below)
So, WSL issued a response; CEO Erik Logan wrote:
To the WSL community,
I want to address the conversation that happened in our community following the recent Championship Tour event at the Surf Ranch. As you likely know, a small number of athletes made statements questioning the judging of the competition and the final results.
In terms of the statements made, we completely reject the suggestion that the judging of our competitions is in any way unfair or biased. These claims are not supported by any evidence.
Firstly, the judging criteria are provided to the athletes ahead of each competition. All athletes competing at the Surf Ranch Pro received these materials on May 20th. Every athlete had the opportunity to ask questions about the criteria at that time. None of the athletes who made these statements took advantage of this opportunity at the Surf Ranch Pro.
A number of athletes at the Surf Ranch Pro received points for elements such as progression and variety, so it is simply incorrect to suggest these are not taken into account in the judging criteria. Furthermore, our rules have been applied consistently throughout the season, including at events this season that were won by athletes who are now questioning those same rules.
Surfing is an ever-evolving, subjective sport and we welcome a robust debate around the progression of our sport and the criteria used to judge our competitions. However, it is unacceptable for any athlete to question the integrity of our judges who, like our surfers, are elite professionals.
Sincerely,
Erik Logan
WSL Chief Executive Officer
Gabriel Medina on Instagram late May
"Surfing has been my life and my love for this sport is unconditional. I have put all my heart into and and want to leave a beautiful legacy one day when I look back at it.
However, the surfing community, especially in Brazil, is mesmerized with the poor clarity and inconsistence of judging for many years now, but lately it has been even more shocking.
Fans and sponsors will not accept this to continue and will in a near future be drawn away once all they want is equal and fair judging to the sport.
Also, important to note that many coaches and managers have had the opportunity to speak to WSL after heats/events to ask about PROGRESSION and VARIETY in the criteria and the lack of reward for this space. The response given by them is always quite defensive by giving poor examples to illustrate THEIR point.
WSL needs urgently to clarify judging and apply equal and fair judging to save the progression of the sport."
Filipe's message:
"For the love of sport,
"*To all Brazilian surfers and anyone else who feels included in this message:*
"After a long day, of many thoughts, analyses, news and arguments, I realized that I was tired, psychologically exhausted. It's not easy to spend 10 years swallowing hard.
"I'm a surfer, original and rooted, who grew up among real surfers, and fairness has always been one of the main points in my experience. That's why I feel tired.
"For the love of sport, I'm still firm and strong. And now, I feel happy seeing the posts by Gabriel Medina, Ítalo Ferreira, and many others, who can still adhere to the idea that what we seek will always be the evolution of the sport, with justice and transparency.
"We want nothing but fair. Nothing beyond what is our right. We need our voice to be heard and respected, because, after all, we are the protagonists of it all!
"Finally, I hope that everyone, family, friends, fans and sponsors, understand my position on this situation and are supporting me in the best way!
"Ps: I want it to be clear that other surfers, regardless of their nationalities, have nothing to do with this. Like me, they are also fighting for their dreams. And attacking or disrespecting them won't change anything, it only gets worse for us Brazilians!"
Italo (translation):
"Go beyond a grade ….
"My intuition is not to attack, hurt, take into credit and judgment, but silence consumes me.
The surf that gave me and gives me everything I live by this if I need to prove it yet.
My looks and my energy and what they carry says it all.
On my part, surf, I give you my all.
My devotion My day to day that only me, my team and my family know. And so we shall continue.
In the moment of sadness, indignation, reverse and look forward, transform, inspire people.
Joy is bound to prevail.
The weight I carry in water doesn't float for a second. It's mine and I have the honor to carry it, and make it happen.
I learn everyday that I have to build myself up, improve myself, it's a continuous process, as an athlete, and as a human being!
A big part of this is this union of my Brazilian colleagues and friends of the tour, and of everyone who is in it for the surf!
But let me talk about the strength, the same as my look.
This is ours! Plural!
And from here on out it's going to make yourself more present, and in the most positive way possible.
The focus is on development. The focus is on progress. The focus is on the goal, and let it be clear that nothing will be built against it in my way.
And if you doubt, look it in my eye!"