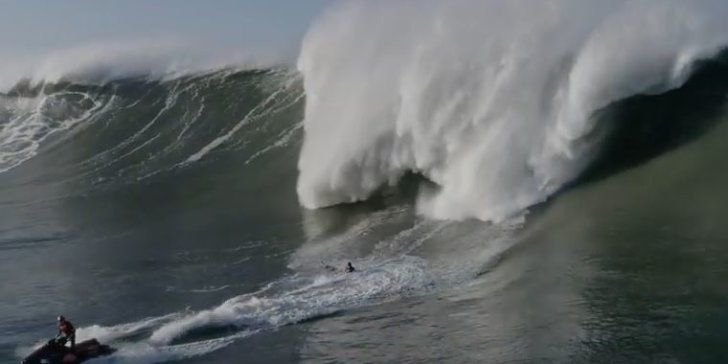 Make sure you grab the rope.
Nazaré Dispatch. Marcelo Luna. Wave & Wipeout [Drone]
Published on Aug 14, 2018
Action starts with Brazilian Professional Big Wave Surfer Marcelo Luna charging into a huge wave in Nazaré, Portugal, during the infamous session of November 8, 2017, a day otherwise known as "The Big Wednesday". After successfully riding the huge wave, Marcelo is unable to grab the sled of the Jet Ski and misses his only chance of avoiding every surfer's worst nightmare, getting pounded by a direct hit in Nazaré.
This is the same Big Wave session that awarded Rodrigo Koxa with the new Guinness World Record for Biggest Wave ever surfed, and the very same session where Andrew Cotton suffered a severe back injury in Praia do Norte. This sequence with Marcelo Luna took place during the early morning, at the very beginning of this historic session.
In this episode of "Nazaré Dispatch", Marcelo Luna gives his first-person testimony to the filmmakers, the local Drone Team "Máquina Voadora" about what happened and what is like to surf and get pounded in the world's most feared wave: Nazaré. His friend, the Italian Big Wave Surfer Alessandro Marcianó, which was Marcelo's teammate during that session also describes the sequence, giving the audience a rare insight of what happens during a Big Wave Session in Nazaré when things go wrong.
"I realized that I almost died", Marcelo told the filmmakers in an interview, "one more wave, maybe, and I think I would be knocked out. It was hardcore… it was the worst situation I've ever experienced in Nazaré, I'm blessed to be alive" he added.
Marcelo Luna is chasing Giant Waves in Nazaré since 2016, being one of the most active Big Wave Surfers operating in the area, with several WSL Big Wave Awards entries under his name, he is a regular presence when conditions go ballistic in Praia do Norte.
Praia do Norte beach, near the fishing village of Nazaré, has become famous worldwide for huge waves in 2011 when Hawaiian surfer Garrett McNamara set a world record for the largest wave ever surfed: 24 meters (78-foot).