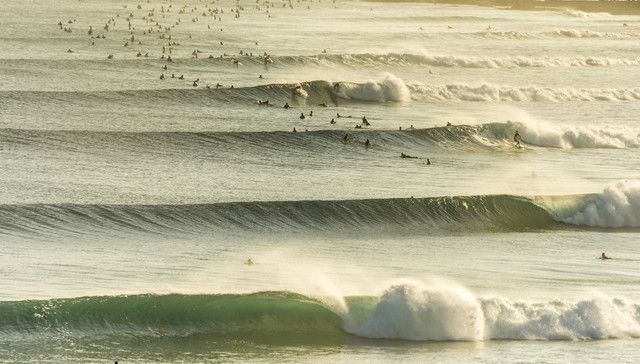 We know surf is worth a billion in stoke. But how much is it worth in dollars? Take a look at the recent run of Gold Coast surf… And note, we can be millionaires when we count our blessings….we don't have packs like this on our worse days.
Photo: Superbank earlier this year © Joliphotos.com
Surf News Network, 4 March, 2016 – The recent run of surf on the Gold Coast has sent thousands into the lineup to take advantage of all-time summer conditions courtesy of a string of cyclones. Surfers come. And when they do they surf, eat at restaurants, fill their tanks, pay parking tickets, and of course smash their boards – all activities that cost money.
A recent tally puts the money surfers spent recently on the Goldie at up to $40million.
According to the Gold Coast Bulletin, former Griffith University researcher Dr Lazarow said local surf spots are worth a combined $233 million annually, but that during this recent spell about 75,000 local and visiting surfers hit the water. On average they forked out between $25 and $40 respectively for each surf.
Further estimates put the locals' spending at $14 million in eight weeks while visitors forked out an estimated $4.8 million during a run of great surf from cyclone activity. The other roughly $20 million comes from the area surf industry he said.
A local ding repair shop said business was up 40 percent while DHD Surfboards said sales on boards were up 20-30 percent. One local surf shop said hardware like legropes and fins were marching off the shelves.
Dr Lazarow surveyed 400 surfers for his study.