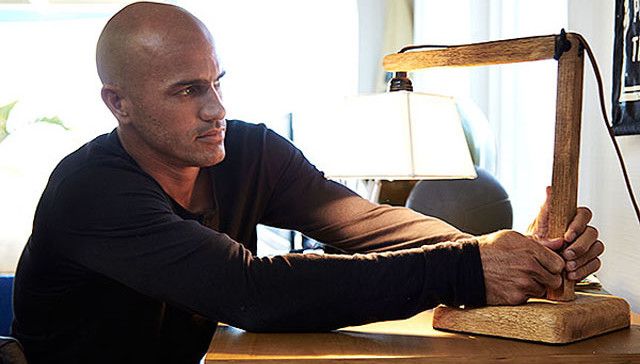 Diversified Kelly Slater exploring his furniture line © Williams-Sonoma
Slater's worth tagged at roughly $20 million and that's real rough.
Surf News Network, 24 July, 2015. Kelly Slater became the youngest person to win the Surfing World Championship at 20 years old, and he became the oldest at 39. The superstar  built his impressive bankroll with career winnings of more than $3.66 million to date, according to the World Surf League.
Slater has supplemented his net worth of $20 million — according to CelebrityNetWorth — with everything from acting and modeling gigs to endorsement deals. He's appeared in Versace ads and "Baywatch" episodes, and he had a sponsorship with Quiksilver.
Although he left Quiksilver in 2014 after more than 23 years with the brand and Channel Islands after 27 years, he'll have no shortage of gear if he competes at Huntington Beach. Slater told SurferMag.com in April that he has an "invested interest now in Firewire." He also launched his own apparel company, Outerknown, earlier this month.
What's more, Slater is selling 73,500 shares of GoPro, reports Forbes. GoPro is sponsoring the professional surfer, and he has a 35 percent existing position in the company. Forbes predicts that after taxes, Slater could be taking home $1.1 million.
Slater's other investments include (among others) his own energy drink called Purps, The Kelly Slater Wave Company, Lit Motors and a licensing deal with Williams-Sonoma.