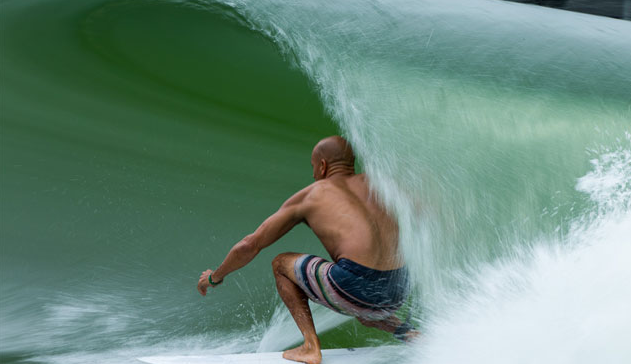 Article Courtesy of WSL | PC: KSWC
Ultimately, nothing will satisfy my curiosity (and yours) about Kelly Slater's wave like surfing it. The thing looks, smells, and (probably) tastes like a dream. But until then, we're relegated to asking questions and pondering. Yesterday morning, in another monumental development for the sport, the Olympic Committee approved a recommendation to include surfing in the 2020 Olympics. One final vote remains in August before it's official, but according to sources close to the Olympic bid process, the outlook is optimistic. Rumors also abound claiming said Olympic games will take place in a wave pool to mitigate concerns around inconsistent surf in Japan during the summer. With the WSL acquiring the world's most impressive artificial wave just a week ago, it seems like everything is going exactly according to plan, Pinky and the Brain-style. But as it turns out, the wave pool Olympics rumors are just that. Rumors. According to ISA President Fernando Aguerre, should surfing be included in the 2020 Olympics, the competition will almost certainly take place in the ocean. Which makes sense in the context of surfing. That's where 99.9999999% of surfing takes – and has taken – place. But that doesn't change our bloodlust for information about Kelly's wave. Not in the slightest. So I caught up with World Surf League VP of Communications, Dave Prodan, via email to get the skinny.
When do you anticipate the wave pool will be available for the public to use? Do you know where the next pool will be built or what the rollout strategy might be? Curious if you have any insight around admission/membership costs?
The KSWC will be making an announcement on next steps in the near future. For now, the continued focus of the technology is on refining training potential and applications with the world's best surfers.
With the development of a perfect, artificial wave, surfing seems to be evolving in an unprecedented and fundamental way. The impact to surfers – in the context of surfing – could potentially be likened to something as profound as giving humans cell phones. Big changes in behavior. A whole subculture –  or superculture – of wave pool surfers might result. Or it could be nominal. A tiny niche/novelty. Given the acquisition, I'd assume bold ambitions, but where do you see wave-pool surfing fitting into the surfing ecosystem in say 10 years?
It's an interesting question to consider……..