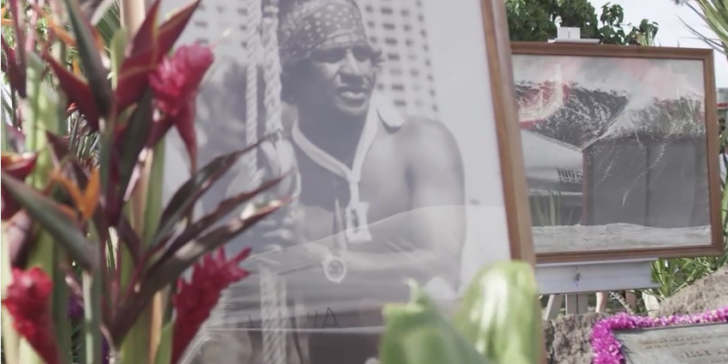 Fear and Character Factors at Quiksilver in Memory of Eddie Aikau

Surf News Network, 27 December, 2014. How do surfers get over the fear factor in massive surf? Chargers from Garrett McNamara (USA) to Kohl Christensen (HAW) talk managing fear at heaving Waimea Bay. Both surfers are among the invitees in the 2014/2015 Quiksilver in Memory of Eddie Aikau.
The Quiksilver In Memory of Eddie Aikau was last held on December 9, 2009, and was won by California's Greg Long. Long-range surf forecasts are currently eyeing the development of a potential "Eddie"-sized swell that could also arrive around December 9. The event has only been held a total of 8 times.

Invitees
Aaron Gold
Bruce Irons
Clyde Aikau
Dave Wassel
Garrett Mcnamara
Grant Baker
Greg Long
Ian Walsh
Jamie Mitchell
Jamie O'brien
Jamie Sterling
John John Florence
Kala Alexander
Kelly Slater
Kohl Christensen
Makua Rothman
Mark Healey
Nathan Fletcher
Noah Johnson
Peter Mel
Reef Mcintosh
Ramon Navarro
Shane Dorian
Sunny Garcia
Ross Clarke-Jones
Takayuki Wakita
Tom Carroll
Jeremy Flores
Alternates
Mason Ho
Koa Rothman
Kalani Chapman
Danilo Couto
Billy Kemper
Anthony Tashnick
Carlos Burle
Albee Layer
Ross Williams
Ben Wilkinson
Danny Fuller
Kealii Mamala
Michael Ho
Kai Lenny
Shawn Dollar
Gabriel Villaran
Evan Valiere
Kahea Hart
Keoni Watson
Derek Dunfee
Koby Abberton
Mark Mathews
Alex Gray
Laurie Towner
Honorary
Donnie Solomon
Andy Irons
Mark Foo
Marvin Foster
Ronnie Burns
Ricky Grigg
Jay Moriarity
Lester Falatea
Mel Kinney
Peter Davi
Sion Milosky
Tiger Espere