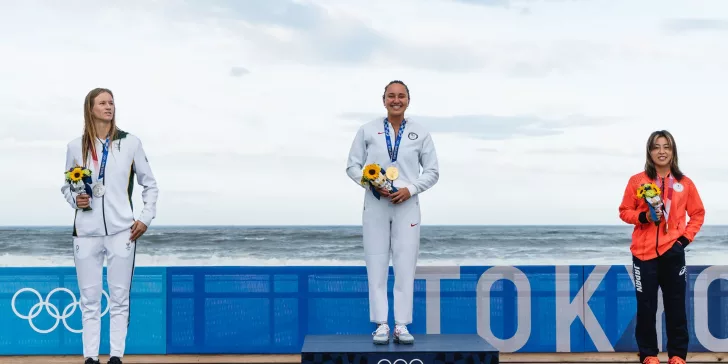 We didn't need Sunshine and perfect Surf to be Stoked. Having Surfing debut as an Olympic Sport was enough. Just ask the surfers.
The Best Surfers in the World took on the challenging typhoon conditions like you'd expect… with mind blowing maneuvers …and survival skills 🙂
Yes, on Monday night in Hawaii Nei, USA's (Hawaii's) Carissa Moore and Brazil's Italo Ferreira were Crowned Historic First Olympic Surfing Champions!
Tears were shed in overwhelm as the meaning of this moment hit these incredible athletes…
Front Page: Women's podium. Pablo Jiminez/ISA
Ferreira's Gold has earned him the trifecta of top surfing accomplishments – a World Surf League Championship Tour Title in 2019, a World Surfing Games Gold Medal also in 2019, and now an Olympic Gold Medal.
"All of my accomplishments have been important to me, but I think this Olympic Gold means the most because I was the first one," said Ferreira. "But all surfers made history here. Every surfer has a piece of this Gold Medal.
"This has been quite a story for me. I started surfing on a cooler top when I was a kid before I got my first real board and won my first event. Because of [my upbringing] I have a lot of passion for the sport.
"I truly believe that the Olympics will change our lives. Not just the medalists, but for all the surfers that competed in this historic event." ISA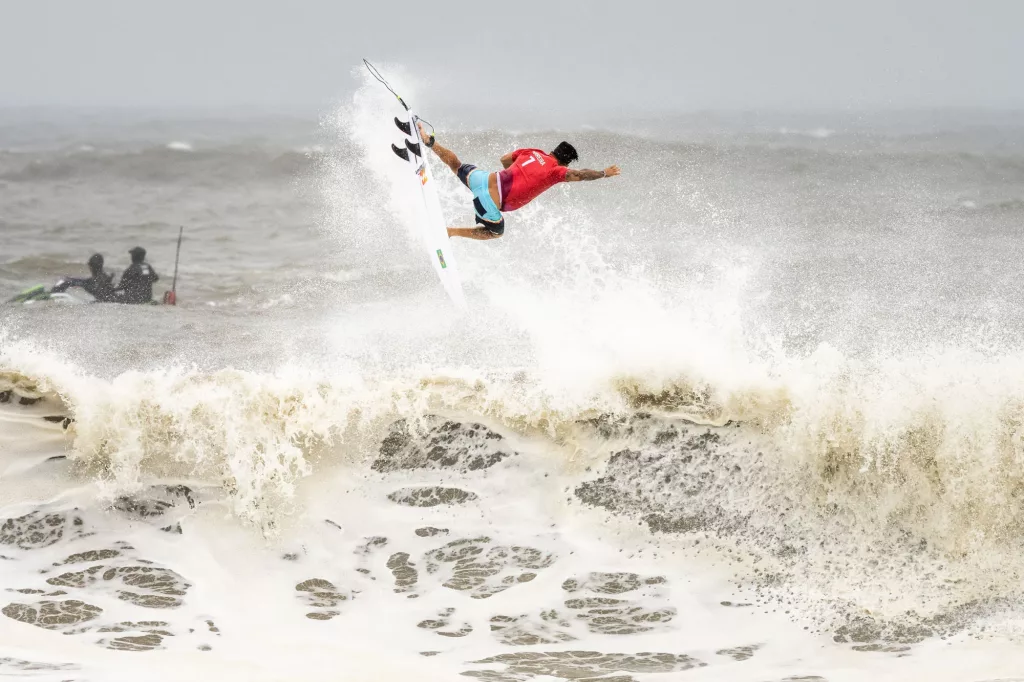 Italo state of mind is like his surfing. Photo: Sean Evans/ISA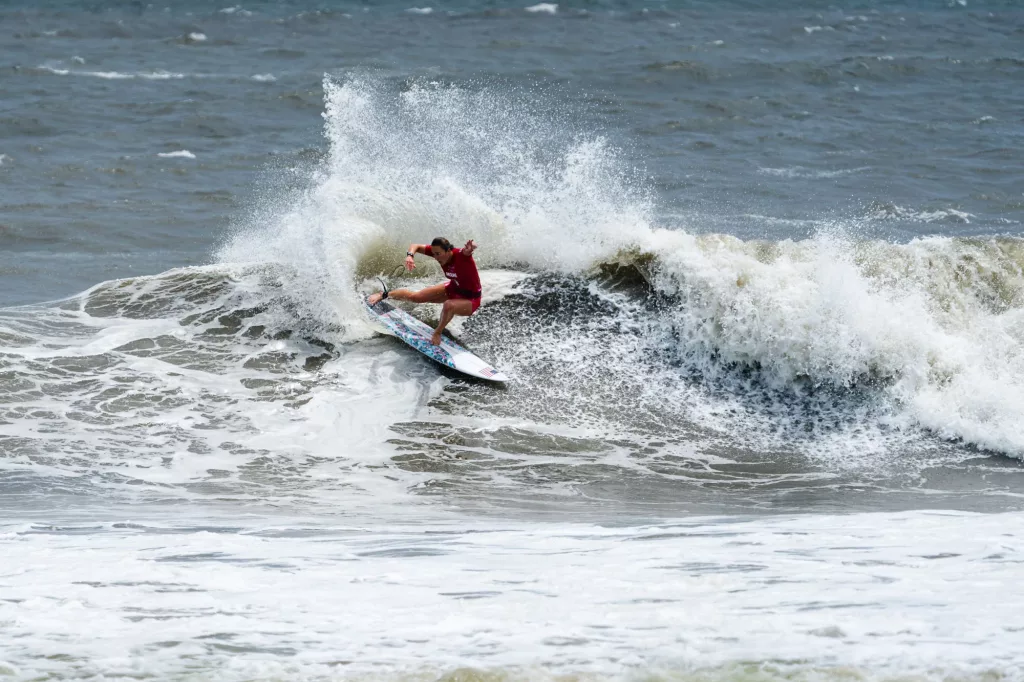 Gold medalist Carissa Moore carving for Legendary Gold. Photo: Ben Reed/ISA
ISA: Duke's dream comes full circle with Hawaiian Gold Medalist
Duke Kahanamoku, an Olympic Gold Medalist in Swimming revered as the father of modern surfing, planted the seed of Olympic Surfing in 1912 when he first expressed his wish to see the sport included in the Olympics while atop the podium at the Stockholm Games.
More than a century later, Duke's dream has come full circle. Not only did the sport gain inclusion in the Games, but Moore, a Hawaiian, became the first Women Olympic Champion.
Moore spoke about the legacy of Duke and her connection to his Olympic dream.
"Duke Kahanamoku is our ambassador of Aloha," said Moore. "I recently watched a documentary about him and really got to learn about his life, how he treated people unconditionally, with love and kindness. He brought surfing to many parts of the world, and it was his dream to have surfing in the Olympics.
"To be a Hawaiian and know what he did, and hopefully share that same Aloha spirit when I travel the world, is something that I would also like to do. I just want to say a big thank you to the ISA and Fernando for all the hard work they have put in to bringing us here today and accomplishing Duke's dream."
Good Timing: The Dukes Oceanfest kicks off August 24th!  GO HERE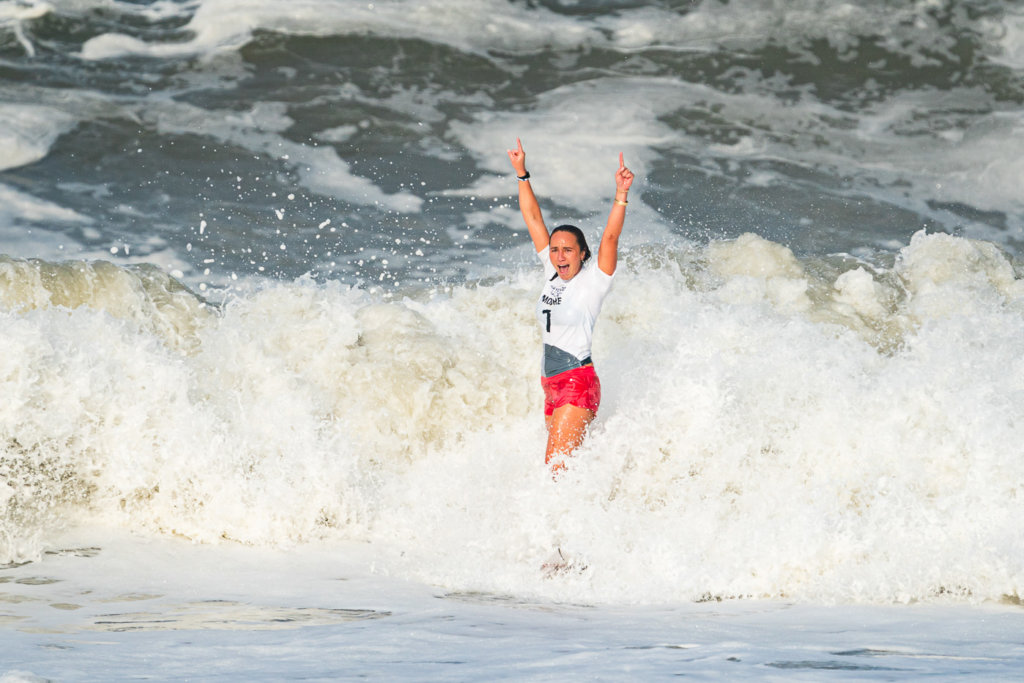 USA's Carissa Moore starts the celebration of her Gold Medal before evening arriving to the shore. Photo: ISA / Ben Reed
RESULTS
MEN:
Gold: Italo Ferreira
Silver: Kanoa Igarashi
Bronze: Owen Wright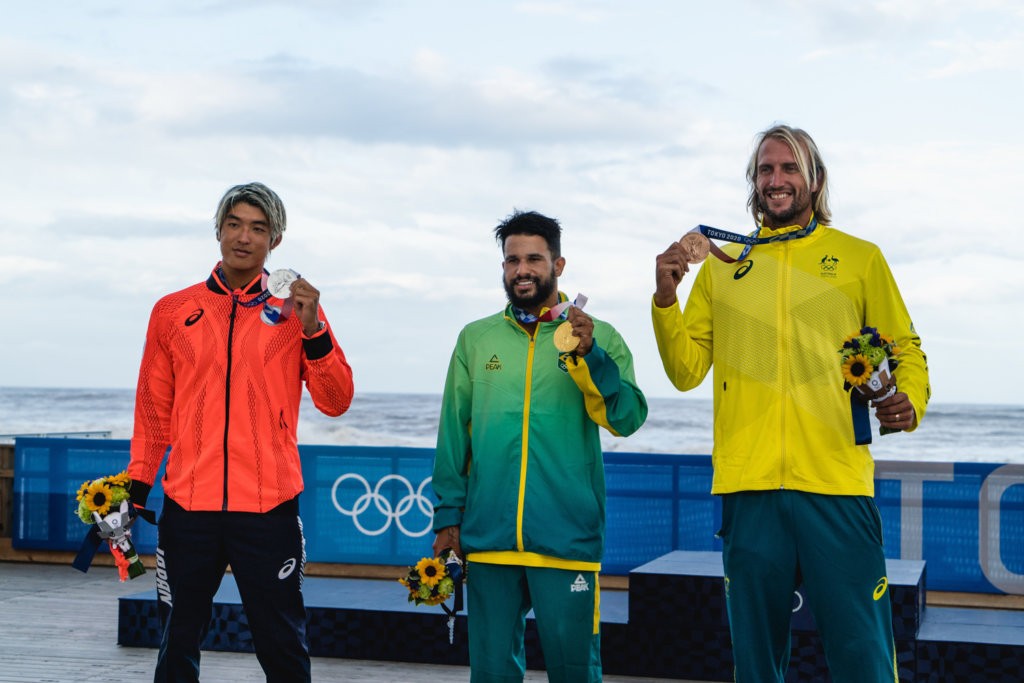 WOMEN:
Gold: Carissa Moore
Silver: Bianca Buitendag
Bronze: Amuro Tsuzuki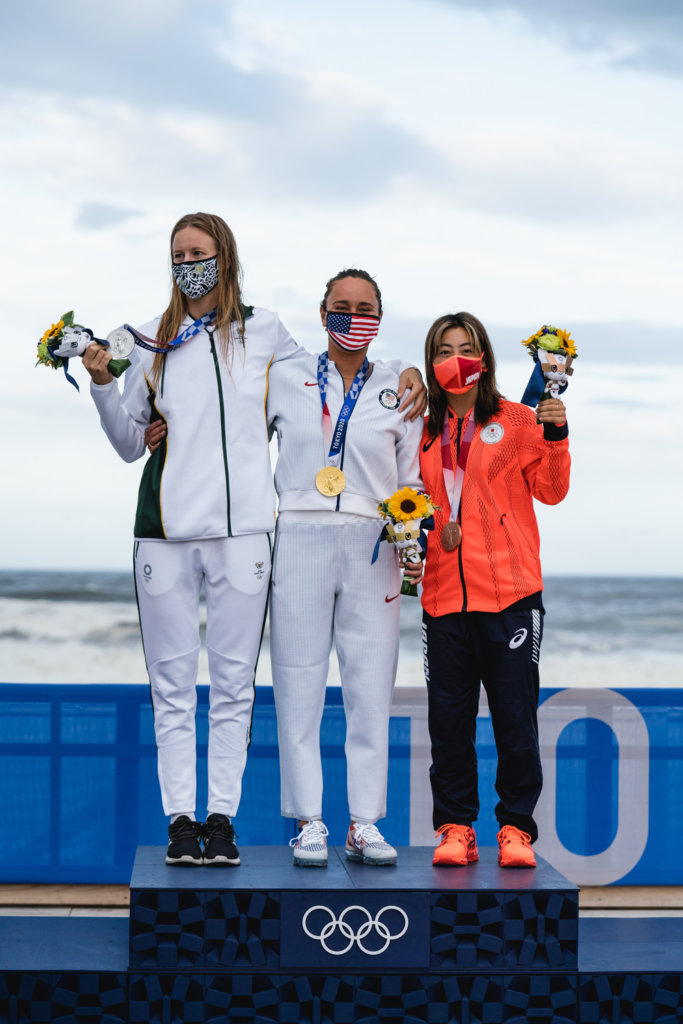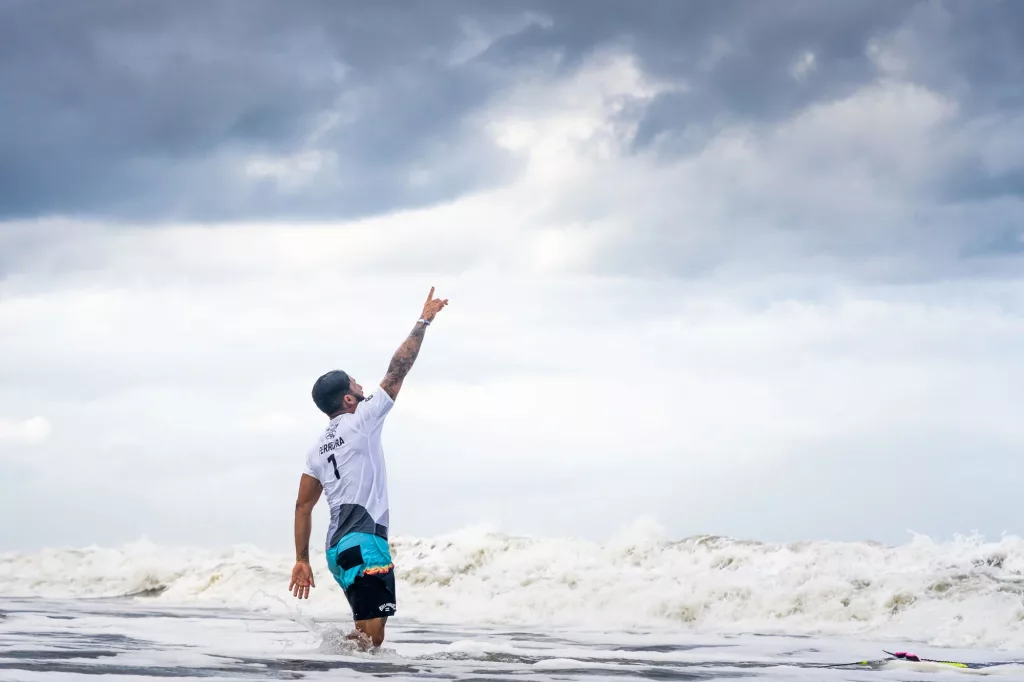 Gold medal winner Italo. Photo: Sean Evans/ISA
Remember, it takes a Vision and well as a Village. We wouldn't be standing here with Olympic Medals if it wasn't for the decades long dream of ISA Pres. Fernando Aguerre. Mahalo!
ISA President Fernando Aguerre said:
"Seeing the first Olympians step atop a podium with medals around their neck brought tears to my eyes. This moment was one big step in our mission to make the world a better place through surfing. Olympic Surfing has exposed a whole new generation of youth to the sport. Children watching this moment from all around the globe now know about surfing and have their own dreams to pursue. They know that becoming an Olympic surfer is a goal that is possible to achieve.
"I hope that the audience watching – the widest reaching to ever watch a surfing event – could feel the power of surfing, the connection with nature, and the youthful energy that we brought to the Olympics. I hope that the stoke and joy of our sport resonates around the world and shows people how sport can be used to make positive social change. Additionally, as daily users of our oceans, it's my hope that the rest of the world can join us in taking better care of them.
"Tokyo 2020 was without a doubt a resounding success. We even finished the day with a beautiful rainbow. The future of Olympic Surfing is looking bright with inclusion in Paris 2024, and then two clear opportunities for surfing in LA 2028 and Brisbane 2032. This is a great start to surfing's Olympic journey."
[caption id="attachment_16402" align="alignnone" width="640"]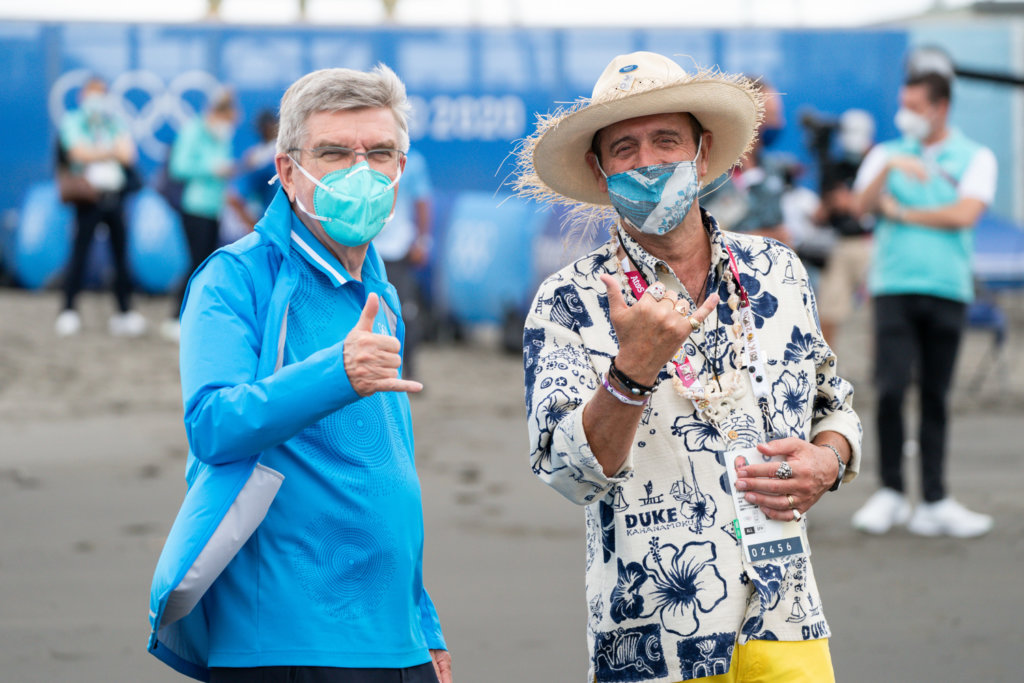 TOKYO – JAPAN – 27 July 2021: IOC President Thomas Bach visits the Tsurigasaki Surfing Beach during TOKYO 2020, the XXXII IOC Olympic Games.
IOC President Thomas Bach with Fernando Aguerre, President of the International Surfing Association. IOC/Greg Martin[/caption]