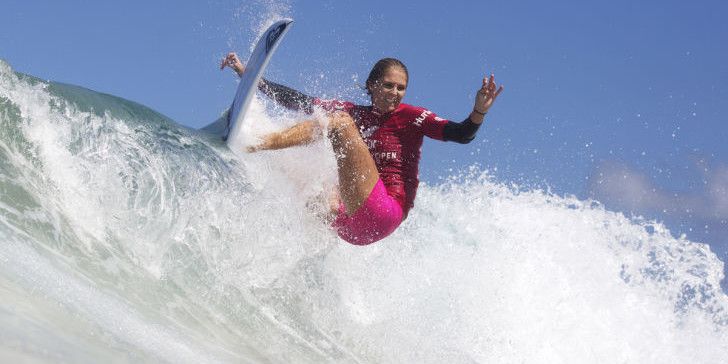 Hurley Australian Open of Surfing. The 3rd qualifying event for men and 2nd for girls.
World Surf League QS 6000
World Surf League JQS
Manly Beach, NSW Australia
7 – 15 February 2015
Top Seeds Tear Through Draw at Hurley Australian Open of Surfing
Surf News Network, 12 February, 2015 – Manly Beach – The big guns all hit the water at Manly Beach for the Hurley Australian Open of Surfing in both men's and women's World Surf League (WSL) QS6000 (Qualifying Series) divisions. The increase in swell arrived and the world's best didn't disappoint as 24 action packed heats were run and won, setting the stage for an epic showdown for the final three days of competition.
Stephanie Gilmore (Coolangatta, QLD/AUS), reigning six-time World Champion started her 2015 competitive campaign with a heat win at the Hurley Australian Open of Surfing, finishing a mere 0.33 ahead of Victorian Georgia Fish. Gilmore will now take on Frankie Harrer (USA) and Miho Ihara (JPN) in the next Round. "I was a little bit shaky and not performing at my best, but that happens first heat sometimes," Gilmore said.
"It's good to get that heat out of the way. It's hard to get back into competition mode after a couple months of holiday mode. It's fun though — I really enjoy this event, the crowd down here is awesome!"
Billy Stairmand (Raglan, NZ) threw caution to the wind in the dying stages of his Round 3 heat, unloading a series of powerful and precise carves and tail whips to leapfrog Mick Fanning (Coolangatta, QLD/AUS) and jump into 1st position. "It's great to have a heat with Mick Fanning, he's such a good guy and one of my idols," Stairmand said.
"I like going left, I'm from Raglan so I'm always excited when a left pops up. That was a crucial heat, everyone was getting good scores and I was lucky to get that good left at the end."

Mick Fanning © WSL/Dunbar
Fanning, three-time World Champion and Hurley Australian Open of Surfing No. 1 seed finished 0.17 behind Stairmand and advanced into Round 4 in 2nd position. Fanning used his trademark lightning fast turns and carves to post some solid scores and will now face Michael February (ZAF) and Jonathan Gonzalez (CNY) in the next Round.
"I put some early scores on the board and was out in front for a while," Fanning said. "Then Billy (Stairmand) got that 8.67 which was a pretty sick wave to take the lead and I'm stoked for him. After Pipe I didn't surf for a while, I went snowboarding in the US with my wife, which was fun until I hit a rock and hurt my hip. So I spent another week not surfing and fixing that up, but I'm better now and it's great to be getting back into things."
Sally Fitzgibbons (Sth Coast, NSW/AUS) was in fine form in her opening heat of the season, posting a near-perfect 9.43 for a combination of smooth and sharp snaps and carves. This is the closest event to Fitzgibbons' hometown and she had plenty of friends and family on the beach for support.
"This event is great preparation for us leading into the first CT event at Snapper," Fitzgibbons said. "The level of talent at this event is really high, most of the CT surfers are here. Everyone loves competing in Manly, it's such an iconic surfing spot and has a great place in our history – plus it's always a pleasure to surf in front of a big crowd."

Sally Fitzgibbons © WSL/Dunbar
Alejo Muniz (Brazil) failed to re-qualify for the Championship Tour (CT) last year and has been in impressive form at the Hurley Australian Open of Surfing at Manly Beach this week and is hungry to reclaim his spot amongst the elite Top 34. "I got on the CT four years ago, but I'm off the Tour now, I'm really focused to get back on there," Muniz said.
"It's important to have a good start to the year and I'm feeling good and hope that I can continue to improve at this event and throughout the rest of the year."
Ryan Callinan (Newcastle, NSW/AUS) posted an impressive heat win over heavyweights Bede Durbidge (AUS), Mitch Crews (AUS) and Jake Halstead (USA) who finished 2nd, 3rd and 4th respectively. Callinan's polished backhand attack saw him light up the line-up at Manly beach netting two solid scores and a ticket into the next round.
"The waves are really good today," Callinan said. "The rights have nice walls on them and I love surfing on my backhand. We had small surf earlier in the event so I'm really glad that I'm still going — it's the worst to lose out in an event before the surf gets good. It's great to be in these top rated QS events and surf against the best guys in the world, I really want to get on the CT and events like this are the perfect preparation."
Carissa Moore (Hawaii), two-time World Champion had slow start to her Hurley Australian Open of Surfing campaign, but fought back hard in the second half of the heat to clock a 9.10 and an 8.00 in the final heat of the day.