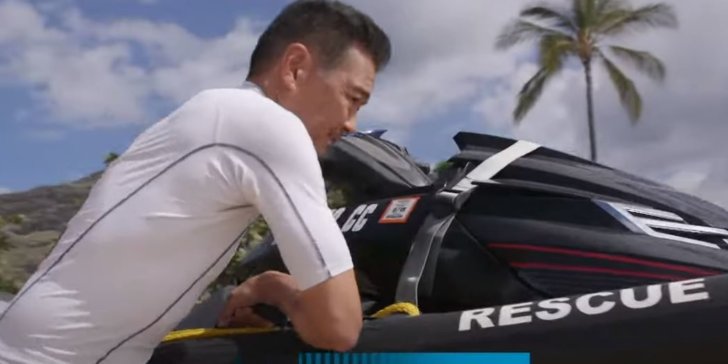 Let's take a look back to March last year, rewatch and recall what it takes to be a life guard. Mahalo in advance to Guy and Brian.
Guy Hagi – Brian Keaulana – BWRAG

Guy: The bigger the wave, the more dangerous the situation. Surfers are taking steps to keep each other as safe as possible…
It takes training and teamwork… I learned that first hand… from a legendary local waterman in Makaha.
Guy: BRIAN KEAULANA HAS LIFE-SAVING IN HIS DNA. HIS DAD IS THE LEGENDARY MAKAHA LIFEGUARD BUFFALO KEAULANA.
BRIAN IS PASSING HIS KULEANA ..HIS RESPONSIBILITY OF LIFESAVING TO A YOUNGER GENERATION…
Brian: "We only here for a short time on this Earth so as much knowledge we can give out the skills we can teach and spread the legacy my father has passed onto us for me passing them onto my sons and my nephews who's lifeguards right now and seeing that legacy passed on to us it's the greatest treasure we've contributed worldwide.."
BRIAN'S BRANCHING OUT EVEN FURTHER WITH BWRAG… THE BIG WAVE RISK ASSESSMENT GROUP.. A COLLECTION OF LIFESAVING PROFESSIONALS DEDICATED TO HELPING PEOPLE SURVIVE IN LARGE SURF… TODAY OUT AT MAKAHA HE SHARED JUST A GLIMPSE OF WHAT HAPPENS IN A BIG WAVE RESCUE… IT'S A WELL CHOREOGRAPHED DANCE THAT HAPPENS UNDER EXTREME CONDITIONS.
"Sometimes when you see things look simple it's a lot of training behind those kinds of things… it's not as simple as people see especially with the operation of the personal watercraft…
We running between a moving green zone a safety zone.. and picking that person up in 3-4 seconds.. stabilizing them on top of the sled… and bringing them out from what I call the red zone.. which would be the danger.. yellow zone caution.. green zone be safe.. bring them into the green zone to slow things down.."
THE PRECISION AND EXECUTION OF THE RESCUE IS INCREDIBLE… AND THAT'S EXACTLY WHAT BRIAN AND HIS CREW STRIVE FOR…
"I train myself and the people around us into we have the strength to hold back danger… the speed to outrun danger… the agility to outmaneuver danger.. flexibility to bend and contort to danger.. and endurance to outlast danger… and that's the acronym of SSAFE.. strength.. speed agility flexibility and endurance.."
SO IT'S NO WONDER COMMUNITIES AROUND THE WORLD ARE INVITING THE EXPERTS FROM BRWAG TO COME AND SHARE THEIR KNOWLEDGE AND TECHNIQUES.
"It is a phenomenal movement… everyone is trying to contact us to come everywhere in this world to host a class."
AND EVEN THOUGH BWRAG's BEGINNINGS ARE AT MAKAHA.. BRIAN IS QUICK TO SAY GOES WELL BEYOND OUR SHORES.
"It's not bringing a Hawaiian concept in.. it's really bringing in an ocean concept.. environmental concept.. a concept of family values…
I keep saying:
We not divided by land.. but we connected by water.. and that's the true value".