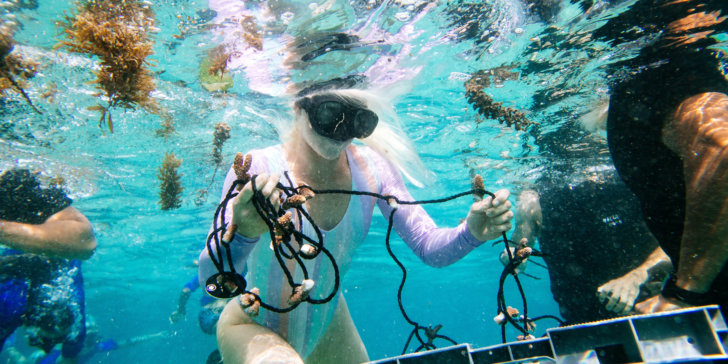 World Surf League Shares Impact of Global 'We Are One Ocean' Initiative
WSL Takes Action on Coastal Restoration, Climate, and Plastic Pollution
Sustainability Commitments Continue to Lead Global Professional Sports
Pictured front page: Championship Tour surfer, Tatiana Weston-Webb (BRA), participating in the WAOO Activation with Coral Gardeners on August 10, 2022 at Teahupo'o, Tahiti, French Polynesia. Credit: © WSL / Poullenot
LOS ANGELES, Calif., USA (Monday, November 14, 2022) – Today, the World Surf League (WSL) and WSL PURE, WSL's non-profit organization, announced the impact of its We Are One Ocean (WAOO) initiative over the 2022 Championship Tour (CT) season. Launched in 2021, WAOO is a global initiative led by the WSL to inspire the surf community to protect and conserve our one ocean and preserve the future of our sport. The focus of WAOO is to protect and conserve surf ecosystems around the world through coastal restoration, climate action, and reducing plastic pollution.
Over the 2022 CT season, WAOO partnered with local communities, Indigenous peoples, surfers, and a coalition of over 100 organizations to lead initiatives at each location on the CT. Activations included a variety of community, grassroots-led initiatives, including planting native coastal species in Hawaii, removing plastic from the waterways in Indonesia, and restoring coral ecosystems in Tahiti.
Pictured: We Are One Ocean tree planting activation with SOS Mata Atlantica on June 22, 2022 at the Oi Rio Pro, Saquarema, Rio de Janeiro, Brazil. Credit: © WSL / Othon
The WSL remains committed to building on a series of sustainability commitments that have set the standard for global professional sports including, becoming carbon neutral globally, eliminating single-serve plastics at events, and investing in local communities. Since 2018, the WSL has measured, reduced and offset emissions from the WSL Championship Tour, Big Wave competitions, and WSL Global Operations.
By the end of the 2022 CT season, the World Surf League, through this WAOO initiative, has achieved the following impact:
Reduced emissions by 49% from the 2018 baseline year,
Educated over 35,000 youth around the world on cultural and environmental stewardship,
Collected 100 tons of plastic from Indonesia's rivers, and
Conserved 347,291 hectares of land, including long term protection for incredible waves and surf ecosystems at Playa Hermosa, Costa Rica and Grajagan Bay, Java, Indonesia. 
Pictured:  WSL Commentator Shannon Hughes and WSL World Champion Carissa Moore (HAW) at the We Are One Ocean Activation with JBay Surf Alliance at the Corona Open J-Bay on July 10, 2022 at Jeffreys Bay, Eastern Cape, South Africa. Credit: © WSL / Hughes
As part of WAOO, WSL PURE sponsors an annual grant program to support non-profit organizations, which are focused on improving the health of the global ocean ecosystems while supporting the livelihoods and cultures of the people who rely on them.
Recipients of the WSL PURE grants have achieved significant recognition for their work. For example, SeaForester, an organization that is developing new technology to plant and restore seaweed forests in order to improve marine health and capture carbon, has been nominated as a finalist in the Earthshot Prize. Additionally, 2022 WSL World Champion, Filipe Toledo (BRA), will represent the Trinational Atlantic Forest Pact, of which WSL PURE grantee SOS Mata Atlantica is part of, as one of the United Nation's first ten World Restoration Flagships.
This year's grants supported projects that restored ecosystems, reduced marine plastic pollution, and sparked climate action. Recipients this year were: Na Kama Kai (HAW), Native Like Water (USA), Surf Conservation Partnership (IND), Regeneration Surf Coalition (POR), JBay Surf Alliance (RSA), and SOS Mata Atlantica (BRA).
Pictured:  WSL Commentator Joe Turpel helping ReGeneration Surf to replant golden kelp forests in the Peniche area prior to the commencement of the MEO Pro Portugal on March 2, 2022 in Peniche, Portugal. Credit: © WSL / Salyak
"We are beyond proud of the impact we've delivered this year in partnership with our WSL PURE Grantees, the WAOO coalition, our WSL CT surfers, and our global employees," said Emily Hofer, WSL Chief People and Purpose Officer. "Our goal is to ignite a positive and inspiring movement in service of protecting our most precious resource, our one ocean. Our most important work is still on the horizon."

"The connection between surfers and the ocean is profound—a feeling so intense, so deeply held, that words alone cannot do it justice. As climate change and habitat destruction threaten so many places, that bond is one of the most powerful tools in our conservation arsenal. We are excited about our partnership with the World Surf League–working together to mobilize surfers' passion to protect irreplaceable marine ecosystems." M. Sanjayan, CEO, Conservation International, which co-founded Surf Conservation Partnership.

"All big changes start with a single step," said WSL CT surfer and WSL PURE ambassador, Lakey Peterson. "I believe in the power of coming together and working together to create positive change. I think it's the first step of what can really have a big impact globally."

Looking ahead to the 2023 CT season, WAOO will continue to activate at each CT stop, support new grantees, and achieve an even greater impact to protect and conserve our one ocean.

We Are One Ocean is supported by SHISEIDO as part of the SHISEIDO BLUE PROJECT, which promotes ocean conservation through initiatives such as beach clean ups and sand dune planting to safeguard shorelines. 

For more information, please visit WeAreOneOcean.org.
About the WSL
The World Surf League (WSL) is the global home of competitive surfing, crowning the undisputed World Champions since 1976 and showcasing the world's best surfers on the world's best waves. WSL is comprised of the Tours and Competition division, which oversees and operates more than 180 global competitions each year; WSL WaveCo, home of the world's largest high-performance, human-made wave; and WSL Studios, an independent producer of unscripted and scripted projects.
For more information, please visit WorldSurfLeague.com.