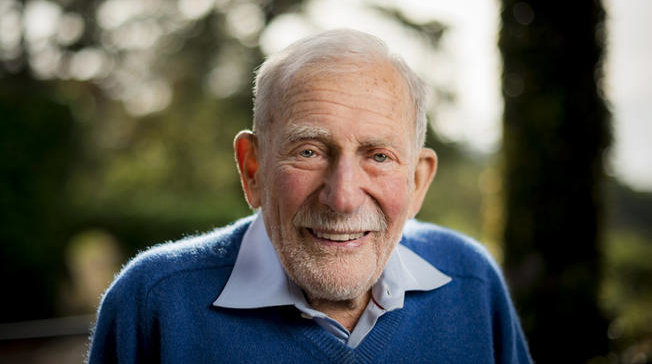 The Revered Scientist was 101.
Walter Munk: 1917-2019. Photo: Erik Jepsen/UC San Diego
I was an oceanography Major at San Diego State decades ago and worked briefly at Scripps (La Jolla). I grew up surfing all over this area, recalling my most memorable days ditching school to surf with friends or coming into my second half of Physics class after a dawn patrol with a fat smile a handful of times; I'd tell my teacher, who was an avid diver, the water visibilities (Mr. Buccilato was my fav teacher).  I knew I wanted to be close to the Ocean. A summer internship was spent going out on the Scripts Pier to drop a boat into the ocean to net some artemia to feed our 'Pipe Fish' we studied in the Lab. I recall the man, Dr. Munk and his reputation. Though I didn't know about his surf forecasting endeavors. I was going surfing no matter what in those days, so it didn't matter much. I liked surprises, too. This was all before formal surf forecasting and it was far from mainstream. Sure, some armchair 'forecasters' may have got it right from time to time. But we truly have Dr. Munk to thank for birthing the state of forecasting we have today. Thank You, Walter. Gary Kewley, Chief Surfing Officer, SNN
Here's Scripps Institutes Obituary Notice….
"Walter Munk, who gave the Allies a strategic edge in World War II, helped nurture a university into existence, and became a living synonym for oceanography, died February 8 at his home in La Jolla, Calif. He was 101.

As a geophysicist at Scripps Institution of Oceanography at the University of California San Diego, Munk made groundbreaking observations of waves, ocean temperature, tidal energy in the deep ocean, ocean acoustics and the rotation of the earth. As an advocate of science and broader scholarship, Munk served as an advisor to presidents and the Pentagon and conferred with public figures including the Dalai Lama and Pope Francis. His convictions led him to refuse to sign a loyalty oath required by the University of California during the peak of anti-communist fervor in the early 1950s and his passion helped create the architecture that would become the defining style of the Scripps Oceanography campus.

Munk's contributions to science throughout the latter half of the 20th Century and into the present century were measured not only in terms of the new knowledge his research yielded, but in the quality and diversity of the questions he considered. An ethos he expressed throughout his career was for scientists to take risks, pursue new directions, and embrace the educational value of failure.

"Walter Munk has been a world treasure for ocean science and geophysics," said Scripps Oceanography Director Margaret Leinen. "He has been a guiding force, a stimulating force, a provocative force in science for 80 years. While one of the most distinguished and honored scientists in the world, Walter never rested on his accomplishments. He was always interested in sparking a discussion about what's coming next. Ideas were important to him, and the future of geoscience and oceanography was so important to him that he pushed all of us to be audacious, to take action, and to focus on the big ideas that could transform our world."

"During my career I have worked on rather too many topics to have done a thorough job on any one of them," Munk himself wrote in a 1980 autobiographical essay. "But 'definitive papers' are usually written when a subject is no longer interesting. If one wishes to have a maximum impact on the rate of learning, then one needs to stick out one's neck at an earlier time."

However inconclusive Munk might have left some questions before turning to others, his work on nearly all he considered informs ocean and earth science to this day – in some cases, decades after he first posed them.

"From World War II through the 1990s, the U.S. Navy poured financial and logistical support into American oceanography, for its importance in anti-submarine warfare, national defense, and climate change," said Naomi Oreskes, professor of the history of science at Harvard University. "Walter Munk was one of the leaders of the generation of men and women who used this support to revolutionize our understanding of the oceans, particularly the physical phenomena of waves, tides and currents, and the relationship of these phenomena to basic geophysical processes. In his long life, he inspired scores of younger scientists to take on the challenges of understanding the geophysics of the Earth."

Rebellion and romance played a role in Munk's journey to a science career at Scripps. He was born on Oct. 19, 1917, in Vienna, Austria, to a cosmopolitan banking family. In 1932, when he was 14, his family sent him to New York for school with the expectation that his time in the financial capital would prepare him for his own career in banking. After spending a few years working at the firm of a family friend, Munk decided he had no fondness for banking and instead applied to and was accepted at the California Institute of Technology. There he received a bachelor's degree in physics in 1939 and a master's degree in geophysics in 1940.

In pursuit of a romantic interest who vacationed in La Jolla, Munk applied for a summer job at Scripps in 1939. The infatuation with the girl passed, but Munk acquired a new love for San Diego. After receiving his master's, he returned to Scripps and was admitted as a PhD candidate".
READ THE WHOLE STORY HERE