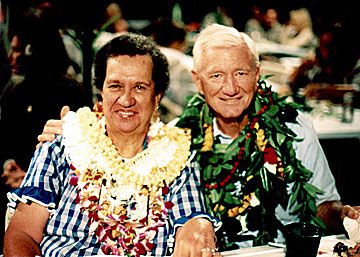 As two treasured souls make their journey together beyond this life, we gather to remember the impact they made on each of us and celebrate the time we had with them. Join us:
Kaimana Beach
9a-1030a Visitation
1030a-12p Services
12p-1p Scattering of Ashes
Kapiolani Park (Across from Kaimana Beach)
1p-3p Celebration.
They're FB Event and Comments HERE
Link to just one of Wally's Interviews HERE
ALICE KEALIIPUAIMOKU FROISETH "Aunty Moku" DOB* May 7, 1930-DOD* July 29, 2015
Alice "Aunty Moku" Kealiipuaimoku Froiseth 85 passed away on July 30, 2015, with her 3 daughters by her side at their home in Kaimuki.
Born in Maui, and raised by her aunt and uncle, Aunty Moku moved to Honolulu to go to school at Scared Hearts Convent. She married the "Love of Her Life" Wallace F. Froiseth and raised 5 children, 4 girls and 1 boy. She was a very devoted wife and wanted to follow her husband who passed on June 29, 2015, so her husband came to get her to be by his side Forever. Known as Uncle Wally he always told her "We'll Always be Together" and now they are "Forever Together".
"Aunty Moku" meet Uncle Wally on the beach of Waikiki. He was out tandem surfing with another girl and saw Moku standing on the shoreline fronting the old Waikiki Tavern. He asked a friend if he would take his partner, so he could tandem surf with Moku. He came to shore an told her" Hey girlie want to go tandem surfing with me". She fell for him right then and there. From that time on she never left his side. Uncle Wally and Aunty Moku as they are affectionately known to all, helped start Waikiki Surf Club a well known canoe club. Uncle Wally would coach the paddlers and Aunty Moku would cook for them and make sure everything was ok. Aunty Moku did all sort of things for the club also filling in as secretary, treasurer and eventually becoming the club president in 1977 and never letting go until her passing.
They both are charter members of Waikiki Surf Club, who they both loved so much. There legacy will "Live on Forever" in the club. Uncle Wally built a koa canoe with his daughter Luana, and when ask what he would name the Koa canoe he said "Tutu" after his beloved wife which he called "Tutu". In the early 1950's Aunty Moku and Uncle Wally helped start the first International Surfing Championships at Makaha Beach. Uncle Wally being a surfer was in the contest and also being head judge with Aunty Moku following him as head recorder. This contest was the foundation of professional surfing today.
Together they helped the Hawaiian Canoe Racing Association organize into one of the biggest canoe associations in the world. In the late 60's they helped create an island wide canoe association today known as the Oahu Hawaiian Canoe Racing Association. She helped with being an HCRA official, OHCRA official, co-chaired Blue Hawaiian Moonlight (a Hawaiian Concert at the Shell), secretary of weighing and water lining committee and anything that needed to be done aunty Moku was always willing and able to help.. Aunty Moku along with Lei Faria and Hannie Anderson, helped put together the first Women's Molokai to Oahu Crossing in 1975, which today is known as the Hawaiian Airlines Na Wahine O Ke Kai Molokai to Oahu Canoe Race.
While Uncle Wally was a coach for one of the team's Onipa'a, which consisted of paddlers from Waikiki Surf Club, Kailua Canoe Club, Lanikai Canoe Club and Outrigger Canoe Club, she did all the cooking and arrangements for the women.
In 1952 Uncle Wally helped create the first ever canoe race from one island to the other which today is known as the Hawaiian Airlines Molokai Hoe Canoe Race again Aunty Moku was right there cooking for the men and making sure all logistic were done. Aunty Moku and Uncle Wally helped build Hokule'a and Hawaii Loa. They were Polynesian Voyage Society Board member till the end. As Uncle Wally sailed to various islands, Aunty Moku was always catching an airplane to catch up with him somewhere in the Pacific Ocean, "Never Leaving his Side". Aunty Moku and Uncle Wally your Love will "Forever Be in Our Hearts" "We will always Love you and Cherish the Memories you shared with us".
Mahalo Aunty Moku and Uncle Wally for giving us Waikiki Surf Club. Sweet Sailing and Aloha Oe to both of you.
Survived By: Malia Ann Tongg (deceased,) Teene' A. Froiseth, Tina C. Dumaran (Ben), Luana Froiseth (Richline Fong), Leiola Demello (Derrell), grandchildren: Malissa K. Kaaawa (Mike), Kainalu Froiseth, Makani Froiseth, Benjamin Dumaran Jr., Carriemoku Kawainui (Kawelo), January Kuhi Demello, Joshua Kahae Demello (Ronnie), Jaclynn Maile Gora-Aina (Josh), Jane'na Kaina' a Schenk (Lowen), Manu Demello and 10 great grandchildren and all the members of Waikiki Surf Club. Funeral Services are being scheduled for Oct 17, 2015, at Kaimana Beach and scattering of their ashes to follow, and continue with a Celebration of their Lives. The family is asking if you would like more information please contact Luana Froiseth at LunaFroiseth@aol.com or call 808-3304774 or any of their other 3 children, Teene', Tina, Leiola.