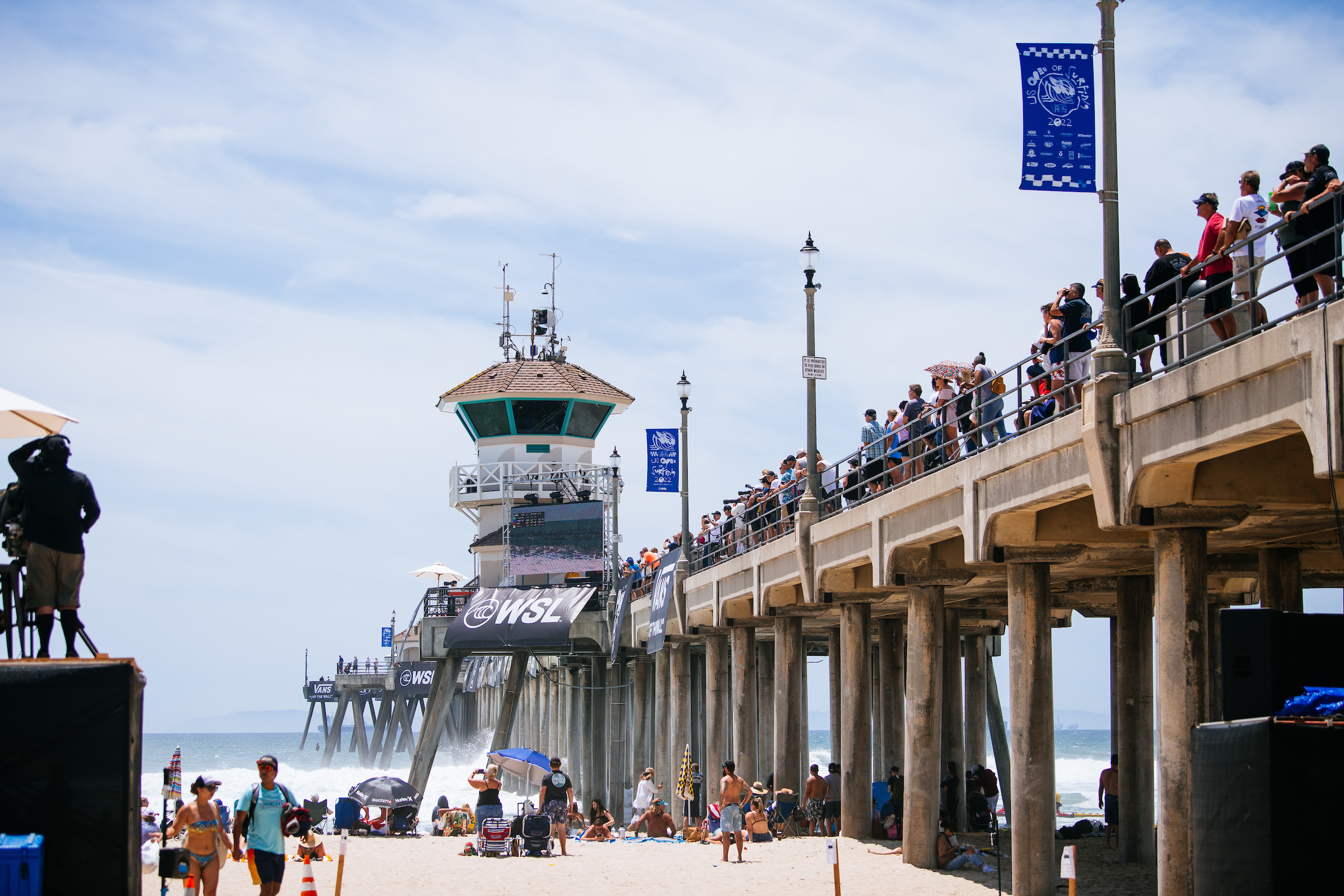 Presented By Pacifico Brings Championship Tour Contenders & World's Best Longboarders Back To Surf City USA 
International Field of Contenders Heads California for Stop No. 4 on the Challenger Series
2023 Longboard Tour Kicks Off at Iconic Huntington Beach Pier
Former Event Winners and Rising Stars Ready for Competition
Pictured: The Huntington Beach Pier will provide an arena for some of the world's top competitors to showcase their talents at the Wallex US Open of Surfing Presented by Pacifico, July 29-August 6, 2023. Credit: © WSL /  Ryder
HUNTINGTON BEACH, Calif., USA (Monday, July 24, 2023) – The stage is set for the return of the World Surf League (WSL) Wallex US Open of Surfing Presented by Pacifico, a Challenger Series and WSL Longboard Tour event, from July 29 – August 6, 2023, at the iconic south side of the Huntington Beach Pier. This marks Stop No. 4 on the WSL Challenger Series and will be a key stop for competitors hoping to qualify for the elite Championship Tour (CT). It is also the first of four stops on the 2023 WSL Longboard Tour, and the world's best longboarders are ready to get their season underway.
International Field of Contenders Heads to Stop No. 4 on the Challenger Series
Leading the North American resurgence on the men's Challenger Series is San Clemente, California, trio Cole Houshmand, Jett Schilling, and Crosby Colapinto. All are looking to win the event for mainland USA. Houshmand has had an incredible surge through the 2023 Challenger Series with back-to-back victories at Narrabeen and Ballito. He is currently at the top of the rankings with an impressive 20,700 points to his name. Now, Houshmand will have the opportunity to compete at home at a wave he's very familiar with.
"The US Open is definitely my favorite event of the year and it's the closest event I have to home," said Houshmand. "It's probably one of the biggest events for fan bases as well. I'm looking forward to it and it'll be a big one for me to do good at, and definitely the most fun one of the year."
Houshmand and the other CT hopefuls will have to contend with some of the world's best including reigning World Champion Filipe Toledo (BRA), two-time event winner Kanoa Igarashi (JPN), defending event winner Ezekiel Lau (HAW), and former CT surfers Jackson Baker (AUS) and Samuel Pupo (BRA).
Southern California is also well-represented on the Challenger Series with rising-stars Alyssa Spencer (USA), Sawyer Lindblad (USA), Ella McCaffray (USA), and Bella Kenworthy (USA). Spencer and Lindblad have both fallen just short of CT qualification in the last two seasons. They currently sit at No. 6 and No. 7 on the rankings, respectively, going into the US Open of Surfing.
"I'm super excited to compete at the US Open," said Spencer. "It's always been one of my favorite events just with the big crowd it gets every year and competing super close to home. It's really special to have all my friends and family there so I'm really looking forward to it this year."
Spencer and her fellow Californians will have to fend off some world-class competitors including former CT veteran and perennial World Title threat Sally Fitzgibbons (AUS), defending event winner Bettylou Sakura Johnson (HAW), South America's rising talent Sol Aguirre (PER), and more.
2023 WSL Longboard Tour World Title Race Kicks Off at Iconic Huntington Beach Pier 
The world's best longboarders are back to start their 2023 World Title campaigns at the iconic arena of the Huntington Beach Pier. Defending event winner Kelis Kaleopa'a (HAW) went on to be the World Title runner-up last season, and is ready to start her campaign where she left off.
"To win at the US Open last year was probably one of my favorite events to win just because I had to miss the first event of the season last year," said Kaleopa'a. "I missed it because it was my great-grandmother's funeral. I knew I had to stay home and be with my family, so missing the first event was a big motivation for the US Open. So to win I felt relieved and it was a big moment for me and my great-grandma. Obviously missing the World Title was a bummer, but there were a lot more positives than negatives."
Kaleopa'a will take to the water against reigning WSL Longboard Champion Soleil Errico (USA), three-time WSL Longboard Champion Honolua Blomfield (HAW), 2016 WSL Longboard Champion Rachael Tilly (USA), perennial World Title threats Chloe Calmon (BRA), Alice Lemoigne (FRA), and more.
Three-time WSL Longboard Champion Taylor Jensen (USA), earned his first WSL win since 2018 here last year. He now has his eyes set on making history by joining the likes of Nat Young (AUS) with four World Titles. The 39-year-old hasn't lost his hunger for more competition and continues to be a dangerous competitor each season.
"The US Open has been one of my favorite events over the years and just the atmosphere is something that I feed off of. It's nice to be close to home and surf in familiar waters, and having success there in the past gives me that little extra confidence. The sensation of winning is what we as competitive surfers live for."
Jensen will be joined by 2022 World Title runner-up Kaniela Stewart (HAW), proven newcomer Declan Wyton (AUS), WSL Longboard Tour veterans Kai Sallas (HAW) and Ben Skinner (GBR), California's own Kaimana Takayama (USA) and more. All are looking to start their campaigns with a statement-making victory.
For more information, please visit WorldSurfLeague.com.
Watch LIVE: Wallex US Open of Surfing Presented by Pacifico
The Wallex US Open of Surfing Presented by Pacifico holds a competition window Saturday, July 29, through Sunday, August 6, 2023. Once called on, the competition will be broadcast LIVE on WorldSurfLeague.com, the WSL's YouTube channel, and the free WSL app. Check out more ways to watch from the WSL's broadcast partners.
The Wallex US Open of Surfing presented by Pacifico is proudly supported by Wallex.US, Pacifico, Cup Noodles, Hurley, 805 Beer, Red Bull, Sambazon, Shiseido, Surfshark, YETI, Aloha Collection, Aventon E-Bikes, Board & Brew, Boxed Water, Deville Canned Cocktails, Feelgoodz, Flexfit, Fuji Film, Huntington Surf & Sport, Jack's Surfboards, Nixon Watches, Pura Vida, Ralphs, Tractor Beverage Co, USAF 330th Special Warfare, Visit Huntington Beach, William Grant & Sons, Professional Teqball, Tractor Soda, Victoria White, and Youtheory. 
For more information, please visit WorldSurfLeague.com.