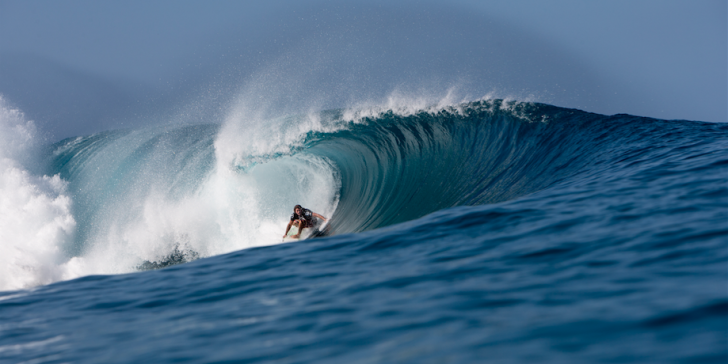 After further 'watching/judging' the waves the event was postponed after being called on.  Surfs good 4-6 from the NW with offshore trades and clear skies but the forecast is so epic the VPP can be picky and score hard Monday-Tuesday.
FRIDAY: KOA ROTHMAN SECURES LAST WILDCARD SLOT, KOA SMITH SCORES HIGHEST RIDES
Kai Mana Henry (HAW) takes advantage of the glassy morning conditions in his first heat. WSL/Freesurf/Heff
| | |
| --- | --- |
| Event / Location:   | Volcom Pipe Pro, Banzai Pipeline, North Shore, Oahu |
| Dates: | January 28 – February 7, 2016 |
Rating:                            WSL Men's QS3,000

Banzai Pipeline, North Shore, Oahu, HAWAII – (Friday, January 29, 2016) —
 The morning fired out continuous barrels as Round 1 of the Volcom Pipe Pro got underway in clean 8-10 foot surf and light offshore easterly winds. The second World Surf League (WSL) Hawaii Qualifying Series (QS) event of the season, the Volcom Pipe Pro offers a $100,000 prize purse, up to 3,000 regional ratings points, and a slot into the Pipe Invitational with the potential of advancing into the Billabong Pipe Masters, the final stop of the WSL Championship Tour.One of the youngest competitors of the event, Maui's Imaikalani deVault, 18, advanced behind North Shore mainstay Kai Mana Henry, 37, with a combined heat total of a 6.90."It's pretty nerve wracking but it's so cool," deVault said about surfing against top Pipeline competitors. "I've been watching Kai Mana (Henry) surf out here since I was like five years old so to surf a heat with him is just like, dream come true for sure."
The teen is working to qualify into the QS6,000 events at the end of the year and talked about the benefit of competing here in the islands.
"Being from Hawaii is definitely an advantage because you can get into events like this or the Triple Crown… just to get practice out here when other people can't, it's just a huge opportunity to be able to be in this contest and I'm super happy."
Koa Smith (HAW), 21, was the standout competitor of the event so far, wowing the beach crowd with back to back nine's – a 9.0 and a 9.67 – the two highest wave scores of the day. Smith stormed his heat against Kiron Jabour (HAW), Noa Mizuno (HAW) and Kaito Ohashi (JPN) and used prime positioning to his advantage.
"I saw that set coming and I got myself into position," said Smith. "Kiron paddled for that first wave so it kind of put me more into position, and he's like, 'Oh are you going,' and I was paddling up the face like, 'Oh I don't know,' and then I was just perfectly in the right spot. From there I just relaxed through it and had a couple sketchy chandeliers but it let me out and as soon as I got back out the next wave came. And I was just like 'okay that was fun.'"
The wildcards of the event included Volcom team riders Gavin Beschen (HAW) and Balaram Stack (USA), who both got a spot in Round 3, while North Shore's Koa Rothman (HAW), 22, earned his berth into the Round of 96 by besting the 6-man Volcom Qualifier heat against Tom Dosland, Kawai Lindo, JD Irons, Dave Wassel and Derek Ho. The highest score of the heat – an 8.33 – saw Rothman win the third wildcard slot into the competition.
"I'm pretty stoked, I didn't have enough points to get into the event any other way, so Volcom gave me a shot and it ended up working out really well," said Rothman. "I think it was probably some of the best Pipe surfers in the world, but I ended up pulling through."
Myles Padaca, who placed second at the Sunset Pro last Sunday, advanced through his heat in first place ahead of Allen Schuyler, Travis Beckmann and Ezra Sitt. The 44-year-old will surf again once the competition resumes.
Bruce Irons advanced to Round 3 after a nail biting heat with Torrey Meister (HAW), Makuakai Rothman (HAW) and Seth Moniz (HAW). Rothman and Moniz had the lead for the majority of the 25-minute heat until Meister and Irons split a peak in the last ten seconds and scored a 5.27 and 7.17 respectively, which bumped them up to first and second place to advance.
Results
Shown in order of 1st through 4th. Surfers from Hawaii unless otherwise noted.
Round of 96 – 1st and 2nd advance, 3rd=65th place, 4th=81st place
H1: Marco Giorgi (URY), Derek Peters (USA), Cahill Bell-Warren (AUS), Kai Barger
H2: Koa Smith, Kiron Jabour, Noa Mizuno, Kaito Ohashi (JPN)
H3: Mikey Bruneau, Griffin Colapinto (USA), Mitchell Parkinson (AUS), Parker Coffin
H4: Torrey Meister, Bruce Irons, Makuakai Rothman, Seth Moniz
H5: Gavin Gillette, Jean Da Silva, (BRA), Chris Foster, Ohno Masatoshi (JPN)
H6: Hank Gaskell, Dimitri Ouvre (BLM), Tim Reyes, Ian Gentil
H7: Brian Toth, Chris Ward (USA), Luel Felipe (BRA), Gavin Sutherland
H8: Yago Dora (BRA), Takayuki Wakita, Kaito Kino, Takumi Nakamura (JPN)
H9: Leonardo Fioravanti (ITA), Victor Bernardo (BRA), Benji Brand, Kona Oliveira
H10: Ian Gouveia (BRA), Eala Stewart, Dylan Lightfoot (ZAF), Takumi Yasui (JPN)
H11: Leandro Usuna (ARG), Kai Mana Henry, Joshua Moniz, Kaimana Jaquias
Volcom Qualifier Wildcard – Koa Rothman
Round of 112 – 1st and 2nd advance, 3rd=9th place, 4th=105th place
H1: Kai Barger, Noa Mizuno, Gregg Nakamura, Joao Marco Maffini
H2: Mikey Bruneau, Bruce Irons, Shayden Pacarro, Kamalei Alexander
H3: Chris Foster, Ian Gentil, Ulualoha Napeahi, Landon McNamara
H4: Gavin Sutherland, Takayuki Wakita, Dylan Goodale, Elijah Gates
H5: Kona Oliveira, Eala Stewart, Sheldon Paishon, Derek Wong
H6: Kai Mana Henry, Imaikalani deVault, Evan Valiere, Dylan Kowalski (USA)
H7: Makai McNamara, Kalani Chapman, Luke Shepardson, Jason Shibata
H8: Myles Padaca, Allen Schuyler, Travis Beckmann, Ezra Sitt