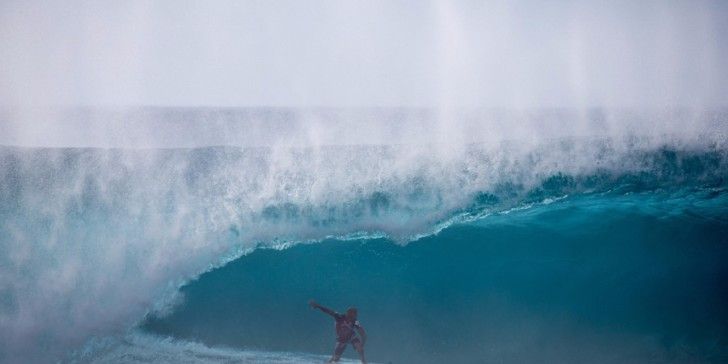 FLORENCE AND SLATER CLASH AGAIN AT PIPE FOR HIGHLY-SOUGHT TITLE
SUSTAINABILITY INITIATIVES HIGHLIGHT CORE SURF EVENT
Last year's Volcom Pipe Pro winner Kelly Slater (USA) enjoyed some of the best waves of the year. Image: WSL / Freesurf / Heff
| | |
| --- | --- |
| Location:    | Pipeline, North Shore, Oahu                                                   |
| Rating: | Men's QS3,000  |
| Event Window:    | January 29 – February 10 |
| | |
HALEIWA, Oahu/Hawaii (Monday, January 23, 2017) –  The most anticipated event of the World Surf League (WSL) Hawaii's new Qualifying Series (QS) season, the Volcom Pipe Pro returns to the North Shore of Oahu from January 29 – February 10 for three days of explosive barrels and raw talent from some of the best surfers on the planet. Current World Champion and 4x Volcom Pipe Pro winner John John Florence (HAW) joins the 112-man field along with 11x World Champion and defending event winner Kelly Slater (USA).
Florence and Slater are considered two of the most brilliant modern day surfers at Pipeline and Backdoor especially when wave face heights top out at twenty feet. The most wins ever at Pipe goes to Slater for nine unprecedented titles, the first being in 1992 one month before Florence was born.
"Kelly obviously has had more success than most people and he's a scary competitor, but I would love to be in a final with Kelly," said Florence at the 2016 Hawaiian Pro.
The Volcom Pipe Pro is shrouded in prestige, as surfers not only compete for a chunk of the $75,000 prize purse and 3,000 points toward their regional ratings, but also a relished slot into the year-ending Pipe Invitational, where 32 men compete for an ultimate berth into the Billabong Pipe Masters. The Volcom Pipe Pro is also held during peak winter swells and typically delivers ground-shaking barrels, which adds to the event's storied history.
"Pipe's a funny wave, when the waves are good, any single person can get a 10 really," continued Florence in an earlier interview. "Everyone is capable of surfing that wave as good as anyone else."
This year, the roster will showcase top athletes like Florence and Slater plus six other athletes from the 2017 Championship Tour (CT) – Conner Coffin (USA), Wiggolly Dantas (BRA), Adriano de Souza (BRA), Joan Duru (FRA), Josh Kerr (AUS), and Ezekiel Lau (HAW). A bevy of fresh faces including 2016 Pipe Invitational winner Finn McGill (HAW), 2016 Hawaii Junior Champ Noa Mizuno, and Australian teenage prodigy Jack Robinson will also surf amongst the tried and true pros.
Beyond the surf, Volcom has committed to another year of environmental awareness by working with local nonprofit partner Sustainable Coastlines Hawaii on waste, recycling and clean beach efforts to ensure the event meets the requirements of Sustainable Surf's Deep Blue Surf Event™ criteria. The event will also have a Plastic Water Bottle Free Policy to mitigate single use plastics, a major contributor to marine debris in our oceans. Contest organizers are providing reusable mugs and water bottles to staff, security and athletes and water fill stations will be positioned throughout the event site to promote reuse and sustainability.
The event will also be powered by 100% bio-diesel, a clean burning renewable alternative to diesel fuel made locally, using natural vegetable oils and fats. This, combined with solar energy output, (which are provided by panels on the Volcom houses), helps position the Volcom Pipe Pro as a blueprint for sustainable events in Hawaii.
Community efforts are also in place during the four-day event. Future pro surfers of the North Shore will benefit from the Volcom Pipe Pro merchandise sold at the contest, as all retail profits will be donated to Sunset Elementary School. Merchandise sold at Volcom retail shops and online at Volcom.com will also raise money for the Sion Memorial Fund, to commemorate and perpetuate the legacy of respected North Shore waterman and big wave surfer Sion Milosky. Additionally, Volcom is being recognized as Corporation of the Year by Boys & Girls Club of Hawaii, thanks to the funds that are raised each year through the sales of Hawaii-specific products.
The public can get involved in a couple different ways – Each run day, Volcom will have a 'Sunset At The Houses' party with DJ Fat Tony, which includes drinks and a free custom t-shirt screening for all beach goers while supplies last. There will also be a Volcom Pipe Pro Party to benefit Sustainable Coastlines on Friday, February 3 starting at 8pm at Turtle Bay Resort's Surfer The Bar. These events are free and open to the public, along with the competition itself, which will take place at Pipeline in Ehukai Beach Park on Oahu's North Shore. Fans can also catch the LIVE webcast on worldsurfleague.com and redbull.tv.