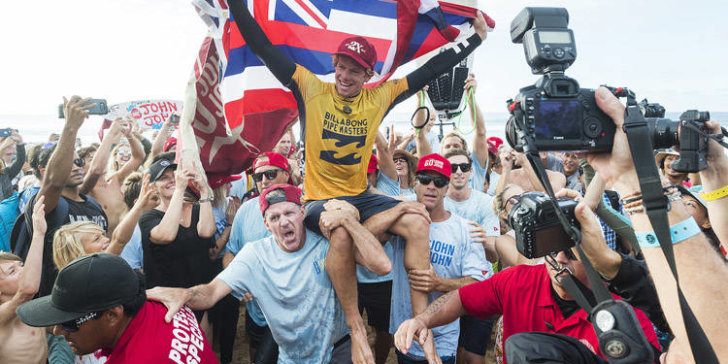 Olympics forces Hawaii pro surfers to bail on tradition for U.S. flag
By John Branch, New York Times
May 17, 2021
Front Page image: COURTESY WSL
John John Florence of Hawaii is carried up the beach after winning his semifinal of the 2017 Billabong Pipe Masters in celebration of becoming a two-time World Champion. Florence dreamed of winning a World Title in Hawaii and that dream became a reality when he backed up his 2016 World Title which he won in Portugal with the 2017 World Title in Hawaii.
When John John Florence travels the world for elite surfing competitions, he carries a flag with him, to fly if he wins. It matches the flag on the shoulder of his jersey and on the scoreboard next to his name.
It is not an American flag. It is a Hawaiian flag. That is because, in the World Surf League and in surfing more generally, there is an understanding: You represent Hawaii, or you represent the United States. You do not do both.
The simplest reason is that Hawaii is the birthplace of surfing and remains the sport's cultural heart. Hawaii residents — particularly Native Hawaiians, but also those born and raised there, like Florence — cling to that heritage because surfing may be the strongest of the fading connections to the Hawaiian Islands' precolonization history.
READ THE ENTIRE NY TIMES STORY HERE

SNN. Tens of Thousands around the planet understand & support the banner message above. But this Olympic year we will have to wait it seems … another 4 years.
This Historic Olympic Surfing breakthrough is a first step for Hawaii to gain it's rightful place of respect & honor.
Additionally, the Olympics -and the John Branch piece- will help add powerful context…for most of the world has yet to learn Hawaii's Story.
Progress WILL be made for the Hawaiian Flag in future Olympics.
That will be Gold. SNN.
See interesting comments on FB/GO PRO HERE