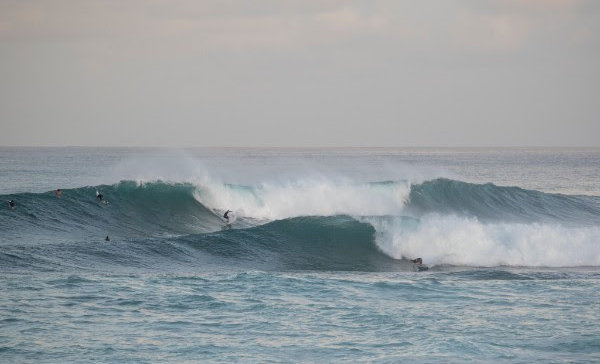 Watch it all  HERE
Opening Day of Vans World Cup of Surfing,
Round 1 Called On for 8am
– Sunset Beach Delivering 5-8′ Surf
With an XXL swell expected tomorrow, contest organizers are taking advantage of the solid surf on offer today to open the Vans World Cup of Surfing at Sunset Beach.
Credit: © WSL / Heff
Vans World Cup of Surfing, Men's QS 10,000
Haleiwa, Oahu/HAWAII (Sunday, November 25, 2018) – The second stop of the Vans Triple Crown of Surfing and concluding event of the World Surf League (WSL) Qualifying Series (QS) circuit, the Vans World Cup of Surfing QS 10,000 has been called ON today in solid surf with wave faces reaching 15ft. and clean, light easterly winds grooming the lineup. Round 1 will commence at 8:00a.m. and contest organizers anticipate a full day of competition with Heats 1 – 16 completing today.
"It's Day 1 of the Vans World Cup and the surf is near-perfect conditions, 8-12ft," said WSL Hawaii/Tahiti Nui Tour Manager Marty Thomas. "We are going to see epic surfing today and an exciting Round 1 to kick things off."
When Round 1 gets underway, local threats to keep an eye on include recent HIC Pro winner and North Shore standout Kiron Jabour in Heat 3, Big Wave World Champion Billy Kemper in Heat 9 and 2018 Volcom Pipe Pro victor and QS campaigner Josh Moniz in Heat 13. Round 1 will also see recently crowned regional QS Winners O'Neill Massin (PYF) from the WSL Hawaii/Tahiti Nui region, and Lucca Mesinas Novaro (PER) from the WSL North America region, go head-to-head in Heat 14 against North Shore's Wyatt McHale (HAW) and Michael O'Shaughnessy (HAW).
An official press release will be distributed after competition ends for the day, while images and newsfeeds will be updated throughout the day at the links above.
The second event of the Vans Triple Crown of Surfing, the Vans World Cup of Surfing, has a holding window from November 25 – December 6 and will take place at Sunset Beach. For more information about the event, including past champions, spectator tips, community events and more, please visit http://www.vanstriplecrownofsurfing.com/.
Each event of the 2018 Vans Triple Crown of Surfing will run on the four best days of surf within the event's holding window. LIVE streaming is available on WorldSurfLeague.com, VansTripleCrownOfSurfing.com, Facebook.com/wsllive and the WSL and Facebook apps (Facebook login required for mobile viewing). Or tune into Spectrum SURF Channel, which will televise the action LIVE and in replay on digital channels 20 and 1020HD, across the state of Hawaii.
Round 1, Heat 1 – 16 called ON
About VansVans®, a VF Corporation (NYSE: VFC) brand, is the original action sports footwear, apparel and accessories brand. Vans® authentic collections are sold in 84 countries through a network of subsidiaries, distributors and international offices. Vans® has over 2,000 retail locations globally including owned, concession and partnership doors. The Vans® brand promotes creative self-expression in youth culture across action sports, art, music and street culture and delivers progressive platforms such as the Vans Park Series, Vans Triple Crown of Surfing®, Vans Pool Party, Vans Custom Culture, and Vans' cultural hub and international music venue, House of Vans.
About the WSL The World Surf League (WSL) is dedicated to celebrating the world's best surfing on the world's best waves through a variety of best-in-class audience platforms. The organization, headquartered in Santa Monica, is a global sport with regional offices in Australasia, Africa, North America, South America, Hawaii, Japan and Europe.

The WSL has been championing the world's best surfing since 1976, annually running more than 180 global events across the Men's and Women's Championship Tours, the Big Wave Tour, Qualifying Series, Junior and Longboard Championships, as well as the WSL Big Wave Awards. The League possesses a deep appreciation for the sport's rich heritage while promoting progression, innovation and performance at the highest levels, and in doing so crowns the undisputed Men's and Women's World Champions across all tours.

Showcasing the world's best surfing on its digital platform at WorldSurfLeague.com, the WSL has a passionate global fan base with millions tuning in to see world-class athletes like Kelly Slater, Stephanie Gilmore, Tyler Wright, John Florence, Lakey Peterson, Paige Alms, Kai Lenny, Taylor Jensen, Honolua Blomfield, Carissa Moore, Gabriel Medina, Courtney Conlogue and more battle on the most dynamic field of play of any global sport.

For more information, please visit WorldSurfLeague.com