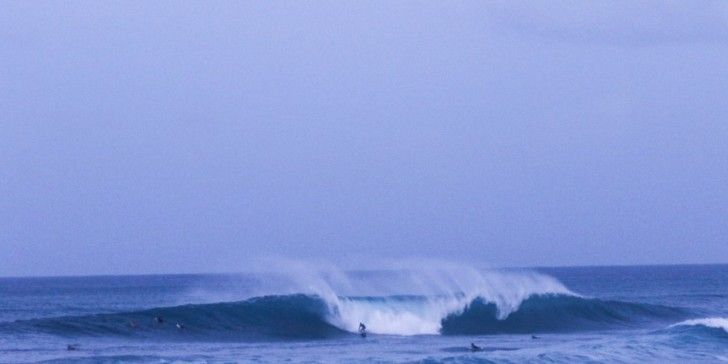 – BATTLE FOR QUALIFICATION IGNITES AS FIELD NARROWS TO 64 SURFERS
The fresh 16 sec WNW-NW nabbed solid 6-8′ average with great shape (plenty barrels) and built all AM to near 10′ midday with moderate-fresh E to SE winds blowing near straight offshore. Game on. SNN.
Clean easterly offshore winds groom the lineup at Sunset Beach. Image: WSL / Chlala
| | |
| --- | --- |
| Location:    |      Sunset Beach, North Shore, Oahu                                                 |
| Window: |      November 24 – December 6   |
| Today's Call: |      Round two ON, 8am HST start |
| | |
So far: Competitors and spectators enjoyed perfect Sunset for Day 2 of the Vans World Cup as the 128-man field whittled down to just 64 athletes. Standouts from today included:
Finn McGill (North Shore) – Sixteen-year-old McGill had one of the highest heat totals of the competition, a 15.87, after he secured two excellent scoring rides at his Sunset homebreak. Going head to head with Griffin Colapinto (USA) and Josh Moniz (HAW), the under-20 upstarts put on the best show of the day in 20-foot surf.
Torrey Meister (Big Island) – Big Island's dark horse secured the top score of the day, a 9.23 for a standing barrel and a few powerful maneuvers. Meister moves into Round 3 where he will go against Nat Young (USA), Jadson Andre (BRA) and Mitch Crews (AUS).
O'Neill Massin (Tahiti) – One of three Tahitians left in the competition, Massin's rookie performance at the Vans World Cup matched power with power in the massive surf. 
Billy Kemper (North Shore) – One step closer to the podium, Kemper made a comeback in Round Two Heat 8 after he jumped from last place to first in the last few minutes to advance with a combined two-wave total of 11.84.
Ryan Callinan (AUS) – In the No. 9 spot on the international Qualifying Series (QS), Callinan needs a solid finish at Sunset to secure a spot on next year's Championship Tour. His performance today was strong despite mid-range scores and saw him advance in first ahead of Marc Lacomare (FRA).
630am NORTH SHORE, Oahu/Hawaii – (Friday, December 2, 2016) — The Vans World Cup of Surfing, the second event of the Vans Triple Crown, will resume today as a solid NW swell peaks on the North Shore of Oahu and provides 18-foot surf. Also the final World Surf League (WSL) Qualifying Series (QS) event of the year, the Vans World Cup QS10,000 holds major implications for surfers looking to join the elite 34 surfers on the 2017 WSL Samsung Galaxy Championship Tour."We have 8-10ft. pumping Sunset today and it's forecast to pick up even more through the day," said Travis Logie, WSL Deputy Commissioner. "It should be an epic day. We will complete Round 2 and get into the first heat of Round 3."
Competition will commence at 8am HST with Heat 3 of Round 2 hitting the water first, which will see an international mix including Alex Ribeiro (BRA), Gony Zubizarreta (ESP), Ricardo Christie (NZL) and Noa Mizuno (HAW) battling for the two advancing positions.
Surfing in the last heat of the day is Ezekiel Lau (HAW), who sits 15th on the QS rankings and will need a Quarterfinal finish to keep his hopes of qualifying alive. Lau is one of many athletes whose career comes down to this capstone event at Sunset Beach, but Lau has the home turf advantage plus a couple wins under his belt at the big wave venue.
A regional and international video news feed will be distributed around 2pm HST. An official press release and image gallery will follow after the competition concludes along with a highlight edit to relive all the action. Catch it online at the Vans World Cup  at vanstriplecrownofsurfing.com.
The Vans World Cup of Surfing, a WSL Men's QS10,000 rated event, is scheduled from November 24 – December 6, 2016 and runs in conjunction with the Vans Triple Crown of Surfing specialty series along the North Shore of Oahu. For all results, photos, video highlights, press releases and LIVE webcast, log on to worldsurfleague.com
About Vans
Vans®, a VF Corporation (NYSE: VFC) brand, is the original action sports footwear, apparel and accessories brand. Vans authentic collections are sold globally in more than 75 countries through a network of subsidiaries, distributors and international offices. Vans also owns and operates nearly 600 retail locations around the world. The Vans brand promotes the action sports lifestyle, youth culture and creative self-expression through the support of athletes, musicians and artists and through progressive events and platforms such as the Vans Triple Crown of Surfing®, the Vans U.S. Open of Surfing, Vans Pool Party, Vans Custom Culture, Vans Warped Tour®, and Vans' cultural hub and international music venue, the House of Vans.