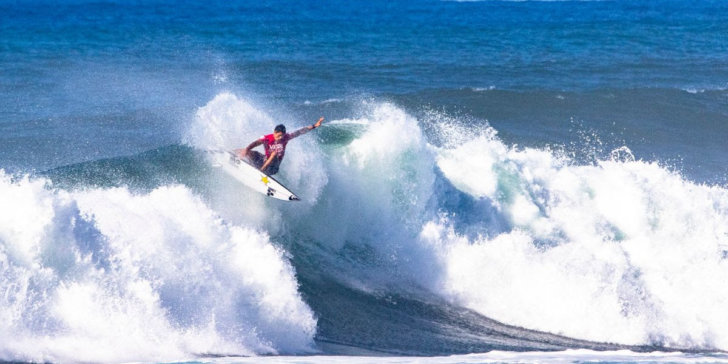 Upsets & Qualification Hopes on Day Three Round 3– Vans Triple Crown of Surfing (VTCS) Frontrunner Joel Parkinson Advances
– VTCS Rookie Race Whittles Down to Two
– Connor O'Leary Earns Near-Perfect 9.10
Ezekiel Lau (HAW) goes fins-free on this closing maneuver for an 8.87.
CREDIT: © WSL / Keoki
Vans World Cup of Surfing, Men's QS 10,000
Round 3, Heats 1 – 16 Completed
5-7ft. NW swell, light NE winds
Haleiwa, Oahu/HAWAII — (Saturday, December 1, 2018) – Top seeded athletes surfed today during Day three Round 3 of the Vans World Cup of Surfing, a World Surf League (WSL) Qualifying Series (QS) 10,000 event and Stop No. 2 of the Vans Triple Crown of Surfing. Two elite names that emerged victorious today included Joel Parkinson (AUS), who currently leads the Vans Triple Crown of Surfing (VTCS) title, and No. 2 in the world, Filipe Toledo (BRA).

Toledo debuted at the Vans World Cup today in a tight heat that included Matthew McGillivray (ZAF), who advanced in first, Nathan Florence (HAW) and Aritz Aranburu (ESP). All competitors stayed active in the challenging conditions at Sunset Beach to tally six or more waves in the 30-minute exchange, but Toledo didn't drop his first keeper score until midway through the heat. With a 5.83 and 5.03 on his scoreline, he was vulnerable to Florence overtaking him, but the Brazilian advanced in second by a .30 margin.

Filipe Toledo (BRA). CREDIT: © WSL / Keoki
McGillivray's on-point surfing saw him win against the World Title contender, and with tight turns in the pocket and consistent flow, the South African was in rhythm for a bid into Round 4.
"I get stoked when I'm surfing against my heroes like Filipe (Toledo) and other guys that I look up to," said McGillivray. "For me, I get excited and then I have to calm down and try to focus on my breathing and just enjoy the waves and surf. This is such a huge event, so much prestige. It's great to get experience out here and surf against guys that I look up to. It's always such an important stop on the QS so to be able to do good out here and learn the ins and outs of the wave, it's super important."

Matthew McGillivray (ZAF). CREDIT: © WSL / Keoki
Although qualification onto the 2019 Championship Tour (CT) isn't largely on McGillivray's mind, his No. 33 ranking on the QS will improve as he continues to advance at Sunset Beach.
"I'm stoked to make a couple heats and hopefully I can keep going," McGillivray continued. "Hawaii is so much fun, I love it here and there's always so much surfing happening. It's good fun here."
Parkinson demonstrated stylish surfing and razor-sharp technique during Heat 3, however, Kauai's Sebastian Zietz (HAW) outperformed Parkinson after earning two mid-range scores, a 7.07 and 7.00, for the heat win. Currently, just above the cut-off for re-qualification on the Men's CT, Zietz will join the elite ranks again in 2019. For Parkinson, these are the final heats of his professional career as he plans to retire from professional surfing at the close of 2018.

Sebastian Zietz (HAW). CREDIT: © WSL / Heff
"Parko is definitely an inspiration to me and everyone who's stepped on a surfboard since he started his career," said Zietz. "Super stoked on his first place in Haleiwa and I think everyone is probably pulling for him, so I hope he wins the Triple Crown and wins every event. It seems only right he finishes with a bang."
Parkinson holds a remarkable amount of achievements here in Hawaii, including three wins at the Vans World Cup ('09, '06 and '05), three VTCS Champion titles ('10, '09 and '08) and his 2012 World Champion title that was won at the final stop of the VTCS, the Billabong Pipe Masters. This year, he won the first stop of the VTCS, the Hawaiian Pro, and remains at the top after today's advancement for a potential fourth and final VTCS Champion title.

Joel Parkinson (AUS). CREDIT: © WSL / Heff
The VTCS Rookie race whittled down today to just two goofy-foot competitors, Reef Heazlewood (AUS), 19, and Alonso Correa (PER), 20. Although Heazlewood was ousted from competition today, Correa will need to get 13th or better to overtake him for the award. The Peruvian was the only surfer in Heat 7 to garner an excellent score and added his 8.00 to today's top rides for a two-turn combo with a vertical, backhand approach. The all goofy-footer heat included Joan Duru (FRA), who also advanced, Matt Wilkinson (AUS) and Ramzi Boukhiam (MAR), a stacked heat for the young QS challenger.
"It was a really tough heat, was funny because we're all goofy footers and the approach was going to be kind of the same," said Correa. "It was a really hard heat, really humbling experience for me to start with a really good wave and then I got pretty nervous because I needed a back-up. Then I got a small one and tried to build up from there but… made a couple mistakes, I'm still learning here but I'm stoked that I made the heat."
Coming in at the third highest wave score of the event and highest of the day was Connor O'Leary (AUS) for a high-risk maneuver that ticked the judges' criteria boxes of speed, power and flow. The 9.10 was awarded for total commitment and fired up the Australian for another good wave to close out his campaign for the day.

Connor O'Leary (AUS). CREDIT: © WSL / Keoki
"I don't get many opportunities to surf out there and when I do it's really crowded and I'm not one of those guys who are hustling for the best waves," said O'Leary. "I'm just getting the scraps and feeling boards around. So yeah, probably the best wave I've ever ridden at Sunset!"
With a Vans World Cup win under his belt, Hawaiian Ezekiel Lau (HAW) dominated Sunset with the second highest single wave result of the day behind O'Leary, an 8.87 for a couple gouges on the open wave face and a near impossible landing on a lip hit that saw his fins release.
"I just felt the energy of the waves out there kind of die and I started the heat outside where I would normally sit on my peak," said Lau. "Visually I wasn't seeing the waves that I wanted. I got a quick one just to come underneath, once I paddled out after my first wave I knew where I wanted to sit. And then I got my two waves off the bat."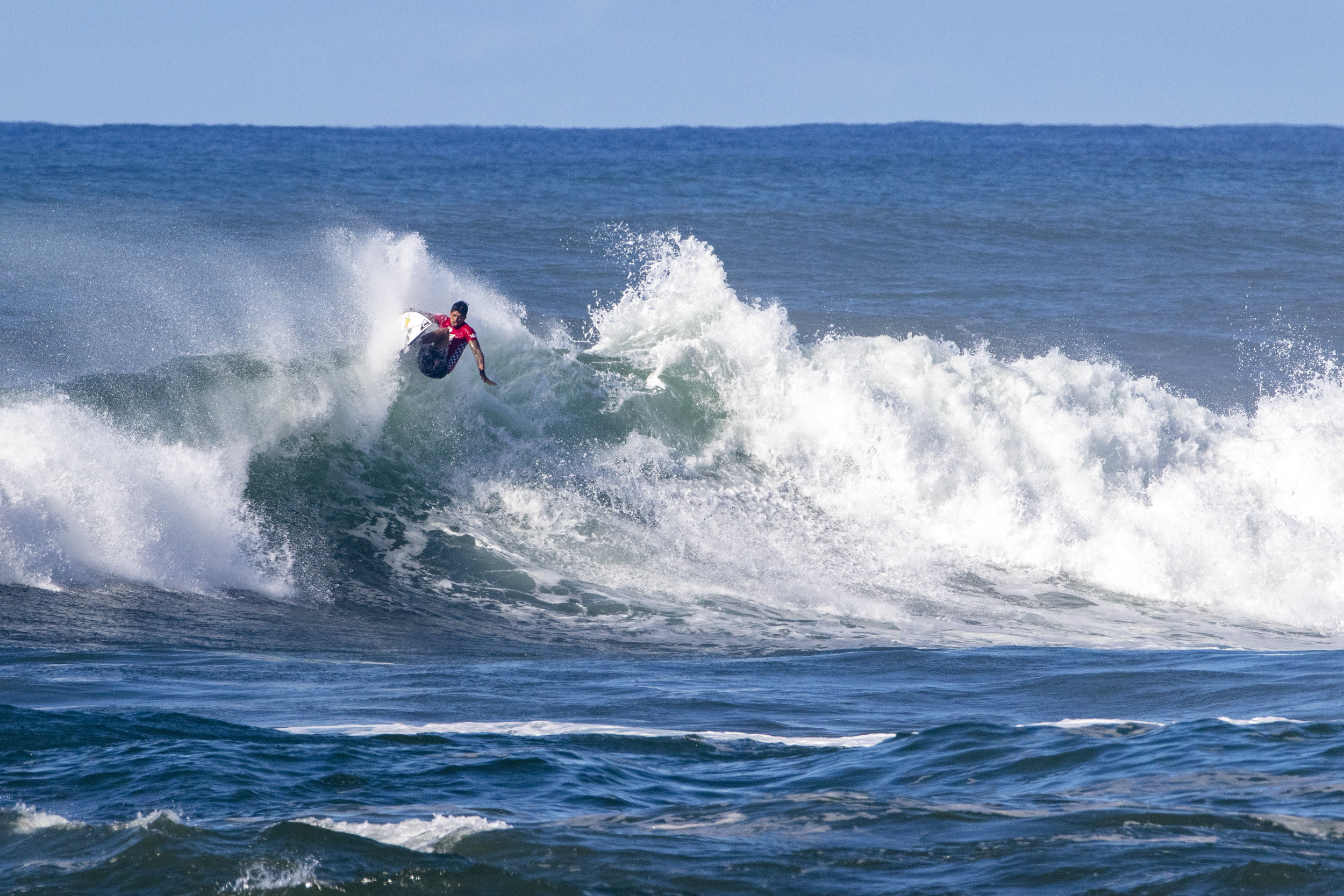 Ezekiel Lau (HAW). CREDIT: © WSL / Keoki
Although a tried and true winner at Sunset Beach, Lau's attention is on his performance at Pipeine for the final event of the VTCS, the Billabong Pipe Masters, which has a holding window from December 8 – 20.
"I think I've been preparing for Pipe Masters more than Haleiwa and Sunset this year," Lau continued. "I actually only surfed Sunset once before my heat this year, but my focus is on Pipe, that's where I need to make heats so that's where my focus is for sure."
Also in Lau's heat was Jesse Mendes (BRA), whose advancement today takes him another step closer to achieving his ultimate dream of CT qualification.
One of the biggest upsets of the day was caused by Vans team rider Kyuss King (AUS), who eliminated recent Jaws Challenge winner and Big Wave World Champion Billy Kemper (HAW) along with Caio Ibelli (BRA), who made his comeback to competitive surfing this season in Hawaii after an injury-riddled year on the CT.

Kyuss King (AUS). CREDIT: © WSL / Heff
King advanced behind Italo Ferreira (BRA) who had another excellent wave score, an 8.73 for a gravity-defying closing maneuver on his backhand in the critical section of the wave. Touted as one of the best single maneuvers of the day, Ferreira was points ahead of the other three challengers.
"That was a crazy maneuver, I'm looking for big turns on the best section," said Ferreira. "I tried on one before and I almost died on the flats, but the second one was good. I have to catch a lot of waves and put all my energy into every single maneuver."
Ferreira has been the most successful surfer on the 2018 CT, in terms of wins, with three first place victories at the Rip Curl Pro Bells Beach, Corona Bali Protectedand MEO Rip Curl Pro Portugal. Although he is not in world title contention, 2018 marks his most successful year to date.

Italo Ferreira (BRA). CREDIT: © WSL / Heff
Griffin Colapinto (USA), defending VTCS champion, advanced out of Round 3 with excellent surfing and scores despite a bruised bone in his foot. He was a clear standout among fellow competitors in Heat 2 and earned one of the highest combined two-wave totals of the day, a 16.37. Colapinto echoed Zietz's earlier sentiment about hoping to see Parkinson take this year's VTCS title:
"I feel like I don't have that much pressure right now just because I didn't do very well at Haleiwa and I know Joel's leading the Triple Crown. If our names could be back to back, I'd be pretty excited about that, so I'm hoping Joel takes it out."

Griffin Colapinto (USA). CREDIT: © WSL / Keoki
WSL Hawaii/Tahiti Nui Tour Manager, Marty Thomas, along with other contest organizers will reconvene tomorrow morning to make a call by 7:30 a.m. HST. Thomas provided an outlook for the remaining heats of competition, given the forecast on the horizon:
"Tomorrow is supposed to decrease. There might be an option but we're keeping an eye on that swell that's coming for Tuesday, Wednesday and Thursday. There is potential for it to be too big, maxed out here at Sunset Beach, but by getting today done, it sets us up to cherry pick that swell. If it doesn't get too big we can score on the final day."
The second event of the Vans Triple Crown of Surfing, the Vans World Cup of Surfing, has a holding window from November 25 – December 6 and will take place at Sunset Beach. For more information about the event, including past champions, spectator tips, community events and more, please visit http://www.vanstriplecrownofsurfing.com/.
Each event of the 2018 Vans Triple Crown of Surfing will run on the four best days of surf within the event's holding window. LIVE streaming is available on WorldSurfLeague.com, VansTripleCrownOfSurfing.com, Facebook.com/wsllive and the WSL and Facebook apps (Facebook login required for mobile viewing). Or tune into Spectrum SURF Channel, which will televise the action LIVE and in replay on digital channels 20 and 1020HD, across the state of Hawaii.
2018 Vans World Cup of Surfing Results
Athletes listed in 1st through 4th place
Round 3 (1st and 2nd advance, 3rd = 33rd place, 4th = 49th place)
H1: Wade Carmichael (AUS), Jadson Andre (BRA), Charles Martin (FRA), Gatien Delahaye (FRA)
H2: Griffin Colapinto (USA), Soli Bailey (AUS), Patrick Gudauskas (USA), Dylan Lightfoot (ZAF)
H3: Sebastian Zietz (HAW), Joel Parkinson (AUS), Kalani Ball (AUS), Kainehe Hunt (HAW)
H4: Jack Robinson (AUS), Leonardo Fioravanti (ITA), Kanoa Igarashi (JPN), Reef Heazlewood (AUS)
H5: Jack Freestone (AUS), Owen Wright (AUS), Deivid Silva (BRA), Michael February (ZAF)
H6: Ryan Callinan (AUS), Carlos Munoz (CRI), Lucas Silveira (BRA), Willian Cardoso (BRA)
H7: Alonso Correa (PER), Joan Duru (FRA), Matt Wilkinson (AUS), Ramzi Boukhiam (MAR)
H8: Matthew McGillivray (ZAF), Filipe Toledo (BRA), Nathan Florence (HAW), Aritz Aranburu (ESP)
H9: Italo Ferreira (BRA), Kyuss King (AUS), Billy Kemper (HAW), Caio Ibelli (BRA)
H10: Vasco Ribeiro (PRT), Tanner Gudauskas (USA), Yago Dora (BRA), Tomas Hermes (BRA)
H11: Beyrick De Vries (ZAF), Peterson Crisanto (BRA), Jeronimo Vargas (BRA), Conner Coffin (USA)
H12: Matt Banting (AUS), Miguel Pupo (BRA), Adrian Buchan (AUS), Seth Moniz (HAW)
H13: Ricardo Christie (NZL), Michel Bourez (PYF), Joshua Moniz (HAW), Michael O'Shaughnessy (HAW)
H14: Ezekiel Lau (HAW), Jesse Mendes (BRA), Ian Crane (USA), Bino Lopes (BRA)
H15: Connor O'Leary (AUS), Maxime Huscenot (FRA), Ian Gouveia (BRA), Stu Kennedy (AUS)
H16: Weslley Dantas (BRA), Jordy Smith (ZAF), Tanner Hendrickson (HAW), Alejo Muniz (BRA)
About VansVans®, a VF Corporation (NYSE: VFC) brand, is the original action sports footwear, apparel and accessories brand. Vans® authentic collections are sold in 84 countries through a network of subsidiaries, distributors and international offices. Vans® has over 2,000 retail locations globally including owned, concession and partnership doors. The Vans® brand promotes creative self-expression in youth culture across action sports, art, music and street culture and delivers progressive platforms such as the Vans Park Series, Vans Triple Crown of Surfing®, Vans Pool Party, Vans Custom Culture, and Vans' cultural hub and international music venue, House of Vans.