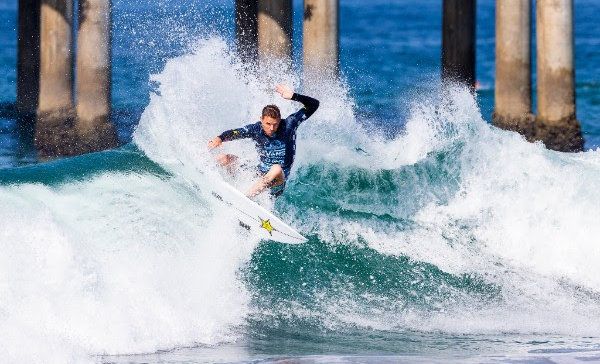 – MEN'S QS ROUND 2 H9-16 STARTING AT 

7:30 AM PST
– JUNIOR MEN'S QUARTERFINALS AND SEMIFINALS TO FOLLOW 
 Australia's Mitch Crews will surf in Round 2 Heat 10 following his Round 1 victory yesterday.
Credit: © WSL / Morris
Location:   
   Huntington Beach, California, United States
Event window:
   July 30 – 

August 5, 2018

Today's call:
   Men's QS R2 (H9-16) followed by Junior Men's Quarters & Semis
Conditions:
   2 – 3 feet in the face
HUNTINGTON BEACH, Calif./USA (Tuesday, July 31, 2018) – Action at the 2018 Vans US Open of Surfing presented by Swatch will continue today in two-to-three foot surf at Huntington Beach. The competition will start with the Men's Qualifying Series (QS) Round 2 (H9-16) at 7:30 a.m. PST, followed by the Pro Junior Men's Quarterfinals and Semifinals.
"We are starting at 7:30 a.m. this morning," said WSL Deputy Commissioner, Travis Logie. "We will run the Men's QS first, Heats 9 through 16, and then complete the men's Pro Junior Quarterfinals and Semifinals. The Women's Championship Tour event and the women's Pro Junior will be off for the day."
Following an exciting start to the QS event yesterday, CT stars will continue to battle up-and-comers for a place in Round 3. Up first will be current No. 19 on the Championship Tour Frederico Morais (PRT) who will take on Deivid Silva (BRA), Victor Bernardo (BRA)and Joh Azuchi (JPN) in Round 2 Heat 9.
The Vans US Open of Surfing will be broadcast LIVE on VansUSOpenofSurfing.com, on Facebook LIVE via the WSL's Facebook page, WorldSurfLeague.com, and the WSL app. Also check local listings for coverage on CBS Sports Network in the U.S., Fox Sports in Australia, ESPN in Brazil, Sky NZ in New Zealand, SFR Sports in France and Portugal and as part of the EDGEsport Network.
Upcoming Vans US Open of Surfing Men's QS Round 2 (H9-24) Matchups:
Heat 9: Frederico Morais (PRT), Deivid Silva (BRA), Victor Bernardo (BRA), Joh Azuchi (JPN)
Heat 10: Ezekiel Lau (HAW), Jorgann Couzinet (FRA), Noe Mar McGonagle (CRI), Mitch Crews (AUS)
Heat 11: Ian Gouveia (BRA), Miguel Pupo (BRA), Rafael Teixeira (BRA), Cam Richards (USA)
Heat 12: Luel Felipe (BRA), Bino Lopes (BRA), Thiago Camarao (BRA), Finn McGill (HAW)
Heat 13: Italo Ferreira (BRA), Hiroto Ohhara (JPN), Flavio Nakagima (BRA), Beyrick De Vries (ZAF)
Heat 14: Joan Duru (FRA), Jadson Andre (BRA), Gony Zubizarreta (ESP), Hiroto Arai (JPN)
Heat 15: Sebastian Zeitz (HAW), Peterson Crisanto (BRA), Kiron Jabour (HAW), Tanner Hendrickson (HAW)
Heat 16: Jeremy Flores (FRA), Ricardo Christie (NZL), Charly Martin (FRA), Mihimana Braye (PYF)
Heat 17: Michael Rodrigues (BRA), Seth Moniz (HAW), Soli Bailey (AUS), Cody Young (HAW)
Heat 18: Connor O'Leary (AUS), Jack Freestone (AUS), Mitch Coleborn (AUS), Matt Banting (AUS)
Heat 19: Patrick Gudauskas (USA), Ethan Ewing (AUS), Lucas Silveira (BRA), Brett Simpson (USA)
Heat 20: Conner Coffin (USA), Maxime Huscenot (FRA), Cooper Chapman (AUS), Parker Coffin (USA)
Heat 21: Kanoa Igarashi (JPN), Nat Young (USA), Aritz Aranburu (ESP), Timothee Bisso (FRA)
Heat 22: Tomas Hermes (BRA), Alejo Muniz (BRA), Ian Crane (USA), Marcos Correa (BRA)
Heat 23: Michael February (ZAF), Leonardo Fioravanti (ITA), Benji Brand (HAW), Hizunome Bettero (BRA)
Heat 24: Wade Carmichael (AUS), Evan Geiselman (USA), Davey Cathels (AUS), Kyuss King (AUS)
Recognized as the largest professional sports competition and action sports festival in the world, the Vans US Open of Surfing is currently sanctioned and operated by the World Surf League under license from IMG, the event owner. Official partners of this year's event include Vans, Swatch, Jeep, Airbnb, Michelob ULTRA, Hydro Flask, LifeProof, Jose Cuervo, Barefoot Wine, Woolmark, BF Goodrich, Harley-Davidson, Peet's Coffee, Red Bull, U.S. Army, Slowtide, CLIF Bar, U.S. Marine Corps, Let it Block Sunscreen, Tea of a Kind, Flowater, and Frontier Communications.
– WATCH LIVE AT WORLDSURFLEAGUE.COM