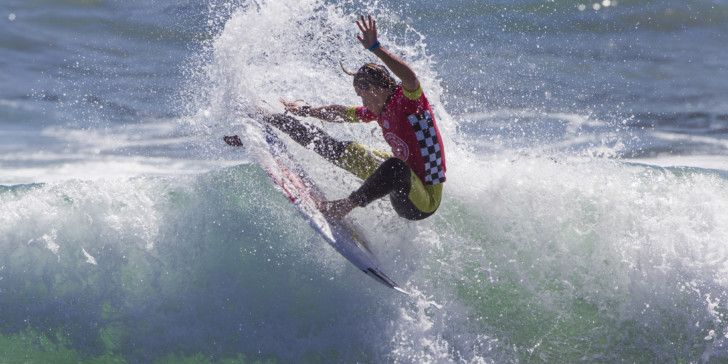 – DEFENDING EVENT CHAMPION DEFAY SUFFERS SHOCK ROUND 2 ELIMINATION
– CT VETERANS GILMORE, CONLOGUE, MOORE & FITZGIBBONS BOUNCE BACK OUT OF ROUND 2
– MEN'S QS10,000 CONTINUES EXCELLENT PERFORMANCES AS MORE TOP SEEDS DEBUT

Courtney Conlogue (USA), current Jeep Rankings Leader, eliminated Trials winner Meah Collins (USA)  in Round 2 Heat 3. Conlogue will face Laura Enever (AUS) and Sage Erickson (USA) in Round 3 Heat 2.
Image: WSL / Rowland
| | |
| --- | --- |
| Location:    | Huntington Beach Pier, Huntington Beach, California |
| Event Window: | July 25-31, 2016 |
| Today's Call: | Women's WCT Round 1 and Men's QS 2 (H6-18) complete |
| | |
| --- | --- |
| Conditions:   | 2 – 4 foot (0.5 – 1.0 meter) |
HUNTINGTON BEACH, California/USA (Tuesday, July 26, 2016) – The Vans US Open of Surfing, Stop No. 6 of 10 on the 2016 Samsung Galaxy WSL Championship Tour (CT), recommenced today with women's elimination Round 2 and the men's QS Round 2 Heats 6 – 18. The event saw exciting action as the surfers battled in two-to-four foot (0.5 – 1 meter) waves in Huntington Beach, California.
Round 2 Heat 3 saw a heated match-up between two local favorites, Courtney Conlogue (USA), current World No. 1 on the Jeep Leaderboard, and Trials winnerMeah Collins (USA). Conlogue wasted no time to get a commanding 8.00 point ride on her opening exchange, forcing 16-year-old Collins to chase excellent-range scores. Collins fought back with a 10.64 heat score, but the veteran continued to fire with a strong 6.17. With priority in the last two minutes of the heat, Collins had one last opportunity to make her move against the CT heavyweight, but was not able to complete her finishing maneuver for the score.
"Yesterday was not what I wanted obviously," Conlogue said. "I don't think anyone plans for a shocker like that. I had a second chance today and just tried to get on those opportunities quickly with the low tide. It's been so hot back home in Santa Ana and I just haven't slept well so it was great to have a full night's sleep. I woke up feeling good. It's good to get those shockers out of the way in three-man heats. I am excited to make it through."
The Vans US Open of Surfing witnessed a massive upset today as Johanne Defay (FRA), defending event Champion, was eliminated by 2016 WSL Rookie Keely Andrew (AUS). Andrew landed the highest score of the heat, an excellent 8.00, but sat in second for a majority of the heat searching for a backup score. In the dying minutes of the heat, Andrew locked in a solid 7.00 to gain control. The defending event Champion will finish in 13th place.
"The start of that heat was not very promising," said Andrew. "I am sick of losing in the second round and I just wanted to make that one. I really love surfing beach breaks so I want to surf more out here. Johanne (Defay) is such an amazing surfer and competitor. To have a heat with her is always fun and I am pretty happy to get a win over her. I am such a massive fan of her surfing so I am pretty stoked on that."
Carissa Moore (HAW), three-time WSL Champion, blazed through Round 2 Heat 4 to eliminate 2016 WSL Rookie Chelsea Tuach (BRB) with the highest heat score of Round 2, an incredible 15.37. The reigning World Champion posted two excellent-range scores to combat the rookie and exhibited her power surfing at this break.
"I didn't really have that great of a warm-up this morning," said Moore. "I decided to do a little mind-trip on myself and caused myself some stress, so I went back and pressed the reset button. It felt great to get some good waves in that heat. For me this year, I am trying to focus on learning. This year has been tough because I feel like I am surfing the best I've ever surfed, but I haven't put it together to win an event. I think I need to go with the flow and keep my head down."
Stephanie Gilmore (AUS), six-time WSL Champion, dispatched compatriot Nikki Van Dijk (AUS) in the opening heat of Round 2. Van Dijk held the lead for a majority of the heat, but a priority mistake in the final minutes gave Gilmore an opportunity to lock in the critical 7.67 that gave her the edge over Van Dijk. Gilmore will advance to Round 3, and Van Dijk will walk away with a 13th place finish.
"It was kind of a slow and stressful morning," said Gilmore. "Nikki (Van Dijk) had great positioning and really stuck to her gameplan, and I floated around a bit. I just felt a little stuck and slow out there, but I knew that we both had 5s and nothing too special and as soon as one of us got one of those clean open-faced waves, then two big turns would seal the deal. It finally came through, thankfully."
Following incredible surfing from the world's best women, the Vans US Open of Surfing Men's QS10,000 scorched through thirteen heats of high-performance surfing. Battling through the windy conditions of the afternoon, more top seeds made their debut in a phenomenal fashion, completing Round 2, Heats 6 through 18.
Returning to his hometown in defining fashion, Kanoa Igarashi (USA) put on a showcase despite the victory-at-sea swell on hand. Shouts were coming from everywhere on the beach as Igarashi blasted the event's highest heat total thus far with a 17.23. The 18-year-old earned an 8.83 right away and backing it up with another excellent 8.40 to solidify his win, in turn putting the field in a combination situation.
"It's fun and really nice to be home with this being the longest stint I'll be here all year so I'm just enjoying time with my family and friends," Igarashi said. "I feel really comfortable surfing this wave a lot when it's like this. For me it's all feeling and just the knowledge of hanging around where I needed to be definitely helped."
Davey Cathels (AUS) came into Huntington Beach feeling relaxed and ready to take on another QS10,000. Earning an ninth-place finish at the Ballito Pro QS10,000, Cathels is on the hunt for another good result to back up his No. 23 spot on the CT. With his experience at the highest level of competition, the Australian is feeling comfortable in unfamiliar territory.
"I'm stoked to finally get a Machado left, I've never gotten one before," Cathels said. "Dusty got the first one and looked nice but he fell. Then the second came and had a nice double up look to it, and it just kept giving me sections. The rights were pretty much done with the wind picking up and just shut down.
"I've been surfing heaps every morning and coming down after the competition," Cathels added. "It's just such a tricky wave and really different from anything at home so you have to put in the time. But, I think there's less pressure here and not as high stakes as the tour. It's a bit more relaxed."
Sebastian Zeitz (HAW) took down one of the most anticipated heats on the draw in Round 2, featuring fellow CT competitor and rookie of the year front-runner Caio Ibelli (BRA), top event threat Mitch Crews (AUS), and one of yesterday's standouts Victor Bernardo (BRA). Zeitz posted a near-perfect 9.07 on a running lefthander that allowed him to open up on multiple times. The Kauai, Maui native knows how important it is to get a good result on the QS10,000 level as his CT injury replacement spot is a hot commodity.
"I had blown it on a couple rights that were super quick and that left was just a really good bowly wave," Zeitz said. "There weren't a lot of waves out there that would allow you to do two turns. It was a good wave and I just had to finish it off strong for that 9 and not fall off. I just want to back myself up knowing I could lose my opportunity on the CT at any time and come down here where there's always a big following, it's sunny and beautiful. Just a lot of fun."
Other notable standouts amid an action-packed Round 2; Kiron Jabour (HAW) posted an impressive 16.43 heat total, Griffin Colapinto (USA) earned a second heat win as a wildcard over Jordy Smith (ZAF), and Granger Larsen (HAW) topped QS No. 1 rankedLeonardo Fiorvanti (ITA) and No. 2 Connor O'Leary (AUS).
The event is also being carried by the WSL's LIVE broadcast partners Fox Sports Australia, CBS Sports in the United States, ESPN Brasil, Globosat, Edgesport, Sky NZ, Sport TV, Canal + Deportes, Channel Nine, MCS, Starhub, and Oceanic Time Warner Cable 250 & 1250 in Hawaii.
Vans US Open of Surfing Women's Round 2 Results:
Heat 1: Stephanie Gilmore (AUS) 13.44 def. Nikki Van Dijk (AUS) 11.00
Heat 2: Sally Fitzgibbons (AUS) 15.00 def. Alessa Quizon (HAW) 13.44
Heat 3: Courtney Conlogue (USA) 14.17 def. Meah Collins (USA) 10.64
Heat 4: Carissa Moore (HAW) 15.37. Chelsea Tuach (BRB) 11.70
Heat 5: Keely Andrew (AUS) 15.00 def. Johanne Defay (FRA) 12.47
Heat 6: Laura Enever (AUS) 13.73 def. Bianca Buitendag (ZAF) 10.33
Vans US Open of Surfing Women's Round 3 Match-Ups:
Heat 1: Sally Fitzgibbons (AUS), Tatiana Weston-Webb (HAW), Lakey Peterson (USA)
Heat 2: Courtney Conlogue (USA), Laura Enever (AUS), Sage Erickson (USA)
Heat 3: Tyler Wright (AUS), Malia Manuel (HAW), Keely Andrew (AUS)
Heat 4: Carissa Moore (HAW), Stephanie Gilmore (AUS), Coco Ho (HAW)
Vans US Open of Surfing Men's QS10,000 Round 2 Results:
Heat 6: Jadson Andre (BRA) 13.96, Charly Martin (GLP) 13.33, Cooper Chapman (AUS) 13.03, Nathan Florence (HAW) 9.77
Heat 7: Stuart Kennedy (AUS) 14.00, Ryan Callinan (AUS) 12.00, Noe Mar McGonagle (CRI) 11.53, Medi Veminardi (REU) 11.17
Heat 8: Sebastian Zietz (HAW) 15.30, Mitch Crews (AUS) 13.83, Victor Bernardo (BRA) 12.67, Caio Ibelli (BRA) 12.03
Heat 9: Kiron Jabour (HAW) 16.43, Tom Whitaker (AUS) 13.87, Miguel Pupo (BRA) 13.77, Ramzi Boukhaim (MAR) 12.27
Heat 10: Davey Cathels (AUS) 13.84, Nathan Yeomans (USA) 10.33, Thiago Camarao (BRA) 8.93, Dusty Payne (HAW) 8.60
Heat 11: Granger Larsen (HAW) 11.83, Nomme Mignot (FRA) 11.50, Connor O'Leary (AUS) 11.13, Leonardo Fiorvanti (ITA) 7.10
Heat 12: Adriano de Souza (BRA) 14.34, Mihimana Braye (PYF) 12.40, David do Carmo (BRA) 10.53, Mateia Hiquily (PYF) 6.23
Heat 13: Griffin Colapinto (USA) 14.17, Jordy Smith (ZAF) 13.94, Hizunome Bettero (BRA) 10.43, Wade Carmichael (AUS) 10.30
Heat 14: Yago Dora (BRA) 12.83, Joan Duru (FRA) 10.83, Alex Ribeiro (BRA) 9.94, Jack Robinson (AUS) 7.90
Heat 15: Conner Coffin (USA) 13.43, Bino Lopes (BRA) 13.06, Vasco Ribeiro (PRT) 11.57, Ian Gouveia (BRA) 11.40
Heat 16: Kanoa Igarashi (USA) 17.23, Billy Stairmand (NZL) 10.30, Marc Lacomare (FRA) 9.74, Robson Santos (BRA) 9.40
Heat 17: Torrey Meister (HAW) 14.07, Santiago Muniz (ARG) 13.40, Aritz Aranburu (ESP) 12.03, Willan Cardoso (BRA) 11.37
Heat 18: Evan Geiselman (USA) 12.24, Jeremy Flores (FRA) 11.97, Michael Dunphy (USA) 11.70, Ian Walsh (HAW) 7.87
Vans US Open of Surfing Men's QS10,000 Remaining Round 2 Match-ups:
Heat 19: Matt Banting (AUS), Dion Atkinson (USA), Timothee Bisso (GLP), Brett Simpson (USA)
Heat 20: Filipe Toledo (BRA), Tomas Hermes (BRA), Tanner Hendrickson (HAW), Kaito Kino (HAW)
Heat 21: Nat Young (USA), Tanner Gudauskas (USA), Pedro Henrique (PRT), Michael February (ZAF)
Heat 22: Jack Freestone (AUS), Beyrick De Vries (ZAF), Maxime Huscenot (FRA), Lucas Silveira (BRA)
Heat 23: Kai Otton (AUS), Deivid Silva (BRA), Yadin Nicol (AUS), Carlos Munoz (CRI)
Heat 24: Michel Bourez (PYF), Michael Rodrigues (BRA), Nathan Hedge (AUS), Joshua Moniz (HAW)
Upcoming Vans US Open of Surfing Men's QS10000 Round 3 Match-ups:
Heat 1: Ethan Ewing (AUS), Keanu Asing (HAW), Patrick Gudauskas (USA), Josh Kerr (AUS)
Heat 2: Gonzalo Zubizarreta (ESP), Hiroto Ohhara (JPN), Mitch Coleborn (AUS), Heitor Alves (BRA)
Heat 3: Kolohe Andino (USA), Jadson Andre (BRA), Ryan Callinan (AUS), Mitch Crews (AUS)
Heat 4: Jesse Mendes (BRA), Stuart Kennedy (AUS), Charly Martin (GLP), Jesse Mendes (BRA)
Heat 5: Kiron Jabour (HAW), Davey Cathels (AUS), Nomme Mignot (FRA), Mihimana Braye (PYF)
Heat 6: Adriano de Souza (BRA), Granger Larsen (HAW), Nathan Yeomans (USA), Tom Whitaker (AUS)