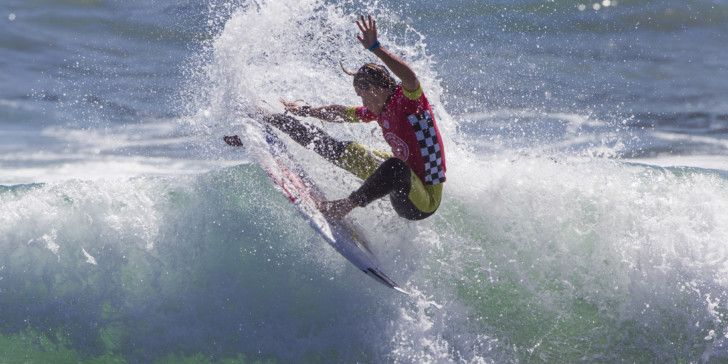 MEN'S QS10,000 CALLED ON FOR 7:30 AM START  IN HUNTINGTON BEACH, CALIFORNIA
SURF 2-4′ AND FAIR-GOOD
THERE WERE 5 ROUNDS OF TRIALS PRIOR TO TODAY
– WOMEN'S WCT ROUND 1 CALLED ON FOR 11:30 AM START

Courtney Conlogue (USA), current World No. 1 on the Jeep Leaderboard, will face Sage Erickson (USA) and Trials winner Meah Collins (USA) in Round 1 Heat 3 of the Vans US Open of Surfing.
Image: WSL / Rowland
| | |
| --- | --- |
| Location:    | Huntington Beach Pier, Huntington Beach, California |
| Event Window: | July 25-31, 2016 |
| Today's Call: | Men's QS Rounds 1 + 2, Women's WCT Round 1 Called ON |
| | |
| --- | --- |
| Conditions:   | 2 – 5 foot (0.5 – 1.5 metre) |
HUNTINGTON BEACH, California/USA (Monday, July 25, 2016) –  The Vans US Open of Surfing, Stop No. 6 of 10 on the 2016 Samsung Galaxy WSL Championship Tour (CT), will see the world's best female surfers take center stage in Huntington Beach as they compete in the opening round of competition. The Women's Championship Tour event will be complemented by a Men's Qualifying Series (QS) 10,000 event. Round 1 of the women's event has been called ON for an 11:30 a.m. start in two-to-five foot (0.5 – 1.5 metre) waves. Up first this morning will be Round 1 of the Men's QS10,000 called on at 7:30 a.m..
"The men's QS Round 1 will run at 7:30 a.m. this morning and then we will run the women's Round 1 at 11:30 a.m.," said WSL Deputy Commissioner Jessi Miley-Dyer. "It is a beautiful day in Huntington Beach and the waves are looking fun. We are excited to see the opening rounds kick off. Best of luck to all the competitors."
The Women's Samsung Galaxy Championship Tour event will see Courtney Conlogue (USA), hometown hero and current World No. 1 on the Jeep Leaderboard, face compatriot Sage Erickson (USA) and Meah Collins (USA), who gained entry as a wildcard after winning the Trials event.
Three-time WSL Champion Carissa Moore (HAW) will battle Laura Enever (AUS) andLakey Peterson (USA). The Vans US Open of Surfing will be Peterson's first event of the 2016 CT as she suffered a sidelining injury before the start of the season.
Johanne Defay (FRA), defending Vans US Open of Surfing Champion, will surf against Bianca Buitendag (ZAF) and Coco Ho (HAW) in Round 1 Heat 2.
Up first will be Sally Fitzgibbons (AUS), Malia Manuel (HAW) and Keely Andrew (AUS) in the opening heat of Round 1.
The event is also being carried by the WSL's LIVE broadcast partners Fox Sports Australia, CBS Sports in the United States, ESPN Brasil, Globosat, Edgesport, Sky NZ, Sport TV, Canal + Deportes, Channel Nine, MCS, Starhub, and Oceanic Time Warner Cable 250 & 1250 in Hawaii.
For more information, check out WorldSurfLeague.com
VANS US OPEN OF SURFING ROUND 1 MATCH-UPS:
Heat 1: Sally Fitzgibbons (AUS), Malia Manuel (HAW), Keely Andrew (AUS)
Heat 2: Johanne Defay (FRA), Bianca Buitendag (ZAF), Coco Ho (HAW)
Heat 3: Courtney Conlogue (USA), Sage Erickson (USA), Meah Collins (USA)
Heat 4: Tyler Wright (AUS), Nikki Van Dijk (AUS), Chelsea Tuach (BRB)
Heat 5: Carissa Moore (HAW), Laura Enever (AUS), Lakey Peterson (USA)
Heat 6: Tatiana Weston-Webb (HAW), Stephanie Gilmore (AUS), Alessa Quizon (HAW)