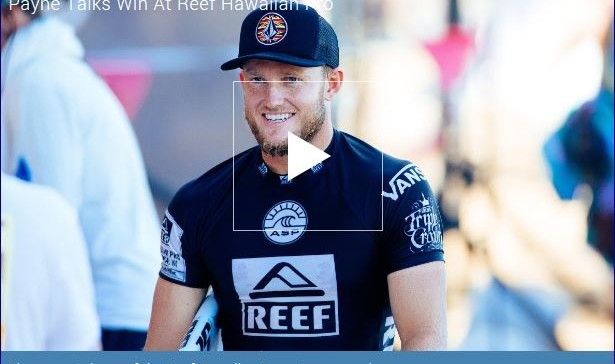 While three top surfers battle for the 2014 World Title, three others are contenders to earn another Hawaiian honor, the Vans Triple Crown of Surfing. Dusty Payne (HAW), Michel Bourez (PYF) and Julian Wilson (AUS) are all within reach of the The Triple Crown title, which goes to the surfer with the most points accrued from the three, back-to-back events at the end of the Billabong Pipe Masters. With just a few more rounds left, see how the contenders are faring.
Dusty Payne

Payne's victory at the Triple Crown's first event, the Reef Hawaiian Pro, followed by making the Final in the second, the Vans World Cup of Surfing, has kept him in the lead. Payne's success — plus a last-minute withdrawal by C.J. Hobgood (USA) — gave the Triple Crown star a spot in the final event, the Pipe Masters.
Payne Talks Win At Reef Hawaiian Pro
The recent winner of the Reef Hawaiian Pro gets personal.
In that event's first round, both Payne and Kelly Slater (USA) fell victim to Australian Adam Melling's buzzer-beating score. But Payne managed to escape elimination in Round 2. He'll now face World Title hopeful Gabriel Medina (BRA) in Round 3.
Regardless of whether or not he wins the Triple Crown, Payne has a lot to celebrate. Following his result at the Vans World Cup, he earned a spot on the 2015 WCT roster, after falling off Tour at the end of 2013.
The Tahitian fought an intense battle to win the Vans World Cup of Surfing, the second event of the Vans Triple Crown of Surfing.
Bourez only made it as far as the Quarterfinals in the Reef Hawaiian Pro, but his win at Sunset put him back in the race for what would be his first Triple Crown win. In spite of a few heavy wipeouts and two broken boards, Bourez also made it through Round 2 of the Pipe Masters. He'll take on Matt Wilkinson (AUS) when competition resumes.
Much like Slater in the World Title scenarios, Wilson still has an outside chance at a Triple Crown title. He finished runner-up to Payne at the Reef Hawaiian Pro and made it to the Quarterfinals in the Vans World Cup of Surfing. But with competition like Payne and Bourez, he has his work cut out for him at Pipe.
As of Pipe's Round 2, here's how it could go down:
If Payne loses in Round 3, Michel Bourez will need to finish third and Julian Wilson will need to win the Pipe Masters.
If Payne wins in Round 3, Wilson will be out of the race and Bourez will need to win the Pipe Masters.
If Bourez and Wilson lose in Round 3, Payne will clinch the Triple Crown regardless of his result.
If Payne reaches the Semifinals, he'll win the Triple Crown regardless of where Bourez and Wilson place.
Watch Finals Day at ASP HERE