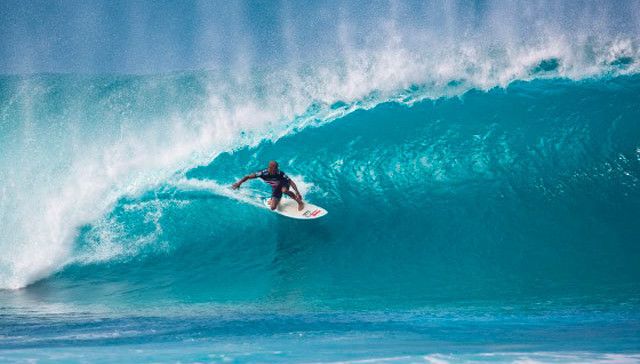 Pic of PipeMaster: Kelly Slater © ASP/Kristin

Vans Final Jewel at Pipe and Honolua Bay decides ASP WCT Champions 
Surf News Network, 24 October, 2014 – The Vans Triple Crown of Surfing – a prestigious three-event showcase series that features the world's top ranked professionals on the North Shore of Oahu, Hawaii – returns for its 32nd season this winter. World-class competition kicks off November 12 through December 20, and will conclude with the illustrious crowning of the 2014 ASP Men's World Champion at Pipeline; inviting fans everywhere to watch all the action on the North Shore live .
As the final stop of both the Samsung Galaxy ASP World Championship Tour (WCT) and the ASP Qualification Series (QS), the Vans Triple Crown of Surfing will also present an overall Series champion – a coveted title awarded to the top-performing surfer of the three-event series that includes a $50,000 bonus from Vans. Twenty-eight (28) of ASP's Top 34 have entered all three events, including Kelly Slater (USA), John John Florence (HAW), Jordy Smith (ZAF), and Michel Bourez (PYF).
In conjunction with the Vans Triple Crown of Surfing, Hawaii also hosts two ASP women's events during the six-week competition period: The Target Maui Pro at Honolua Bay, Maui, which will crown the ASP Women's World Champion for 2014, and the Women's Pipe Invitational at Banzai Pipeline, an ASP specialty event that will feature eight select women.
What makes this series the jewel of professional surfing? Giant winter waves fuel this traditional "pilgrimage" to the sport's birthplace, keeping Hawaii at the heart of the surf world. These incredible waves are the ultimate stage for the surfing's key crowning moments, for record performances, international media attention, and the creation of lifetime memories for athletes and fans alike.
The $1.4 Million Lineup:
The REEF Hawaiian Pro, Haleiwa Ali'i Beach Park, November 12-23. An ASP QS men's Prime event. $250,000 prize purse. Defending champion: Michel Bourez (TAH).
The VANS World Cup of Surfing, Sunset Beach, November 24-December 6. An ASP men's Prime event. $250,000 prize purse. Defending champion: Ezekiel Lau (HAW).
The BILLABONG Pipe Masters, Banzai Pipeline, December 8-20. As the final event on the ASP WCT for the men's 2014 season, it will determine the 2014 Men's World Champion. $500,000 prize purse. Defending champion: Kelly Slater (USA). There will also be a one-day $100,000 Local Trials event for the Billabong Pipe Masters to determine two wildcards into the main event.
The TARGET Maui Pro, Honolua Bay, Maui. November 22-December 6. The final World Championship Tour event for the women's 2014 season will crown this year's ASP World Champion. $250,000 prize purse. This event returns to the women's schedule after a four-year hiatus.
The Women's PIPE Invitational, Banzai Pipeline, December 8-20. A $10,000 ASP Women's Specialty event.