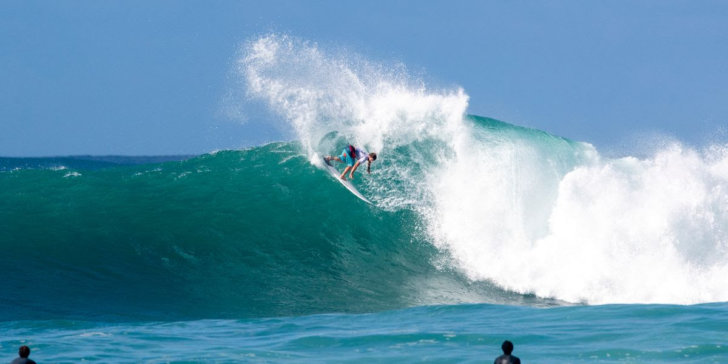 Benji Brand Earns Perfect 10 at Sunset Beach
Patrick Gudauskas Finds Success by Land and Sea
 Benji Brand (HAW) outperforms the field with the only perfect 10-point ride of the 2019 Vans Pro.
Credit: © WSL / Heff
Haleiwa, Oahu/HAWAII — (Monday, October 28, 2019) – Opening day of the Vans Pro presented by HIC saw the first solid NW swell pump through the Sunset Beach lineup, ushering in Hawaii's professional surf season and offering local qualification into the Vans Triple Crown of Surfing. The World Surf League (WSL) Men's Qualifying Series (QS) 3,000 event saw perfection in the form of surf and scores, with Benji Brand (HAW) earning a perfect 10 from judges in Round 2 at the end of the day.
Brand was in-form as the waves peaked in the 10-12ft. range with heights reaching 15+ft. during his Round 2 heat. His backhand performance was in a league of its own; midway through the 25-minute heat Brand opened up with three explosive maneuvers on a clean wave face to earn the best score achievable in professional surfing.
"I was almost not going to go on that wave," said Brand. "It had a good little double-up chip to it, I kind of rolled in on the whitewater and it just let me into a little sick bowl. The wave had a good speed to it, just did three snaps and then finished on my feet, kind of air dropped at the end and it felt pretty good. Psyched, they somehow gave me a 10… sometimes it looks better than you think."
Brand recovers for another hit off the lip. 
Credit: © WSL / Heff
Brand, who grew up between South Africa and Hawaii, has spent the year traveling to some of the heaviest breaks in the world including Teahupo'o in Tahiti and Skeleton Bay in Nimibia. He also won the Rip Curl Cup Padang Padang in Bali this past July and has a WSL Hawaii/Tahiti Nui Regional title under his belt.
Former Sunset champions also prevailed in the pristine conditions, including defending event winner Kiron Jabour (HAW) and 2010 Vans Pro winner Billy Kemper (HAW), who matched up in Round 2. While Jabour had the highest single wave score of the heat – a 7.40 out of a possible 10.00 – Kemper earned the win with a combined two-wave total of 12.60 (out of a possible 20). Proven Sunset winners dominated the competition today and Kemper was no exception.
 Billy Kemper puts it on rail with undeniable confidence. 
Credit: © WSL / Chlala
"Today we woke up to the first real NW swell of the season," said Kemper. "We've had a few tastes, but it's all of 10-12ft. Hawaiian WNW right down the middle at Sunset Beach, you can't ask for a better direction or swell size. If you like surfing Sunset, this is what you're looking for."
Sunset Beach marks Kemper's first professional victory and his last win (2018 at the Sunset Open); the wave holds special meaning to him professionally and personally.
"To be able to open up the winter with this event, there's so much history behind it," Kemper said. "From being my first pro win to caddying for Sunny (Garcia) for his last pro win, there's so much emotions that run through my blood when I paddle out here at Sunset Beach. I love kicking off the winter at this event. I feel like it's the local's event but then you have the CT (Championship Tour) event surfers competing out here too so it's cool. To get conditions like this I feel like this event always gets blessed with huge, good, powerful waves and that's the history behind the North Shore. I'm just very stoked to be healthy and in one piece, competing with my friends and family here."
Known as the most important event of the year for Hawaii athletes, the Vans Pro is in its 36th year of qualifying locals into the Vans Triple Crown and former Vans World Cup (event No. 2 of the Vans Triple Crown) winner and Big Wave World Champion Makuakai Rothman (HAW) recognizes the significance.
 Composed and calculated, Makua Rothman (HAW) earned his spot into Round 2.
Credit: © WSL / Chlala
"This is the most important event of the year for any local Hawaii regional qualifying surfer," Rothman said. "When I was young there was no regional contest, there was no regional tour for us to qualify, this was the qualifier. This was everything to everybody around here that wasn't on the world tour traveling all the time. This is probably the most pivotal event of the year for the Hawaii and Tahitian surfers. This is do or die for a lot of people who are outside the bubble and a lot of the guys who are in that are trying to keep their spot."
Despite the churning current and multiple peaks on offer today, Rothman had excellent wave selection and displayed confident surfing with strong finishes. He advanced behind Shane Sykes (ZAF) with an 11.23 combined heat total and is looking forward to another excellent day of competition in his backyard at Sunset Beach once the event resumes.
Former event winners Ian Walsh (HAW), Evan Valiere (HAW) and Danny Fuller (HAW) also advanced today, demonstrating that wave knowledge and experience is key when Sunset turns on. Walsh made it through two rounds and showed expertise in his early morning heat as he flowed through the lineup.
 Two-time event winner, Ian Walsh moved through two rounds today thanks to big-wave proficiency.
Credit: © WSL / Chlala
"This event always opens up winter for us on the North Shore so it's just fun to get the jitters and the butterflies kind of moving, especially when we have this type of swell on hand," Walsh said. "The waves are really consistent, there's a lot of opportunity for surfers and the size is there. As far as Sunset Beach goes, this is what we come for as surfers. It's a lot more entertaining for us to surf and for the people that watch the event when there is size. There's a lot more energy in the event."
Nineteen-year-old Finn McGill earned the second highest score of the day, a near-perfect 9.00 for a set wave from the peak and three big power turns in Round 2 Heat 3. However, Patrick Gudauskas (USA) advanced past him with two good scores – a 6.43 and 7.33 – for the win.
Gudauskas is excited to return to Hawaii for the season and spent this past weekend sharing positive vibes at the Stoke-O-Rama event in Makaha, a community-based free youth program that supports local water safety programs. For eight weeks, from the start of the Vans Pro on October 28 to the conclusion of the Vans Triple Crown of Surfing on December 20, Gudauskas and his brothers take part in community activations around Oahu, including the world premiere of 'Breaking Boundaries' at Turtle Bay Resort's SURFER the Bar on Friday, November 1.
Patrick Gudauskas takes center stage on a set wave at Sunset.
Credit: © WSL / Heff
A screening of the board drive project in Trinidad & Tobago, the movie will highlight Chris Dennis of Waves for Hope and provide a real take on how surf culture exists is small corners of the globe. A driving force behind an improved surf culture in Trinidad & Tobago, Dennis and the Positive Vibe Warriors team up to demonstrate the positive effects the board drives are having around the world.
Dennis not only joins the Gudauskas' on-screen but also in the lineup. Today, he enjoyed his first taste of Sunset as board caddy for Patrick, which he described was an honor.
"It's a learning experience but it's also a very rewarding thing when you are placed in a position where you can then take your experiences and take them back to the communities and create value," said Dennis.
The Vans Pro will be broadcast LIVE on 
WorldSurfLeague.com
, 
VansTripleCrownOfSurfing.com
, Facebook.com/wsllive, the free WSL app and on Spectrum Surf channels 20 and 1020HD across the state of Hawaii. The competition will run on the three biggest and best days of surf at Sunset Beach and crown an event winner along with the WSL Hawaii/Tahiti Nui Regional Winner. The Vans Pro is the official local qualifying event into the Vans Triple Crown of Surfing, which takes place from November 13 – December 20, 2019, on the North Shore of Oahu.
The WSL encourages fans and visitors to enjoy the action from the comfort of home via WSL's leading-edge global sports broadcast – which will include live surfing and scoring, colorful commentary, athlete insights and story-telling, community updates, swell forecasting, the awards presentation and more – to minimize impact to the Sunset Beach coastline.
About Vans
Vans®, a VF Corporation (NYSE: VFC) brand, is the original action sports footwear, apparel and accessories brand. Vans® authentic collections are sold in 84 countries through a network of subsidiaries, distributors and international offices. Vans® has over 2,000 retail locations globally including owned, concession and partnership doors. The Vans® brand promotes creative self-expression in youth culture across action sports, art, music and street culture and delivers progressive platforms such as the Vans Park Series, Vans Triple Crown of Surfing®, Vans Pool Party, Vans Custom Culture, and Vans' cultural hub and international music venue, House of Vans.
Vans, "Off The Wall" Since '66