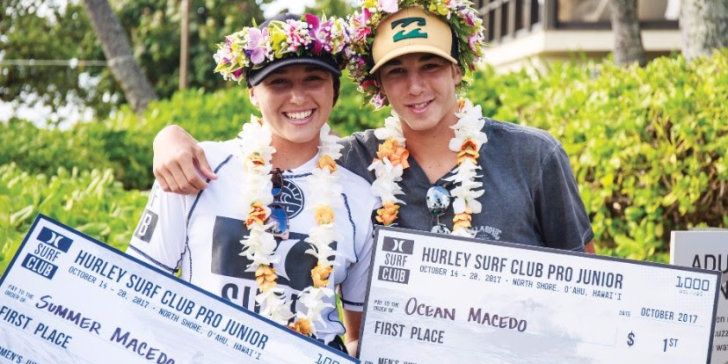 – BARRON MAMIYA, ZOE MCDOUGALL TAKE REGIONAL JUNIOR TITLES
– SAVANNA STONE CROWNED WOMEN'S REGIONAL QS CHAMPION 
Summer and Ocean Macedo of Maui take out the Hurley Surf Club Pro Junior divisions.
Image: WSL/Freesurf/Heff
Rating:
  Women's QS1,000 + Men's and Women's Pro Junior
Location:
  Turtle Bay Resort, North Shore, Oahu
Event Window:
  

October 14 – 20

HALEIWA, Oahu/Hawaii – (Monday, October 16, 2017) — Multiple titles and qualification scenarios were on the line today at the Turtle Bay Resort Pro and Hurley Surf Club Pro Junior men's and women's events. These events wrapped up the World Surf League Women's and Junior regional circuits for Hawaii/Tahiti Nui, crowning champions in each.
Maui's Summer Macedo and brother Ocean Macedo took the junior wins in clutch Final scenarios while Tahiti's Vahine Fierro put a stamp of success on the Women's QS. Runner-up athletes Barron Mamiya (HAW) and Zoe McDougall (HAW) also found victory as the Regional Junior Champions alongside Savanna Stone (HAW), who takes the Regional Women's QS title home to Kauai.
The day was bursting with high-intensity heats as the Women's QS division chipped away to reveal four finalists, including Fierro, Tiare Thompson (USA), Alyssa Spencer (USA) and Brianna Cope (HAW). In the final heat of the day, Spencer had a commanding start with a mid-range score of 5.60, but lost the lead after she suffered an interference on Thompson. Fierro, known for her fearless approach and stylish backside surfing, continued to collect scores and ultimately found the best wave of the heat, a 7.50 that she snuck under Spencer's priority.

Fierro, a dangerous competitor on her backhand, took down a field of international competitors for the Women's QS1,000 win. Image: WSL/Freesurf/Heff
"It feels really great to win today because I've been making Finals but not winning, so I'm really happy to take the win this time," said Fierro. The Tahitian competed last year at the Turtle Bay Resort Pro Junior and missed out in the Semifinals and built momentum after nabbing a runner up finish at this year's Papara Pro Vahine Open Tahiti and Wahine Pipe Pro. She battles with the best of Hawaii's athletes and was elated to take today's win.
"It's a really good feeling when you beat somebody that you really look up to, especially these girls from Hawaii, I really look up to them. They're so good and I'm always admiring their surfing so it feels good to win against them," said Fierro.

L to R: Vahine Fierro (PYF), Tiare Thompson (USA), Alyssa Spencer (USA) and Brianna Cope (HAW). Image: WSL/Freesurf/Heff
The audience held their breath during the dying minutes of the Hurley Surf Club Women's Pro Junior Final, which saw Macedo, McDougall, Leila Riccobuano and Keala Tomoda-Bannert battle through a flurry of wind-swept waves. McDougall had the lead for the majority of the 30-minute heat and scored a 7.00 and 5.50, but Macedo fought back and with five minutes left on the clock, scored an 8.17 and then backed it up with a 5.07 in the final seconds.
The win cemented Macedo's place in the upcoming World Junior Championship in Australia, alongside McDougall, the newly crowned 2017 WSL Hawaii/Tahiti Nui Regional Junior Champ.

Although an event win evaded McDougall today, the North Shore junior has an even better title to celebrate – Regional Junior Champion. Image: WSL/Freesurf/Heff
"Qualifying for Worlds has been one of my biggest goals this year because I've gotten third or fourth in the rankings the past few years and so I was just like, 'I need to do it this year,'" said Macedo. "I feel like when I set goals for myself and I complete them, it just helps me out in the long run." Macedo has been working with Quiksilver coach and former CT Top 10 competitor Freddy Patacchia this season.
"This event actually put a lot of pressure on me and talking to my coach, Freddy P., I told him, 'I feel so pressured because this is the one event I really need to do good, I really need to qualify,'" continued Summer. "He told me to use the pressure and rise under it, so that's what I really focused on doing."

Summer Macedo kept calm and advanced past a stacked Final heat of juniors. Image: WSL/Freesurf/Heff
Her brother, Ocean, set the precedent for a Macedo sweep after he won the first division of the afternoon, the Hurley Surf Club Men's Pro Junior, against a loaded heat of Hawaii standouts. The Maui surfer took a commanding lead early when he dropped a 6.33 after closing out the most critical section of the wave with a vertical snap and a strong finish on the inside. Macedo went on to combo competitors when he scored an excellent 8.33 for multiple powerful maneuvers on a set wave, although Mamiya wasn't close behind. The North Shore junior secured a 6.93 and was on a determined hunt for waves, but fell short after failing to stamp out the necessary backup score for the win.

Mamiya puts on a display of progressive surfing for the Turtle Bay Resort crowd. Image: WSL/Freesurf/Heff
Mamiya still ended the day on top however, as he was crowned the 2017 Regional Junior Champion and awarded a travel scholarship along with McDougall. Mamiya is set to compete in the World Junior Championships next year and Macedo's win catapulted him to a qualifying position as well. Finn McGill, who did not compete at the Hurley Surf Club Pro Junior due to an ankle injury, also secured his place at Worlds along with Maui's Elijah Hanneman.
Tomorrow the Turtle Bay Resort Pro will complete with the Men's and Women's Longboard Pro division to cap off the series of surfing events. Tune into WorldSurfLeague.com for LIVE scoring or check back to the event pages for a recap of the action.
RESULTS
Surfers shown in order of 1st through 4th, all athletes from Hawaii unless otherwise noted
TURTLE BAY RESORT PRO WOMEN'S QS1,000
1st – Vahine Fierro, 1000 points
2nd – Tiare Thompson, 750 points
3rd – Alyssa Spencer, 560 points
4th – Brianna Cope, 525 points
HURLEY SURF CLUB PRO WOMEN'S JUNIOR
1st – Summer Macedo, 1000 points
2nd – Zoe McDougall, 750 points
3rd – Leila Riccobuano, 560 points
4th – Keala Tomoda-Bannert, 525 points
HURLEY SURF CLUB PRO MEN'S JUNIOR
1st – Ocean Macedo, 1000 points
2nd – Barron Mamiya, 750 points
3rd – Logan Bediamol, 560 points
4th – Robert Grilho, 525 points
TURTLE BAY RESORT PRO WOMEN'S QS1,000 RESULTS
Semifinals (1st and 2nd advance 3rd = 5th place, 4th = 7th place)
SF1: Alyssa Spencer (USA), Tiare Thompson (USA), Gabriela Bryan, Summer Macedo
SF2: Brianna Cope, Vahine Fierro (PYF), Samantha Sibley (USA), Mahina Maeda
Quarterfinals (1st and 2nd advance, 3rd = 9th place, 4th = 13th place)
QF1: Alyssa Spencer (USA), Tiare Thompson (USA), Zoe McDougall, Tiana-Breeze De Mooij (NZL)
QF2: Summer Macedo, Gabriela Bryan, Meah Collins (USA), Molly Kirk (USA)
QF3: Brianna Cope, Mahina Maeda, Savanna Stone, Keala Tomoda-Bannert
QF4: Vahine Fierro (PYF), Samantha Sibley (USA), Leila Riccobuano, Brisa Hennessy
Round of 32 (1st and 2nd advance, 3rd = 17th place, 4th = 25th place)
H1: Zoe McDougall, Molly Kirk (USA), Brooke Daigneault (USA), Kailey Bogart
H2: Alyssa Spencer (USA), Gabriela Bryan, Kahanu Delovio, Havanna Cabrero (PRI)
H3: Meah Collins (USA), Tiana-Breeze De Mooij (NZL), Abigail Dixon (USA)
H4: Summer Macedo, Tiare Thompson (USA), Alexxa Elseewi (USA), Izumi Baldwin
H5: Keala Tomoda-Bannert, Brisa Hennessy, Kelta O'Rourke, Mackie Albertson (USA)
H6: Brianna Cope, Samantha Sibley (USA), Luana Coelho Silva, Alexa Muss (USA
H7: Vahine Fierro (PYF), Savanna Stone, Keala Kennelly, Ariana Shewry (NZL)
H8: Leila Riccobuano, Mahina Maeda, Moana Jones, Malia Ward (USA)