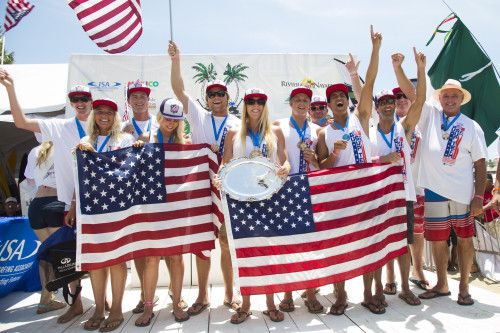 Team USA © ISA
Team USA wins first World SUP and Paddle Championships in Sayulita, Mexico
Surf News Network, 24 May, 2015 – Sayulita, Mexico – For the first time in history, the International Surfing Association (ISA) held the World StandUp Paddle and Paddleboard Championship in Sayulita, Mexico.
The tournament took place on the beautiful beach of Sayulita in Riviera Nayarit from May 10-17. More than 300 of the world's greatest watermen from 27 countries competed for the coveted Club Waikiki-Peru ISA World Team Champion Trophy, which was won by Team USA's dedication, precision and a total score of 12,123.
According to ISA, Team USA Gold Medalist Jack Bark exclaimed, "It's an honor to be here for the United States. To be able to help them out and win a gold was awesome!"
The distinguished team from Australia had their work cut out for them during the 2015 competition to keep up their three consecutive year streak of winning. This year, Team Australia came in second place followed by Hawaii in third place, New Zealand in fourth place and Brazil in fifth place.
Riviera Nayarit offers nearly 200 miles of pristine coastline with many incredible locations for StandUp Paddle (SUP) Racing and Surfing. Sayulita was the perfect location to host the ISA WSUPPC as it is widely considered the epicenter of Mexico's SUP community.