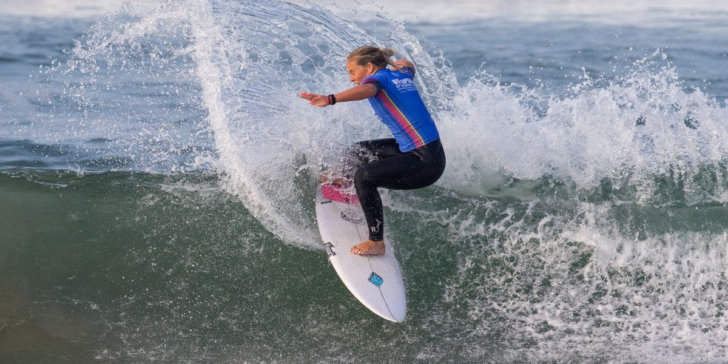 Gabriela Bryan Stuns the Event, Caitlin Simmers Continues Impeccable 2021 Season
World-Class Surfers Coco Ho and Courtney Conlogue Lock In Semifinal Showing
Californians Continue to Claim Big Wins on Home Turf, Kanoa Igarashi Inches Toward Third US Open Title Alongside Conlogue
Callum Robson Sets Himself Apart Amid International Contingent Success
Pictured: Oceanside, California, competitor Caitlin Simmers (USA) continues an impeccable 2021 season and is into the Semifinals. Credit: © WSL/ Kenny Morris
HUNTINGTON BEACH, Calif./USA (Saturday, September 25, 2021) – The US Open of Surfing Huntington Beach presented by Shiseido, the opening stop on the 2021 World Surf League (WSL) Challenger Series (CS), witnessed a showcase of world-class surfing from some of the world's best and rising stars of the sport in three-to-four foot, inconsistent surf pulsing into the lineup. Women's Quarterfinal and men's Round 4 duel's unraveled into a spectacle of performances when opportunities presented themselves, and now an all-important finals day is locked in.
Pictured Front page: Gabriela Bryan (HAW) turned in the upset of the event so far by eliminating Team USA Olympian Caroline Marks in their Quarterfinal battle. Credit: © WSL/ Morris
An impeccable performance from 19-year-old Gabriela Bryan (HAW) shocked the event by eliminating Team USA Olympian, Championship Tour (CT) No. 6, Caroline Marks to start the women's Quarterfinal duels. The Kauai, Hawaii, competitor had total control of the heat after getting her start at the 24-minute mark and went on to post a stunning 14.26 (out of a possible 20) heat total.This notes Bryan's best result in a major WSL event with a now Semifinal appearance.
"I feel in my previous heats I've had a little bit of luck on my side just getting by so it felt really good to have a solid heat and make it to finals day," expressed Bryan. "I definitely knew I needed to bring my A-game out for that heat against Caroline (Marks). My coach Rainos and I have been watching the waves trying to figure out where the best ones were coming in and knew I had to perform my best on them."
A chance for an all-Hawaii Final is up for grabs after former CT competitor Coco Ho also claimed a big win over an in-form Sawyer Lindblad (USA).
Fellow emerging talent Caitlin Simmers (USA) looks unstoppable in a jersey once more and added Sara Wakita (JPN) to her list of event threat victories and moves into her fourth-straight WSL Semifinal appearance in 2021. But, it was hometown hero Courtney Conlogue (USA) who shut the door on the next generation talent Bettylou Sakura Johnson (HAW) with a phenomenal display of power surfing.

The two-time US Open victor's backhand attack laid waste to the lefthanders coming into the lineup as the 29-year-old looks for her third US Open win spanning thirteen years.

"I was planning on just catching sets but then she got those quick fives and I thought I just needed to get into a rhythm," explained Conlogue. "Just to build house and then drop the hammer out the back on the set waves and it was a good heat. Bettylou (Sakura Johnson) has been surfing really well and I knew it was going to be a great matchup."

Big Clashes, Bigger Performances from Men's Event Standouts
Pictured: Australian talent Callum Robson had his big breakout and made a big statement in Round 4. Credit: WSL/ Morris
Callum Robson (AUS) put the event on notice that he's here for a big result after securing a Quarterfinal spot over Tahiti's talent Mihimana Braye. Robson has crept through this event under the radar with advancing positions in each of his heats but wasn't leaving anything to chance against the Tahitian powerhouse – dropping an excellent 8.00 (out of a possible 10) with a jaw-dropping air-reverse on set wave, closeout section and a 15.00 heat total.
"It was pretty emotional just after getting those two good scores and not having put a good heat together yet, and I knew he was going to be hunting until the end," said Robson. "We did that air on the inside the crowd went nuts and I knew it was going to be right there so I'm stoked to get through. This is the first time I've competed on the mainland (United States) and it's pretty sick."
Fellow Australian, 2019 US Open runner-up, Liam O'Brien joins Robson into the Quarters after a brilliant showing over Peru's Alonso Correa.
An all-star clash between CT veteran Kolohe Andino (USA) and The Ultimate Surfer winner, former CT competitor, Ezekiel Lau (HAW) unfolded with both getting their opportunities to showcase their world-class prowess. After a back-and-forth battle, Andino's decision to split a wave on his priority benefited the California competitor as he earned a heat-high 7.17 and ultimately a massive win.

"When I saw that wave (in that priority situation) I just focused on my game and went left to try and do what he did when he got his six which was one big slam out the back and finish it off," explained Andino. I heard he got an air and I thought oh, no, he might get a bigger score and end the heat with priority but then they gave me the seven so I'm stoked. I love to compete here at the US Open, sleep in my own bed, and I wouldn't rather be doing anything else."
Pictured: Nolan Rapoza (USA) is on a dream run and finds himself into his biggest WSL result to date. Credit: WSL/ Morris
Fellow Californian Nolan Rapoza (USA) continues to make massive statements in this event with another big heat win and his best result to date at a major WSL event – eliminating former CT competitor Alex Ribeiro (BRA).
"It's honestly so emotional for me at this point right now," expressed Rapoza. "This time last year I had surgery – I had hip surgery then knee surgery six weeks later. It doesn't really feel real yet and I want to keep it going, but it's a dream and I feel like I deserve be here."
Pictured: Hometown hero Kanoa Igarashi (JPN) continues surging in search of a third US Open title. Credit: WSL/ Morris
Kanoa Igarashi (JPN) returned to the Huntington Beach Pier arena facing another San Clemente threat Kade Matson in what became a blow-for-blow heat. Matson didn't shy away from the opportunity to eliminate rivaling local favorite Igarashi, but the Huntington Beach born-and-raised competitor showed his experience and world-class caliber to steal the heat win with a 7.50 and 6.10 – finding 10 waves to try and attack in his victory.
"I just love surfing Huntington and couldn't control myself when it's like this," laughed Igarashi. "I got excited and I think the little kid in me came out. There's for sure a rivalry between Huntington Beach and San Clemente, and it's a friendly one but you want to win that much more. In the end it's all love but Kade (Matson) was surfing really well so that was a good win."
A 7:30am PDT call will determine a likely 8:05am PDT start for men's Quarterfinals followed by women's Semifinals as two event victors will be crowned by day's end, Sunday, September 26.

Global partners for the US Open of Surfing Huntington Beach pres. by Shiseido include Michelob Ultra, Jeep, Hydro Flask, Expedia, Red Bull, Oakley Sunglasses, and BFGoodrich join with event partners Frontier, Flying Ember, US Army, Apple Test, Fu Wax, Super73, Regional, DraftKings, and Waterloo along with local sponsor Visit Huntington Beach representing for Surf City USA.

Watch LIVE
Watch the US Open of Surfing presented by Shiseido LIVE September 20 – 26 on WorldSurfLeague.com and YouTube, as well as the free WSL app.

COVID-19 Safety Protocol Update
The health and safety of athletes, staff, and the local community are of the utmost importance and the WSL has been working closely with local authorities to put a robust set of procedures in place. This includes testing and advance screening protocols, physical distancing and limited personnel on-site.

Upcoming US Open of Surfing Huntington Beach Men's Quarterfinal Matchups:
QF 1: Jake Marshall (USA) vs. Callum Robson (AUS)
QF 2: Kolohe Andino (USA) vs. Nolan Rapoza (USA)
QF 3: Liam O'Brien (AUS) vs. Griffin Colapinto (USA)
QF 4: Lucas Silveira (BRA) vs. Kanoa Igarashi (JPN)

Upcoming US Open of Surfing Huntington Beach Women's Semifinal Matchups:
SF 1: Gabriela Bryan (HAW) vs. Coco Ho (HAW)
SF 2: Caitlin Simmers (USA) vs. Courtney Conlogue (USA)

US Open of Surfing Huntington Beach Men's Round 4 Results:
Heat 1: Jake Marshall (USA) 11.67 DEF. Shun Murakami (JPN) 10.90
Heat 2: Callum Robson (AUS) 15.00 DEF. Mihimana Braye (PYF) 13.73
Heat 3: Kolohe Andino (USA) 13.94 DEF. Ezekiel Lau (HAW) 12.93
Heat 4: Nolan Rapoza (USA) 11.53 DEF. Alex Ribeiro (BRA) 11.00
Heat 5: Liam O'Brien (AUS) 12.17 DEF. Alonso Correa (PER) 5.10
Heat 6: Griffin Colapinto (USA) 15.16 DEF. Cam Richards (USA) 13.20
Heat 7: Lucas Silveira (BRA) 13.40 DEF. Cole Houshmand (USA) 13.40
Heat 8: Kanoa Igarashi (JPN) 13.60 DEF. Kade Matson (USA) 12.74

US Open of Surfing Huntington Beach Women's Quarterfinal Results:
QF 1: Gabriela Bryan (HAW) 14.26 DEF. Caroline Marks (USA) 10.93
QF 2: Coco Ho (HAW) 8.94 DEF. Sawyer Lindblad (USA) 8.50
QF 3: Caitlin Simmers (USA) 11.43 DEF. Sara Wakita (JPN) 6.57
QF 4: Courtney Conlogue (USA) 14.50 DEF. Bettylou Sakura Johnson (HAW) 12.07