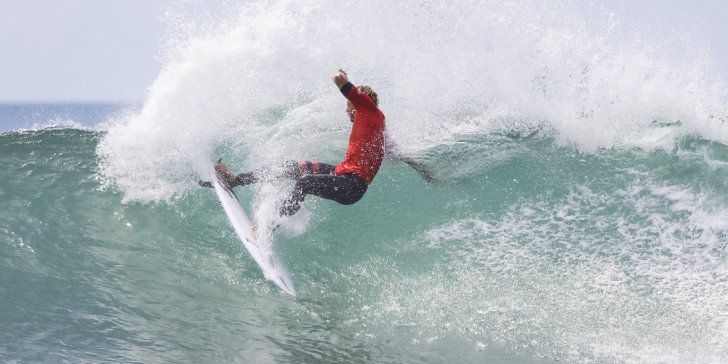 …AT HURLEY PRO AND SWATCH PRO TRESTLES
Front page image: John John Florence of Hawaii defeated Bede Durbidge of Australia in Heat 3 of Round Five of the 2017 Hurley Pro at Trestles, CA, USA. Florence now advances to the Quarterfinals of competition Thursday, September 14, 2017.  PHOTO: © WSL / Morris 
– CALIFORNIA'S PETERSON POSTS OUTSTANDING 19.57, HIGHEST HEAT TOTAL OF EVENT
-WSL CHAMPIONS GILMORE, WRIGHT, MOORE, FANNING & DE SOUZA ELIMINATED TODAY
DAY 9 OF 12 IS PAU WITH ONE MORE DAY TO GO ON FRIDAY ON FADING SOUTH.
– MORE AVAILABLE AT WORLDSURFLEAGUE.COM

Lakey Peterson (USA) put on an incredible show today and posted the highest heat total of the event thus far, a near-perfect 19.57, against three-time WSL Champion Carissa Moore (HAW) in the Quarterfinals of the Swatch Pro at Trestles.
Credit: © WSL / Rowland
Location:   
   Lower Trestles, San Clemente, California
Event window:
   September 6 – 

17, 2017

Today's call:

| | |
| --- | --- |
|    MR 3 (H9), WR 4, MR 4 (H3-4), MR5, WQFs, MQFs (H1-2) complete | |
Hurley Pro Remaining Round 3 (H9) Result:
Heat 9: Kanoa Igarashi (USA) 13.26 def. Mick Fanning (AUS) 6.73
Hurley Pro Round 4 (H3-4) Results:
Heat 3:Jeremy Flores (FRA) 15.94, John John Florence (HAW) 15.23, Kanoa Igarashi (USA) 11.33
Heat 4: Filipe Toledo (BRA) 16.13, Julian Wilson (AUS) 14.00, Bede Durbidge (AUS) 13.16
Hurley Pro Round 5 Results:
Heat 1: Adrian Buchan (AUS) 16.27 def. Jadson Andre (BRA) 14.84
Heat 2: Jordy Smith (ZAF) 13.43 def. Sebastian Zietz (HAW) 6.84
Heat 3: John John Florence (HAW) 18.40 def. Bede Durbidge 14.54
Heat 4: Kanoa Igarashi (USA) 17.00 def. Julian Wilson (AUS) 15.90
Hurley Pro Quarterfinal Results:
QF 1: Adrian Buchan (AUS) 16.27 def. Adriano de Souza (BRA) 15.30
QF 2: Jordy Smith (ZAF) 17.76 def. Frederico Morais (PRT) 16.60
Hurley Pro Remaining Quarterfinal Match-Ups:
QF 3: Jeremy Flores (FRA) vs. John John Florence (HAW)
QF 4: Filipe Toledo (BRA) vs. Kanoa Igarashi (USA)
Swatch Pro Round 4 Results:
Heat 1: Stephanie Gilmore (AUS) 18.90 def. Tyler Wright (AUS) 8.83
Heat 2: Lakey Peterson (USA) 14.17 def. Johanne Defay (FRA) 11.84
Heat 3: Courtney Conlogue (USA) 16.63 def. Nikki Van Dijk (AUS) 14.13
Heat 4: Keely Andrew (AUS) 14.40 def. Pauline Ado (FRA) 14.03
Swatch Pro Quarterfinal Results:
QF 1: Silvana Lima (BRA) 17.36 def. Stephanie Gilmore (AUS) 16.30
QF 2: Lakey Peterson (USA) 19.57 def. Carissa Moore (HAW) 18.00
QF 3: Courtney Conlogue (USA) 14.06 def. Sally Fitzgibbons (AUS) 13.43
QF 4: Keely Andrew (AUS) 18.47 def. Sage Erickson (USA) 10.83
Swatch Pro Semifinal Match-Ups:
SF 1: Silvana Lima (BRA) vs. Lakey Peterson (USA)
SF 2: Courtney Conlogue (USA) vs. Keely Andrew (AUS)
   SAN CLEMENTE, California/USA (Thursday, September 14, 2017) – The Swatch Pro and Hurley Pro at Trestles saw a new level of progression with phenomenal performances from the world elite. With over ten 9-point rides posted today at Stops No. 7 and 8 of the Women's and Men's World Surf League (WSL) Championship Tour (CT), the stage is set for an exciting Finals-Day-showdown at Lower Trestles.
Silvana Lima (BRA) shook up the competition with her win over six-time WSL Champion Stephanie Gilmore (AUS) in the Quarterfinals. The Brazilian opened up with an excellent 8.93 (out of a possible 10), but the Australian fought back to earn her own excellent 8.67 before the ocean went quiet until the dying minutes of the heat, when the two traded a vital exchange. Gilmore posted a 7.50 to gain ground back, however, Lima shut the door on the 2014 event winner with another 8.93. Silvana's win marks her first Semifinal berth of 2017. Gilmore will exit with an equal 5th.
"I've had a lot of heats with Steph [Gilmore] and she's so inspiring," said Lima. "Just thanking the Lord for this moment and coming here. There's so many fun waves out there. I look to do my best and Lowers. This wave suits me so good. It's like a skatepark and I feel so much confidence. That was my moment and I'm just so thankful. I'll just keep going and doing my best, hopefully just do the same thing and my goal is the Final. There's still one more heat, so I'll give it my all."
Earlier, Gilmore opened Round 4 with an incredible performance over defending event winnerTyler Wright (AUS). Gilmore unleashed two near-perfect 9-point rides for an amazing 18.90 (out of a possible 20) heat total, putting reigning WSL Champion Wright in a combination situation. Wright, needing two new scores, was not able to fight back and will exit with her worst result of 2017.
"We always have the same goal: win every heat and win every Final," said Wright.  "So nothing really changes and this is pretty minor. I'm stoked for Steph [Gilmore] after she had a rough go at the US Open and it's not really a bad time to have a bad result here. I think I just want to keep evolving. It's kind of a transition for me with a lot of shifting pieces and I love what I'm doing. After heats like that, people expect me to be bummed, but I'm not. I did my breakdown of that heat, so now I'll just enjoy the rest of my time here. It's very enjoyable and I'm loving it."
In another huge upset, current World No. 12 Keely Andrew (AUS) defeated World No. 6 Sage Erickson (USA) in the final Quarterfinal match-up. The head-to-head battle saw Andrew earn the highest heat total of her CT career with a near-perfect 9.07 and 9.40. Erickson was not able to overcome the second highest heat total of the day and will exit with her third 5th place result of the season.
"It's nice to finally show the world what I can do and it was great to let loose and get really good waves out there," Andrew said. "There's normally a hundred people out there so to get a wave like that and surf it to its full potential is a lot of fun. I really enjoyed that heat with Sage [Erickson]. I look up to her so much and I'm stoked we had a fun heat. All the girls are absolutely ripping. If you put us in a wave like this,  we'll show you what we got, so it's really exciting. I'm so inspired by all the girls on tour. The Top 17 at the moment is insane and I go back to the QS and there's still so many girls to come through. Just knowing that every heat I have to lift my performance is pretty exciting."
En route to her Semifinal berth, current World No. 10 Lakey Peterson (USA) took down No. 5 Johanne Defay (FRA) in Round 4. Defay will head into the Cascais Women's Pro with her second 9th place result. Peterson continued her incredible form into the Quarterfinals against three-time WSL Champion Carissa Moore (HAW) by opening her account with an 8.50. In a massive exchange minutes later, Peterson blasted a 9.70 on technical turns, as Moore followed and finished off with a huge layback-hack to end her wave for a near-perfect 9.77 of her own. But, Peterson then found another near-perfect 9.87 to post the highest heat total of both the Hurley Pro and Swatch Pro — an outstanding 19.57 over Moore's 18.00.
"Carissa [Moore] is so progressive with airs and her rail game is incredible, so I knew I just had to bring my best," Peterson said. "I was kind of thinking back to Snapper a little bit and just what I was doing there. My rail game felt really good on that wave and it was getting rewarded, so I was just trying to bring it back to that. This morning I felt a bit nervous coming off a few bad results and I was just wanting to get through that round. I think after getting through that one there was no pressure and I'm just really enjoying myself."
World Title contender Sally Fitzgibbons (AUS) was eliminated today by Courtney Conlogue (AUS) in the third Quarterfinal heat. Unable to match her career-best result at Trestles (2nd in 2014), Fitzgibbons will now hunt for a better result at the Cascais Women's Pro to strengthen her 2017 World Title campaign. Conlogue will advance to the Semifinals where she will face Andrew.
Adrian Buchan (AUS) will continue through to the Semifinals of the Hurley Pro after eliminating 2015 WSL Champion Adriano de Souza (BRA) in the opening Quarterfinal heat. A rematch of the Oi Rio Pro Final witnessed Buchan unleash his signature backhand attacks from start to finish and earn an excellent 8.77. De Souza's 7.83 response wasn't enough to mount a comeback as Buchan then found a 6.80 backup. The heat boiled down to the final wave as De Souza was in search of a 7.75 and fell short by 0.28.
"Me and Adriano [de Souza] have a lot of respect for each other and neither of us was going to hand us a start on the paddle," said De Souza. "I was stoked to get the better of that exchange at the start and get that first big score. We've surfed a lot of heats together through the years. We had that Final in Brazil a few events ago and that was definitely on my mind today. Every time I surf, I usually go out to surf against myself, but I did have a little bit of revenge on my mind. It feels good and I'm stoked to be alive on finals day."
Frederico Morais (PRT) had current Jeep Leaderboard No. 1 Jordy Smith (ZAF) on the ropes heading into the final minutes of their incredible Quarterfinal bout. Morais' 8.70 and 7.90 had Smith needing an excellent 8.28 as he paddled into his final wave of the heat, which he obliterated with a powerful combination of maneuvers that earned him a near-perfect 9.43 and critical Semifinal berth. Smith also took down event standout Sebastian Zietz (HAW) in Round 5 Heat 2.
"I'm just taking every opportunity because I've never been in this position before at No.1 so just run with the thing and have fun with it," Smith said. "There are not too many people that get this opportunity to be here and it's really something. I was hearing Tyler [Wright] saying earlier she represents her family and her country in this yellow jersey and that resonated with me. We haven't had a World Champion in South Africa in probably 40 years, so it means a lot and I want to wear it proud. Adrian [Buchan] is another competitor you don't want to take lightly. He's smart and he knows how to pick the eyes out of the lineup and he's really going to make you work."
Jeremy Flores (FRA) captured a critical victory over John John Florence (HAW) and Kanoa Igarashi (USA) in non-elimination Round 4. The Frenchman will advance to the Quarterfinals for the first time in 2017 after a string of 13th place results. In addition, Flores' Quarterfinal berth marks his first in Trestles since 2008, so he will continue to battle for his first CT event win in California.
"I'm stoked to make a heat like, to be able to take out a guy like John John [Florence] nowadays is pretty special so I'll take that win," Flores said. "The waves are super fun and I'm always stoked to be able to surf a place that is normally so crowded with just two other guys out in the water so that's what I keep in mind these days on tour. In order to beat these guys, you have to be on the best waves and I knew they were going to be doing some crazy surfing and it all started on that first exchange. They all looked at that wave and I was surprised John John didn't go and that ended up being my best score, which was a turning point really."
Fortunately, Florence and Igarashi were able to bounce out of elimination Round 5, defeating Bede Durbidge (AUS) and Julian Wilson (AUS), respectively.
The Round 5 match-up between Florence and Durbidge saw the 2016 WSL Champion put the CT veteran in a combination situation with a spectacular 18.40 two-wave total. Former event winner Durbidge will exit in 9th place, his second best result this year.
"This wave is just so perfect and once you get a couple you can get into a rhythm and let loose a little bit," Florence said. "I just got a little lucky with those three waves coming to me at the end. There's definitely some nerves just with only five or six minutes left with me and Bede [Durbidge] so close in scores. I got that wave behind Bede's and then just got into rhythm with priority right after that and another wave came, which let me open up a little bit more. Bede was surfing so good and that's a part of the reason I was so nervous. He just has so much power — he's a really fun and inspiring surfer to watch out here."
Despite falling to an in-form Flores in Round 4, Igarashi recovered with an electrifying Round 5 bout with event threat Wilson. The 19-year-old blasted a 9.30 to put Wilson in a combination situation that the Australian talent was unable to find his way out of by heat's end and Wilson walks away with an equal 9th finish.
The Round 3 Heat 9 re-surf opened the day's affairs as Igarashi got his second win over three-time WSL Champion Mick Fanning (AUS) this season. Igarashi found another excellent score, an 8.33,  for his heat opener once again to come out firing. The slower conditions did not provide an abundance of opportunities to add to Fanning's 6.50 start. Fanning exits with an equal 13th as Igarashi will move to the Quarterfinals against Filipe Toledo (BRA).
Filipe Toledo of Brazil defeated Julian Wilson of Australia and Bede Durbidge of Australia in Heat 4of Round Four of the 2017 Hurley Pro at Trestles, CA, USA. Toledo now advances to the Quarterfinals of competition today Thursday September 14, 2017.  PHOTO: © WSL / Rowland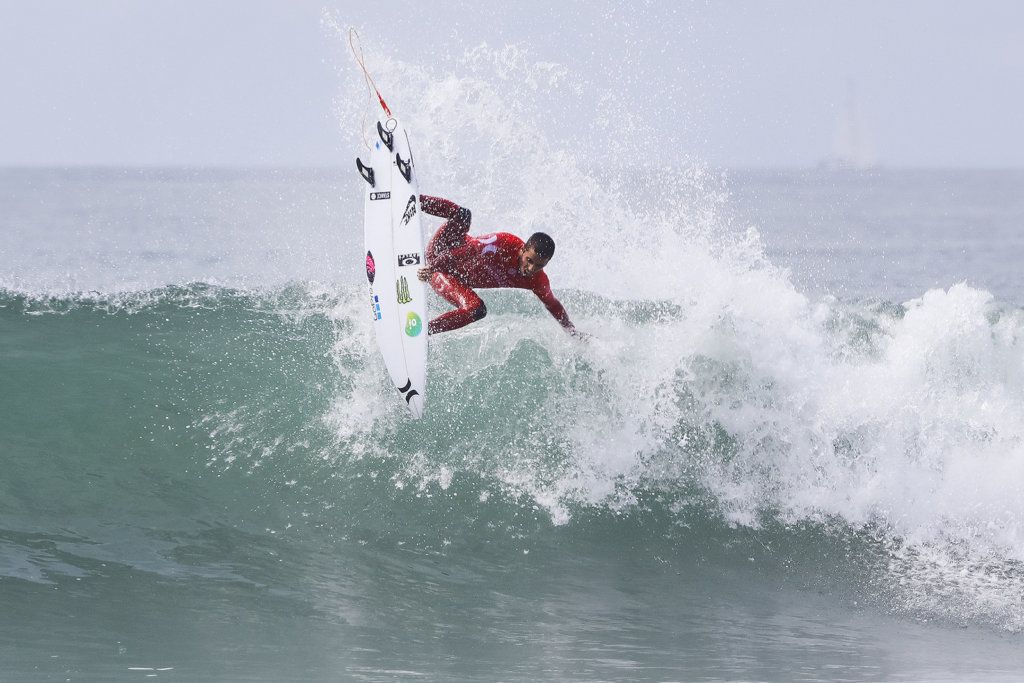 The Hurley Pro and Swatch Pro at Trestles will be broadcast LIVE via WorldSurfLeague.com, the WSL app and on Facebook LIVE via the WSL's Facebook page.  Also check local listings for coverage on CBS Sports Network in the U.S., Fox Sports in Australia, ESPN in Brazil, Sky NZ in New Zealand, SFR Sports in France and Portugal, Sport TV in Portugal and the EDGEsport Network.
For more information, check out WorldSurfLeague.com.