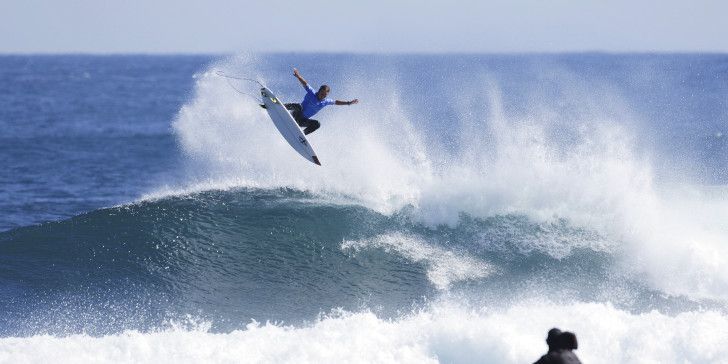 – DE SOUZA & FLORENCE SUFFER ROUND 3 ELIMINATION
– WORLD'S BEST SURFERS TEAR THROUGH FULL DAY OF COMPETITION
Caio Ibelli (BRA), 2016 WSL rookie, took to the air to eliminate John John Florence (HAW) in the dying seconds of Round 3 Heat 11. Ibelli will face Sebastian Zietz (HAW) and Italo Ferreira (BRA) in Round 4 Heat 4.
Image: WSL / Jimmicane
| | |
| --- | --- |
| Location:    |   Margaret River, Western Australia  |
| Event window: |   April 8 – April 19, 2016 |
| Today's call: |   Men's Round 3 & Women's Round 2 called ON |
| Conditions: |   4 – 6 foot (1.5 metre) |
MARGARET RIVER, Western Australia/AUS (Sunday, April 10, 2016) –  The Drug Aware Margaret River Pro continued to witness massive upsets in Men's Round 3 and Women's Round 2. With elimination at stake in today's men's and women's heats, competitors went all out to keep alive in the event.
The third stop on the 2016 Samsung Galaxy WSL Championship Tour, the Drug Aware Margaret River Pro, saw burly 4 to 6 foot waves (1.5 metre) at Main Break in Western Australia.
Matt Wilkinson (AUS), current World No. 1, flew through the opening heat of Round 3 against Matt Banting (AUS). Wilkinson racked up a 2.73 point lead against Banting. Banting needed a 7.23 to knock out the Jeep Ratings Leader, but came up short. Wilkinson will continue his crusade for a third straight event victory as he moves onto Round 4.
"I have made a bit of a change this year and it is definitely the best start I've ever had," Wilkinson said. "That heat was super tough because the sun was straight in your eyeballs as soon as you would look in, and the wind is so strong out there. I had a few bobbles on my waves. I thought I would get more opportunities, but I made good tactical decisions. I felt like I could have surfed my waves a little better, but I have made my heat and now I have two chances for the next one."
Adriano de Souza (BRA), reigning World Champion and defending event winner, suffered a shock Round 3 elimination by the eighteen-year-old injury replacementLeonardo Fioravanti (ITA). Fioravanti upset the competition yesterday when he knocked out eleven-time WSL Champion Kelly Slater (USA) and continued this trend today. De Souza posted a 15.50 two-wave combined score, but fell only 0.10 points short of beating the Italian.
"I am in shock," Fioravanti said. "The waves are super fun and I just tried to surf as hard as I could. Adriano got a big score and I knew I needed a good score. I gave my last one one-hundred percent and luckily I finished the wave and got the score."
"Leo deserved it to make that heat," De Souza said. "He has been surfing really well, especially against Kelly and against me he surfed well. Brazil will be the next event for me. I am looking for a good result because now I need it to qualify. The results I have done already are not enough."
Caio Ibelli (BRA), 2016 WSL rookie, defeated CT superstar and last year's event runner-up, John John Florence (HAW), in Heat 11. These two surfers are well-acquainted as both faced off at Bells Beach where Ibelli took the win. This heated rematch witnessed both surfers take to the air and pull off massive rides. Ibelli landed a huge ariel in the dying seconds of the heat to edge Florence out by only 0.73 points.
"John John is a really good surfer and I love to watch him surf," Ibelli said. "I spent my whole life watching him and cheering for him, but now that I am on tour I really want to beat everyone. This was the second time in a row that John John and I met. It was hard. On my second wave I almost hurt myself on the rocks and I thought the pain would not let me surf. At the last second John John let that wave go and I could land an air and make the heat last minute."
Taj Burrow (AUS), the eighteen year CT veteran, faced Nat Young (USA) in Heat 4. Both surfers came out firing, but it was Young who racked up an 18.10 two-wave combined score to take the win by 3.33 points. Burrow ended his run at Margaret River with a 14.77 two-wave combined score. Burrow announced yesterday that he will be transitioning out of elite competition after the 2016 Fiji Pro.
"I watched Julian's heat and I liked how he started catching waves from the start and got in the rhythm to keep building on his scores," said Young. "I went out there with the same game plan and I wanted to catch waves and give myself opportunities. I felt like each wave, I got a little better and kept building scores. It was a pleasure to surf against Taj out there. He has been an idol of mine since I started surfing. It was an honor to surf a heat against him."
"I am feeling good and I am feeling happy," Burrow said. "I would have liked to have gone a bit further here at home in front of the home crowd. Now I've got one event left, which is Fiji. That is really exciting to me. Yesterday I felt so incredible after I made the announcement. I felt like it was a huge weight off of my shoulders and I am really happy with my decision. I have had such a great career and the best years of my life have been on tour, and I just cannot wait to experience a bit of freedom."
The first elimination round for the women saw close match-ups as the world's best took on challenging conditions in Round 2.
Stephanie Gilmore (AUS), six-time World Champion, knocked out Coco Ho (HAW) in Heat 5. In tricky conditions, Gilmore posted a strong 8.17 point ride and found a 6.93 to defend her lead. Ho, who had a 12.67 two-wave combined score, was not able to close the 2.43 point gap against Gilmore. Gilmore will advance to Round 4.
"I saw that Round as just another heat, and you just have to work your way through it and adapt," Gilmore said. "I am happy to be through that one. I thought that I needed to be patient and pick the good waves because we saw so many heats where the girls looked lost and then the next minute they had not time left and they had a 0.3 in their score. I just knew I had to get two good ones."
Tyler Wright (AUS), current World No. 2, eliminated Trials winner Felicity Palmateer (AUS) in Round 2 Heat 2. Wright started strong with an 8.50 opening ride and then unleashed a massive 9.50, putting Palmateer in a combination situation. Palmateer put up a 14.16 two-wave combined score, but it was not enough to combat Wright's 18.00.
"When those opportunities presented themselves I was quite happy to make the most of it," Wright said. "I feel like starting off with an 8.50 was good and I was halfway done and then I was just looking for something more. I was not planning on getting a 9.50, but I was pretty stoked that I did."
Laura Enever (AUS) and Johanne Defay (FRA) battled in Heat 4. Enever secured two solid rides to give her a 10.10 two-wave combined score. Defay was not able to find the wave to score the 6.17 needed to defeat Enever. Enever will move on to Round 4. This is Enever's first heat win since the 2015 Fiji Women's Pro.
"First heat win in a while, so it is a relief," Enever said "I think training is hard, in that you feel like you can train a lot and feel like you are surfing the best and still lose heats. It is obviously overdue for me. I am excited for Brazil and Fiji and to make a heat here for sure."
2016 WSL rookies Keely Andrew (AUS) and Chelsea Tuach (BRB) fought hard in Round 2, but were not able to win their match-ups against Malia Manuel (HAW) andBianca Buitendag (ZAF), respectively.
For more information, log onto WorldSurfLeague.com
Drug Aware Margaret River Pro Men's Round 3 Results:
Heat 1: Matt Wilkinson (AUS) 12.00 def. Matt Banting (AUS) 9.27
Heat 2: Joel Parkinson (AUS) 17.40 def. Michel Bourez (PYF) 11.60
Heat 3: Julian Wilson (AUS) 16.90 def. Miguel Pupo (BRA) 9.80
Heat 4: Nat Young (USA) 18.10 def. Taj Burrow (AUS) 14.77
Heat 5: Adrian Buchan (AUS) 15.50 def. Josh Kerr (AUS) 12.90
Heat 6: Leonardo Fioravanti (ITA) 15.60 def. Adriano de Souza (BRA) 15.50
Heat 7: Gabriel Medina (BRA) 14.67 def. Adam Melling (AUS) 13.10
Heat 8: Kolohe Andino (USA) 16.10 def. Wiggolly Dantas (BRA) 11.20
Heat 9: Jordy Smith (ZAF) 18.54 def. Kanoa Igarashi (USA) 14.16
Heat 10: Sebastian Zietz (HAW) 17.73 def. Jeremy Flores (FRA)  16.20
Heat 11: Caio Ibelli (BRA) 16.27 def. John John Florence (HAW) 15.54
Heat 12: Italo Ferreira (BRA) 12.43 def. Alejo Muniz (BRA) 8.23
Drug Aware Margaret River Pro Men's Round 4 Match-Ups:
Heat 1: Matt Wilkinson (AUS), Joel Parkinson (AUS), Julian Wilson (AUS)
Heat 2: Nat Young (USA), Adrian Buchan (AUS), Leonardo Fioravanti (ITA)
Heat 3: Gabriel Medina (BRA), Kolohe Andino (USA), Jordy Smith (ZAF)
Heat 4: Sebastian Zietz (HAW), Caio Ibelli (BRA), Italo Ferreira (BRA)
Drug Aware Margaret River Pro Women's Round 2 Results:
Heat 1: Malia Manuel (HAW) 14.10 def. Keely Andrew (AUS) 6.70
Heat 2: Bianca Buitendag (ZAF) 11.83 def. Chelsea Tuach (BRB) 9.00
Heat 3: Tyler Wright (AUS) 18.00 def. Felicity Palmateer (AUS) 14.16
Heat 4: Laura Enever (AUS) 10.10 def. Johanne Defay (FRA) 7.36
Heat 5: Stephanie Gilmore (AUS) 15.10 def. Coco Ho (HAW) 12.67
Heat 6: Sage Erickson (USA) 15.04 def. Alessa Quizon (HAW) 10.66
Drug Aware Margaret River Pro Women's Round 3 Match-Ups:
Heat 1: Sally Fitzgibbons (AUS), Tatiana Weston-Webb (HAW), Laura Enever (AUS)
Heat 2: Courtney Conlogue (USA), Malia Manuel (HAW), Nikki Van Dijk (AUS)
Heat 3: Carissa Moore (HAW), Bianca Buitendag (ZAF), Sage Erickson (USA)
Heat 4: Tyler Wright (AUS), Stephanie Gilmore (AUS), Bronte Macaulay (AUS)