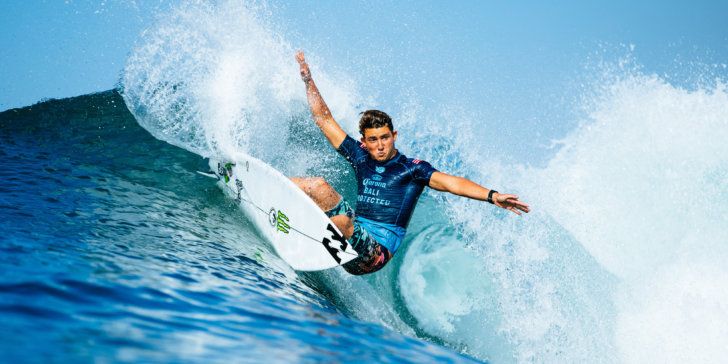 JEEP LEADER JULIAN WILSON ELIMINATED BY WILDCARD MIKEY WRIGHT
REIGNING TWO-TIME WSL CHAMPION JOHN JOHN FLORENCE SUFFERS ANOTHER EARLY ROUND LOSS
JORDY SMITH RETURNS TO FORM AT KERAMAS
Californian prodigy Griffin Colapinto (USA) was on fire in Round 3 of the Corona Bali Protected presented by Hurley, taking down Matt Wilkinson (AUS) in a clutch heat at Keramas.
Credit: © WSL / Sloane
Location:   
  Keramas, East Bali, Indonesia
Event window:
  May 27 –  

June 8, 2018

Today's call:
 Men's Round 3 completed
Conditions:
 Clean 3 – 5 Foot (1.3 – 1.8 metres)
Keramas, Bali/Indonesia (Thursday, May 31, 2018) –  The Corona Bali Protected presented by Hurley, Stop No. 5 on the World Surf League (WSL) Championship Tour (CT), has continued today in super clean three-to-five (1.4 – 1.9 metre) foot surf at Keramas. 12 heats of men's Round 3 were run and won in what was an incredible day of action at one of the world's most high-performance waves.
Mikey Wright (AUS), Corona Bali Protected wildcard has caused yet another massive upset by eliminating current Jeep Leader Julian Wilson (AUS) in an explosive battle. The first exchange saw both surfers score similar waves with tubes and crisp turns, but Wright got the nod from the judges to score a 6.60 to Wilson's 6.00. With score in a similar range the heat would all come down to their back up scores. Wilson put the pressure on, netting a 5.83 to take the lead. Wright was left searching for a 5.23. In the last 90 seconds, wright pounced on a medium inside wave and unloaded three precision-sharp turns and was rewarded with a 5.67, adding another impressive upset to his collection.
"I'm really happy to be in the final 12 surfers left in the draw," Wright said. "Julian (Wilson) is so good out here at Keramas, it was great to be out here with him. I love this wave, so I hope I can have a few more heats out here."
Mikey Wright (AUS) continued his charge at the top seeds today, eliminating current Jeep Leader Julian Wilson (AUS) in an epic battle at Keramas.
Credit: © WSL / Sloane
The day started with a massive upset taking place as reigning, two-time WSL Champion John John Florence (HAW) was eliminated by 2018 CT Rookie Jesse Mendes (BRA) in Heat 1 of Round 3. Needing a score in the dying minutes, Mendes boosted a massive backhand air-revere, only just hanging onto the landing and riding out to get rewarded well above the requirement. Florence had two more shots at turning the tide but was unable to snatch the lead back and was eliminated in equal 13th to add to his string of poor results in 2018. Mendes, on the other hand, progresses into Round 4 and guarantees himself the best result of his rookie year so far.
"I knew against a guy like John John (Florence) I would have to go big to get the win," Mendes said. "Somehow I stuck the landing but then almost fell again and was just hanging on hoping to get up and when I finally stood up I was just like 'thank god' — so stoked. I feel blessed to be on this tour and to be at this event in such a beautiful place with great people. It feels amazing to make that heat.

 2018 CT Rookie Jesse Mendes (BRA) launching a massive backhand air to win his Round 3 matchup with John John Florence (HAW) at the Corona Bali Protected presented by Hurley.
Credit:© WSL / Sloane
It's hard to believe that before the Corona Bali Protected Jordy Smith (ZAF) had not progressed past Round 3 in 2018, but that all changed today. Smith posted a near-perfect 9.43 (out of a possible 10) after he threaded a critical tube and, he unloaded some of the most devastatingly powerful turns of the event. Smith's scintillating performance was too much for CalifornianConner Coffin (USA) who was eliminated in Equal 13th place.
"That was such a good wave — when you get waves like that at this level, you need to deliver or you'll kick yourself," Smith said. "If this is a World Title year for me this year, the campaign needs to start now. Round 3 has been super tough for me this year, the CT is tougher than ever, but I like it like that, it pushes me to be better. I'm happy to get through that heat, I'm not thinking too far ahead, I just want to surf my best and see where it goes."
2014 WSL Champion Gabriel Medina (BRA) was in typically searing form at Keramas, absolutely dominating Heat 7 against 2018 CT Rookie Michael February (ZAF). February's silky smooth style wasn't enough to overcome the explosive backhand Medina who posted a winning heat total of 15.70.
"The waves were slow today but they were really fun when they came so you really had to be patient," Medina said. "Even though I had a massive lead, the heat is never over until the final hooter sounds, so I knew I had to be smart with my priority and keep building on my scores. I'm having a lot of fun surfing at Keramas and can't wait for my next heat. This is such an awesome location."
Michel Bourez (PYF) and Ezekiel Lau (HAW), two of the CT's heavyweights, matched-up in a power-packed heat. Both surfers had their opportunities as perfect tubes rolled non-stop through the lineup, leaving the pair to trade barrels, followed by powerful hacking turns. In the end, it was the Tahitian surfer who came out on top, courtesy of an 8.67 for one of the biggest and longest barrels of the day.
"That was a really good heat!" Bourez said. "I didn't expect the waves to get that good because the heat before ours was slow. I am so happy to make it through that. I went for a surf this morning and I must have stepped on a stonefish or something because my foot hurts so bad, but I just had to power through the pain and it worked out for me in the end. Ezekiel (Lau) is such a good surfer, I am stoked that I was able to get some good waves and take the win."
In one of the best heats of 2018 so far, Griffin Colapinto (USA) has ousted an in-form Matt Wilkinson (AUS) in a down-to-the-wire thriller. Wilkinson's backhand was on point, going beyond vertical and even throwing a rodeo clown (flip) into the equation to take control of the heat. 2018 CT Rookie Colapinto was on the ropes and needing an excellent score to take the lead. Colapinto stayed calm as he took off and launched a massive frontside air-reverse, landing in the white-wash and riding away, posting, an 8.67, to take the lead. It was yet another impressive performance for 19-year-old Colapinto, while for Wilkinson it means some solid results in the second half of the year are a must in terms of requalification.
"Since I've been here I have been trying airs like that and not sticking them which has been frustrating," Colapinto said. "I thought I may as well go for one in the contest and ended up landing the best aerial I have done since I arrived in Bali. Everyone in this event carries so much confidence and can pull out a maneuver when they need to, so I just thought it was my time to act like that. If I ever want to win a World Title one day, I have to be able to get out of a tough,high-pressure situation, and I feel like that's what I just did — I learned a lot in that heat."
Adrian Buchan (AUS) is one of the veterans on the CT and took a hard fought victory over 2018 CT Rookie Michael Rodrigues (BRA). The 30-minute encounter saw neither surfer give an inch, as both battled for inside position and the best waves. In the end, Buchan's experience and explosive backhand attack saw him take the win and earn a spot in the next round. Buchan was thrilled to advance and continue to be involved with the Corona Bali Protected, promoting a cause that is close to his heart.
"I've been coming to Bali since I was 7-years-old and this place has given me so much, not just as a surfer, but as a person," said Buchan. "To be able to be here and have a platform to promote awareness for protecting our oceans and beaches, but also help set up some programs to create change, makes me really proud to be here competing in the Corona Bali Protected. It's great to see the CT athletes, WSL and Corona promoting something that I'm so passionate about."
Current World No. 2 Filipe Toledo (BRA) is the best chance of stealing the Jeep Leader Jersey from Wilson at this week's Corona Bali Protected, after an impressive win over Keanu Asing (HAW) saw him advance into Round 4. Toledo won the previous event in Rio and is continuing his red-hot form here in Bali with high flying aerials and his trademark speed-carves.
"I want that Jeep Leader Jersey really bad, I haven't had it since 2015," Toledo said. "The door is open now, it's a good opportunity for me, so I just need to go to work and keep making heats. The goal from here is to stay near the top of the rankings and hopefully have a strong finish and win the World Title."
Other heat winners in Round 3 included Willian Cardoso (BRA) who took down Aussie title threat Owen Wright (AUS), Jeremy Flores (FRA), who overcame Frederico Morais (PRT) andItalo Ferreira (BRA), who was dominant over 2018 CT Rookie Tomas Hermes (BRA).
2015 WSL Champion Adriano de Souza (BRA) won a close battle with former Keramas event winner and 2012 WSL Champion Joel Parkinson (AUS) in Heat 11 of Round 3.
The Corona Bali Protected presented by Hurley will be broadcast LIVE on the WSL's Facebook page, WorldSurfLeague.com, and the WSL app. Also, check local listings for coverage from the WSL's broadcast partners.
Reinforcing SW-SSW swells move in and maintain chest-head high to slightly overhead sets at Keramas through Friday and the weekend. More similar size SSW swell lines up for 5th-6th and possibly the 9th as well. Good wind conditions again on Friday AM, but then turn problematic on the weekend with an increase of onshore flow. Better AM winds may return next week. Surfline
Corona Bali Protected Men's Round 3 Results:
Heat 1: Jesse Mendes (BRA) 13.34 def. John John Florence (HAW) 11.37
Heat 2: Michel Bourez (PYF) 15.17 def. Ezekiel Lau (HAW) 12.97
Heat 3: Willian Cardoso (BRA) 12.00 def. Owen Wright (AUS) 10.37
Heat 4: Adrian Buchan (AUS) 11.40 def. Michael Rodrigues (BRA) 8.83
Heat 5: Griffin Colapinto (USA) 15.84 def. Matt Wilkinson (AUS) 15.40
Heat 6: Mikey Wright (AUS) 12.27 def. Julian Wilson (AUS) 11.83
Heat 7: Gabriel Medina (BRA) 15.70 def. Michael February (ZAF) 9.44
Heat 8: Jeremy Flores (FRA) 16.04 def. Frederico Morais (PRT) 13.50
Heat 9: Jordy Smith (ZAF) 16.36 def. Conner Coffin (USA) 9.00
Heat 10: Italo Ferreira (BRA) 14.30 def. Tomas Hermes (BRA) 10.10
Heat 11: Adriano de Souza (BRA) 14.13 def. Joel Parkinson (AUS) 13.46
Heat 12: Filipe Toledo (BRA) 14.43  def. Keanu Asing (HAW) 8.43
Corona Bali Protected Men's Round 4 Matchups:
Heat 1: Jesse Mendes (BRA) vs. Michel Bourez (PYF) vs. Willian Cardoso (BRA)
Heat 2: Adrian Buchan (AUS) vs. Griffin Colapinto (USA) vs. Mikey Wright (AUS)
Heat 3: Gabriel Medina (BRA) vs. Jeremy Flores (FRA) vs. Jordy Smith (ZAF)
Heat 4: Italo Ferreira (BRA) vs. Adriano de Souza (BRA) vs. Filipe Toledo (BRA)
Corona Bali Protected Women's Round 3 Matchups:
Heat 1: Tatiana Weston-Webb (BRA) vs. Tyler Wright (AUS) vs. Coco Ho (HAW)
Heat 2: Stephanie Gilmore (AUS) vs. Silvana Lima (BRA) vs. Keely Andrew (AUS)
Heat 3: Lakey Peterson (USA) vs. Caroline Marks (USA) vs. Sage Erickson (USA)
Heat 4: Carissa Moore (HAW) vs. Sally Fitzgibbons (AUS) vs. Malia Manuel (HAW)