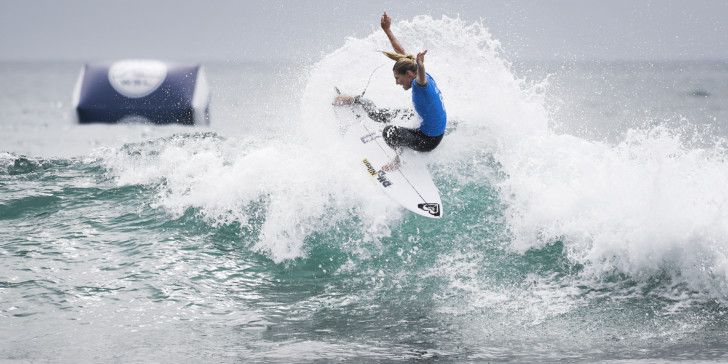 Surf's smooth and glassy at head high to 3′ over with 80% rights and near perfect. Surf rising. It's the same swell that hit Hawaii a few days ago. SNN
– FRONTRUNNERS WRIGHT AND CONLOGUE RELEGATED TO ROUND 2 BY VAN DIJK AND ENEVER
– WSL CHAMPIONS GILMORE AND MOORE LIGHT UP LOWERS
– SIGNIFICANT SWELL ON TAP FOR COMING DAYS

Stephanie Gilmore (AUS) blazed through Round 1 Heat 6 against Johanne Defay (FRA) and 2016 WSL Rookie Keely Andrew (AUS) to secure a spot in Round 3. Gilmore posted the highest single wave score of the day, an excellent 8.50, along with the highest combined score, a dominant 16.70.
Image: © WSL / Kirstin
| | |
| --- | --- |
| Location:    | Lower Trestles, San Clemente, California |
| Event window: | September 7 – 18, 2016 |
| Today's call: | Women's Round 1 complete |
| | |
| --- | --- |
| Conditions: | 2 – 4 foot (0.5 – 1 metre) |
SAN CLEMENTE, California/USA (Wednesday, September 7, 2016) – The opening day of the Swatch Women's Pro, Stop No. 7 of 10 on the 2016 Samsung Galaxy WSL Championship Tour, witnessed incredible Round 1 action as the competitors went all out to win their heats and skip elimination Round 2. The drama continued throughout the day with huge upsets as top seeds were taken down in two-to-four foot (0.5 – 1 metre) waves at Lower Trestles.
Nikki Van Dijk (AUS) took down Tyler Wright (AUS), current World No. 1 on the Jeep Leaderboard, and event wildcard Bethany Hamilton (HAW) in Round 1 Heat 3. Hamilton got to work early with a solid left-hand ride, but Wright fought back to regain control. The heat saw multiple lead changes between Wright and Hamilton, but it was Van Dijk who locked in a 7.00 and 6.53 to take the win. Hamilton needed a 6.53 and had one last opportunity in the dying minutes of the heat, but fell just 0.40 points short with a 6.13. Hamilton and Wright will battle head-to-head in elimination Round 2 when competition gets back underway.
"I was getting a little bit nervous sitting with priority for ages and had a mess up on my first wave," said Van Dijk. "But, I'm stoked to be out there surfing with Tyler [Wright] and Bethany [Hamilton]. It's not quite an upset to me knowing there's a lot of contest left and that was only one heat, but I'm stoked to move forward with a win and I'm just frothing on the chance to be out there with just a few other girls. I made some mistakes early on so it felt great to get a few waves in the end and come back — hopefully I can string together more heats like that."
Courtney Conlogue (USA), current No. 2 on the rankings, was not able to hold on against Laura Enever (AUS) in Round 2 Heat 4 and will surf again in elimination Round 2. The California-native waited patiently for the sets to come through, while Enever stayed busy on the inside. Enever locked in eight scores to Conlogue's two, earning the win with a 13.97. 2016 WSL Rookie Chelsea Tuach (BRB) put up a strong fight, but could not find the excellent range score needed to challenge the CT chargers.
"I was just trying to focus on what I was doing," said Enever. "I think Courtney [Conlogue], Chelsea [Tuach]" and I all had different plans. Courtney was spending time waiting for a set, whereas I was catching a bunch of waves. I kept falling at the start and then finally I got a wave with a good score. By that time, Courtney still had one wave so I thought I was back in it."
Reigning three-time WSL Champion and current No. 3 Carissa Moore (HAW) was the first to crack the excellent range with an 8.00, but Bianca Buitendag (ZAF) struck back with a 7.50 and had a slight edge over Moore with her back up score leading into the second half of the heat. Moore then found a Lowers lefthander gem and took full advantage, posting a 7.17, to regain the lead — earning a spot straight into Round 3.
"I love the wave and performing here," Moore said. "All the nerves disappear because it becomes more about the surfing. With the swell on the way, it will definitely be all about that so I am really looking forward to it. My dad and I talked about some performance goals and I think I choose to do something different on a wave that provided more, so it is good to look at those things for the next round."
Six-time WSL Champion Stephanie Gilmore (AUS) dominated the final heat of Round 1 with an incredible 16.70, the highest combined score of the day, to secure her spot in Round 3 after coming out on top over Johanne Defay (FRA) and 2016 WSL RookieKeely Andrew (AUS). Gilmore got to work early with an excellent 8.50, the highest single wave score of the day, and backed that up with a progressive blowtail layback to earn a 7.93. Defay and Andrew attempted to challenge the CT superstar, but were locked in a combination situation as Gilmore scored an authoritative 8.20.
"I feel my best surfing is when I'm in a jersey," Gilmore said. "I love feeling that pressure and having to rise to that occasion, and seeing whether or not I can do it. That's when you turn to find the best in yourself and that's what happens to me most of the time. This is my tenth year on tour so I've had a lot of time in competition to perform well and surf my best."
Round 1 Heat 2 witnessed Tatiana Weston-Webb (HAW) edge out Alessa Quizon (HAW) and Sage Erickson (USA) in a close match-up. Weston-Webb, No. 4 on the rankings, lead with a 6.50 for the majority of the heat, but Quizon fought back in the last ten minutes to capture the lead. Weston-Webb, under pressure, needed a 5.33 to combat Quizon. In an exciting last exchange, Weston-Webb fired with a strong 5.63 to narrowly meet the requirement and defeat Quizon.
"I figured if I got a right and did two really good turns that I would get the score, but it was really difficult out there with a lot of waiting around and trying to see the wave with the glassy water," Weston-Webb said. "Both of those girls were ripping and I just knew if I got a wave and surfed the way I know how to surf, I'd get the scores and I was feeling pretty confident. We have a bit of a long leg coming up, so I'm excited and with the first leg starting here in California I feel at home here and it doesn't feel like I've packed my bags for good just yet."
Malia Manuel (HAW) charged through the opening heat of Round 1 against Sally Fitzgibbons (AUS) and Lakey Peterson (USA) to solidify a spot in Round 3. Manuel unleashed a solid 7.50, but locked in her win with a commanding 7.00 in the dying minutes of the heat. Peterson held an early lead, but was not able to combat the Hawaiian's powerful finish on a board she's kept on ice since her terrific run of results over the summer.
"I used to calculate scores in my head at the end of each ride, but now I'm just focusing on getting back out there in case another wave comes," Manuel said. "There's not an opportunity like this event to be able to surf with no one out. In the beginning of the heat I had a couple average waves that I fell on and luckily just had good timing when a set came and had priority. Anything could happen, it could go the other way and the other girls have priority and the wave comes and she gets it. You can't really control Mother Nature, you can only control your preparation so you have to have a plan, and a back up plan, and a back up plan for that."
Event organizers will reconvene tomorrow at 7:30 a.m. local time for a possible 8:00 a.m. start for either the Swatch Women's Pro or Men's Hurley Pro at Trestles.
For more information, check out WorldSurfLeague.com
Swatch Women's Pro at Trestles Round 1 Results:
Heat 1: Malia Manuel (HAW) 14.50, Lakey Peterson (USA) 11.40, Sally Fitzgibbons (AUS) 10.93
Heat 2: Tatiana Weston-Webb (HAW) 12.13, Alessa Quizon (HAW) 11.83, Sage Erickson (USA) 9.83
Heat 3: Nikki Van Dijk (AUS) 13.53, Bethany Hamilton (HAW) 13.13, Tyler Wright (AUS) 8.43
Heat 4: Laura Enever (AUS) 13.97, Courtney Conlogue (USA) 11.60, Chelsea Tuach (BRB) 10.77
Heat 5: Carissa Moore (HAW) 15.17, Bianca Buitendag (ZAF) 14.00, Coco Ho (HAW) 6.13
Heat 6: Stephanie Gilmore (AUS) 16.70, Johanne Defay (FRA) 12.97, Keely Andrew (AUS) 10.70
Swatch Women's Pro at Trestles Round 2 Match-Ups:
Heat 1: Sage Erickson (USA) vs. Lakey Peterson (USA)
Heat 2: Johanne Defay (FRA) vs. Alessa Quizon (HAW)
Heat 3: Tyler Wright (AUS) vs. Bethany Hamilton (HAW)
Heat 4: Courtney Conlogue (USA) vs. Chelsea Tuach (BRB)
Heat 5: Sally Fitzgibbons (AUS) vs. Coco Ho (HAW)
Heat 6: Bianca Buitendag (ZAF) vs. Keely Andrew (AUS)
Hurley Pro at Trestles Round 1 Match-Ups:
Heat 1: Jordy Smith (ZAF), Nat Young (USA), Keanu Asing (HAW)
Heat 2: Julian Wilson (AUS), Kanoa Igarashi (USA), Ryan Callinan (AUS)
Heat 3: Adrian Buchan (AUS), Miguel Pupo (BRA), Kai Otton (AUS)
Heat 4: Gabriel Medina (BRA), Adam Melling (AUS), Alex Ribeiro (BRA)
Heat 5: Matt Wilkinson (AUS), Conner Coffin (USA), Tanner Gudauskas (USA)
Heat 6: John John Florence (HAW), Davey Cathels (AUS), Brett Simpson (USA)
Heat 7: Adriano De Souza (BRA), Wiggolly Dantas (BRA), Matt Banting (AUS)
Heat 8: Kelly Slater (USA), Filipe Toledo (BRA), Jeremy Flores (FRA)
Heat 9: Italo Ferreira (BRA), Caio Ibelli (BRA), Jack Freestone (AUS)
Heat 10: Mick Fanning (AUS), Joel Parkinson (AUS), Jadson Andre (BRA)
Heat 11: Kolohe Andino (USA), Josh Kerr (AUS), Stu Kennedy (AUS)
Heat 12: Sebastian Zietz (HAW), Michel Bourez (PYF), Alejo Muniz (BRA)